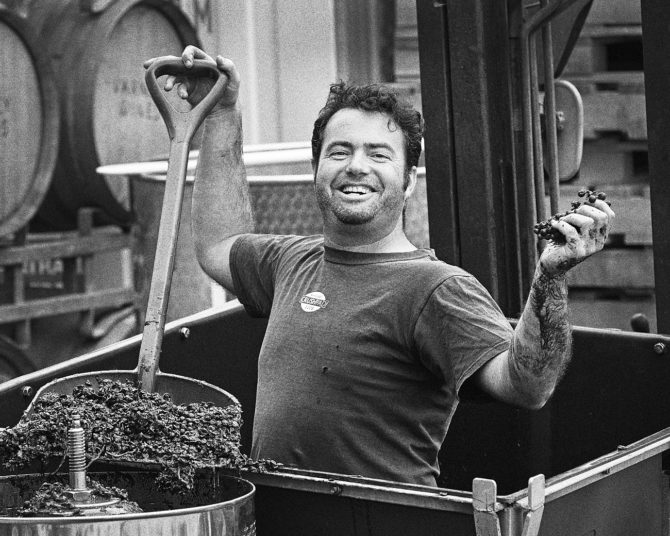 Alan Varney : Varney Wines
In a recent review  in the Weekend Australian James Halliday wrote,
"One aspect I enjoy is unearthing new winemakers and their wineries".
I wasn't familiar with the label he was referring to, but thought I've met Alan Varney somewhere. I then recalled meeting him at an International Grenache Day event late last year.
He was with two winemaker mates of his, Uffe Deichmann, Poppelvej Wines and Rob Mack, Aphelion Wines, showing their Grenache in Mclaren Vale.
Alan Varney is Varney Wines. He and his wife Kathrin have the winery, a brewery and their restaurant Victor's Place, overlooking Onkaparinga Gorge south of Adelaide.
Jame's notes on Alan's 2017 GSM blend went like this :
"Multiply the '17 vintage with Alan Varney's vinous beliefs and the quality of each piece in the jigsaw puzzle has been put in place. Its complexity knows no bounds; savoury yet sweet, the mouthwatering flavours lead me close to drooling. 97 points : drink to 2027 "
I reckon most new wineries would love a review like that from Mr Halliday.
What Alan's story reinforces for me is the way the wine trade work together like no other industry I know.  I live in the Mclaren Vale region, I see this often.
It's the Easter long weekend, no one's going anywhere, you'll have time to enjoy another great 'People of Wine' story.
I hope this cursed 'c.a.r.n.i.v.o.r.o.u.s__c.o.r.o.n.a.v.i.r.u.s' ordeal, isn't proving too much.
At the end of his story Alan has written an open letter about Easter and these difficult times : well worth having a read of.
Your early life ?
I grew up in the States, just outside of New York City, but have spent the majority of my life here in Australia.  In fact, my entire adult life has been spent outside of America so I have never felt that my American citizenship is a big part of my identity.
I moved here to Australia when I was 18, had two cousins in Sydney so I got a one-way ticket to Sydney.
I just wanted to go and see the world.
I spent some time in Sydney and travelled a bit, did my month in Byron Bay, picked fruit and asparagus, got into all sorts of mischief before going to wander around New Zealand.
I met my wife Kathrin there when I was 19 years old. We were both backpacking, she was from East Berlin and didn't speak English very well and I certainly didn't speak any German.
I think that is why we got along so well because we couldn't argue very much.
I chased her back to Berlin after we travelled around New Zealand and Asia. We had a stint apart when I was in Tasmania and she was still living in Berlin.
We quickly realised that wasn't going to work, so I moved to Berlin as a 20 year old and had a really wild couple of years !
I've got three passports. My father is English, so I've got the UK passport which allowed me to live in Berlin. I've got my American passport because I was born in San Francisco, and now we've got our Australian citizenship as well.
When we arrived back in Australia in 2003 we settled in Melbourne, I did a degree in Agricultural Science with Oenology and Viticulture components at Melbourne Uni, but to be perfectly honest I learned most of my winemaking skills on the job at the various places I have worked.
The boys came along and we moved to Adelaide when they were 2 and 4 years old. That was a few years ago, Morris and Winston are now 13 and 15.
We raised them to be bilingual. At home we speak nearly all German. It's a great language for parents to use, the strong German language works very well for discipline!
Why Wine ?
The day I met Kathrin in this little backpacker in a small town called Opotiki in the Bay of Plenty on the North Island of New Zealand.
She walked through the gate carrying a 5 litre cask, from memory it was a Stanley Dry Red.
She proceeded to cook a huge bolognaise feast for the backpacker group we were staying with, there were about 12 of us.
She cooked it, fed everyone and together we got through the 5 litres of dry red.
That sparked it, I think.
It's a silly thing for a winemaker to admit to, that a cask of 5 litre dry red planted the vinous seed, but there's a time and place for everything.
Having lived in Berlin, being exposed to the European wine culture and beer culture was also a huge influence.
Berlin is a real beer town, It sort of grows on you, you realise that you really like the stuff. Hence I'm a beer maker as well.
McLaren Vale & d'Arenberg ?
We loved Melbourne and fitted in really well there, and then the boys came along.
I'd finished my degree and we realised let's chase this wine dream, so where else would you go but Adelaide of course. And anyone that comes to Adelaide and really loves wine ends up in McLaren Vale, don't they ?
I actually started with Pernod Ricard in the 2007 vintage as a Viticultural Field Officer, driving around the Adelaide Hills, Langhorne Creek and Barossa, checking vineyards prior to harvest.
It was a great learning experience …that vintage was a short and sharp one, very condensed, so I applied for any wine job that I could and got a job at Longview.
That was another great learning experience, it's a fantastic vineyard as well, really good fruit.
I still source a lot of fruit from them.
They really know what they are doing and Dino Catsaris, their viticulturist is a guru of the vines.
Longview was sold and I wanted to get more into a winery and cellar work, you know, get my hands dirty again.
I applied for a vintage casual job at d'Arenberg for the 2008 vintage which turned into an epic vintage.
It was the hot one.
It was three weeks straight of 40-degree days and the nights didn't go below 30 degrees.
We had people passing out…. people on top of stainless-steel tanks fainting from heat stroke and dehydration. We got through the vintage and I got landed with the role of white wine cellar hand working under Rob Humphry, a fantastic white winemaker, who the wine world is unfamiliar with, because he is a very humble man and keeps to himself…in my opinion he's one of the better white wine makers in the region.
After vintage they were looking for a cellar supervisor, I put my hand up and said, "well I'll give that a try."
Jack Walton, the senior winemaker gave me the job, he's become a dear and close friend.
He always gave me chances, he always saw potential and always encouraged me. They decided that it was silly to call me a cellar supervisor when I was actually doing a cellar manager's role.
I think, they needed extra people in the tasting room one day and Chester was kind enough to allow me to take part in his blending … I guess, I kind of weazled my way in.
The cellar manager became a permanent position, and then they said,
"You know what, you're doing a lot of winemaking Alan, we should probably start calling you a  winemaker."
So that was a nice gesture and gave me a bit more confidence to trust myself and my intuition when it comes to making decisions in the winery and vineyards.
Chester was always supportive of me.
He is also a really fun guy to party with at the annual vintage show!
I was there for 11 vintages ,d'Arenberg wines are incredible… they're so structured, they've got such beautiful lines of tannin and they're extremely balanced when they're allowed to cellar properly.
But in terms of aged reds, like 'The Dead Arm', d'Arenberg has got them nailed….people need to appreciate that and put them into the cellar to allow them to become even more beautiful wines.
Vintages in Portugal and the USA ?
I did the 2017 vintage in Portugal as a cellar hand, I wasn't trying to be a winemaker over there and that was my preference.
When I go and do an overseas vintage, I just want to be a cellar hand and watch what they do.
I don't want heaps of responsibility… I just want to observe and have fun.
I learnt a lot there, we work with a bit of Touriga in our Entrada range of wines which is our approachable and friendly styles … they're really fun wines.
The white is a Verdelho, the Rosé is a Rosé of Grenache and the red is a Grenache, Mourvèdre and Touriga blend. So, they're all quite Iberian in the origin and, I guess, in the inspiration as well.
When I was in Portugal there was a lot of good approachable Joven style wines around and I fell for their everyday drinkability.
I worked a vintage in 2009 in the middle of San Francisco, in a place called Crush Pad.
It was a custom crush facility, a funny operation whereby wealthy Americans could purchase a barrel of wine and be involved in that creation of that barrel up until bottling.
They could design their own labels and they would come in for the crush and do a bit of plunging or they would do it virtually with a web cam. It was fun explaining the entire process to novices.
I then did a vintage in New York City in 2011- that was a similar set up called The Brooklyn Winery, in the middle of Brooklyn, in the Williamsburg region which was hipster central. I've never felt so uncool in my life because everyone's a hipster…. if you didn't have a beard, if you didn't have flowers in it or rose petals or long hair and dreadlocks and piercings and stuff, you were invisible.
But I had a great time there and I learnt from an amazing winemaker Conor McCormack, who ran the place.
They bought in fruit from Upstate New York, really good Riesling and Chardonnay, and they also shipped in fruit from California, refrigerated trucks full of nitrogen, and they actually made some really, really good wine.
They made a great Pinot with fruit trucked in from Oregon.
It was one of the first urban wineries and was a great success, they eventually opened another in Washington DC.
One day I would like to go back and work there again as Conor is a very talented winemaker.
The American style of winemaking is very, very different to ours and the wines are so completely different, to be honest, I don't like them in a general sense, they're very flat and tend not to have a whole lot of vibrancy.
However in Napa Valley, Lokoya's Chris Carpenter, who also makes great wine here at the Hickinbotham Clarendon Vineyard, and others I'm sure, make amazing wines, so I just made the mistake of generalising an entire countries wine industry and that's wrong.
But I loved the style of the wines that I saw being made in Brooklyn, including some of the Pinots.
The back label to Victor's Place ?
The reason we wanted to have the Victor's Place restaurant was to create a venue where we could create a beautiful atmosphere for people to enjoy Varney Wines next to beautiful food, amazing service from our fantastic team.
Our front-of house and back-of house team, and the kitchen and all of the rest of it, they're just amazing people.
Unfortunately, there's also a tragic part to the 'Victor's Place' story.
We started Victor's Place with two great mates of ours Luke Muir and Joey Taylor.
Luke, was my lead cellar hand at d'Arenberg, I hired him as a 19-year-old kid, we worked together for ten years.
He was very shy and pudgy, and developed into an incredibly talented cellar hand but also became a qualified Brewer.
He also lost his shyness and was a very outspoken guy with keen insights and the loudest laugh you ever heard !
Joey Taylor a vintage cellar hand at d'Arenberg was also a chef by trade, worked as a chef around many of the great places and restaurants in Adelaide and studied in America as well. Victor's Place was our dream, Luke would do the beer and Joey would do the food, I'd make my Varney Wines and Kathrin would run the restaurant and cellar door.
However, while we were setting it all up Luke was diagnosed with bowel cancer and tragically passed away about a month after we opened our doors….it was a really trying time for us all.
But he did get to see his beers on tap, he got to see the place pumping with people including all of his friends and family enjoying his creation and we do, I guess, find solace in the fact that we were able to open our shared dream… at the very end, he went out full of pride.
He was only 28 when he died.
It was extremely difficult for everyone.
It was supposed to be a time of joy when we opened our doors and it was actually a time of terrible sadness and pain for us all.
We realised that it's no good just moping around and being sad.
Luke didn't want us to do that and fortunately he had been able to pass on so much of his knowledge to me and the first six beers that we brewed, we did side-by-side together in our cellar here and he taught me some tricks.
The brewing community down here also embraced us as well, amazing people like Jeff and Mary Goodieson, Lee Stone at Shifty Lizard, the guys at South Coast, Dan at Swell, Pete at Mephisto, and the team at Smiling Samoyed.
They've always been incredibly supportive so they help me through as well as the community, and my wife and the amazing staff here, everyone pulled together as they do in these times.
A while later Joey was also diagnosed with cancer in his knee.
He had major surgery to remove a fairly large tumour.
He couldn't stand up for a year. So, he took it easy at home.
He's recovered now, and is still an inspiration to us all…. still comes in and does the occasional shift when we're short on chefs.
Chris Bone is our current executive chef, he was at Woodstock for 10 years before coming across to join our team. Interesting timing with all that's going in the world right now, but he's doing an amazing job and he's got amazing plans for taking us even further to the next level.
Halliday " 2017 Varney Wines GSM : Its complexity knows no bounds; savoury yet sweet, the mouthwatering flavours lead me close to drooling : 97 points.."
The morning that James rang me to talk about the wines, I thought it was one of my mates taking the piss out of me… my mate is a bit of a prankster and I thought, 'well he's done a really good job in impersonating James'.
I thought, well done, but there's no way in hell this is real.
And then he kept talking and talking, and I realised …this actually is James on the phone.
He's a very easy person to speak to, very down to earth, very humble and obviously appreciates good wines.
I'm lucky that we were able to get the wines to him. There are a lot of wines sent around and everyone wants their wines reviewed.
We've got an amazing team here at Varney Wines, led by Genevieve Ticehurst our marketing guru.
They help me to tell the story and that's really important because wine is not just about what's in the glass, it's how it happened, it's the people who made it, it's the circumstances around its creation, it's about the vision of those growers and winemakers, and the collaborations which turn it into something that is such a beautiful and social drink.
We'd just had a tough week when James called, a few things had gone wrong…. we'd just started a business…the restaurant business is a challenging one…. we've got a brewery and we're trying to establish a wine brand.
Establishing a brand is a difficult thing to do because you need to gain people's trust…you need them to see your vision.
They need to feel connected to that product and understand the story behind it.
I'd have to say, that phone call from James came at just the right time and gave us all a bit of energy and motivation to believe in what we're doing.
It really cheered me up, and I'm humbled by what he wrote.
So you're here at McLaren Vale but you take fruit from the Adelaide Hills and Langhorne Creek. Different varieties from different areas, what's the difference of the three areas as a Winemaker ?
I think I'm in a very good position where I can, kind of pick the eyes out of regions and decide which varieties from which regions I really want to play with.
Luckily I've got great relationships with growers and that's the most important part of making good wine.
If I didn't have them, I could never make quality wine, they're the starting point and that's so important in the piece of the puzzle.
I still source fruit from Longview, I've gotten fruit from d'Arenberg as well and there are a few small Grenache growers from McLaren Vale who don't have heaps of land but they've got precious old bush vines that are 60, 70, 80 years old.
You need to start with good fruit, if you don't, then you can pull all of the winemaking tricks that you want out of your hat and it doesn't matter, you can't make amazing wine.
I've talked to our chef Chris Bone and he gets it.
If you don't start with a beautiful piece of produce, you'll never put a beautiful meal together, it might look nice on the plate but it won't have that depth of flavour and that's exactly the same as winemaking.
I get a bit of really good Blewitt Springs, bush vine Grenache from just along Chapel Hill Road.
There's a great old vineyard on Seaview Road, a mate of mine Bruno Romano…. it's been in his family for a couple of generations.
He's a local character and a fantastic guy, he's across the road from Corrina at Oliver's and she's been helping me with some of my alternative varieties.
We've got some Mencía this year, as well as Touriga which we've had for a couple of years now.
Corrina's been really supportive of what we do as well, she's a great friend and of course, she's married to Dan who has got SWELL.
I talk to Dan about beer and I talk to Corrina about wine, it's a nice neighbourly relationship.
We also get on really well with James and Kimberly Cooter from The Hedonist.
They supply us with Grenache and Shiraz from their home block in White's Valley.
The Zarellas also help us with Mourvedre each year. Varney Wines is a real community project.
A brilliant winemaker mate, Matthew Schmidt, who is a Barossan and now at Bremerton, introduced me to Beck Wilson, and she's also been fantastic.
We get Fiano and Verdelho from them, really good fruit… Langhorne Creek needs so much more credit particularly for their whites, they have amazing Cabernet and Shiraz, and other red varieties but their whites ripen beautifully.
The Verdelho that I've got in tank here this year, is stunning and the Fiano is a really interesting one as well… really fun for a winemaker to play with because you can kind of mold Fiano into a million different styles. Anthony and his wife Kerry up in Clarendon have got three very small blocks of Shiraz.
This year I think they only got 2 tonne in total – they make a tonne each year for their label Malurus and we get a tonne – it's stunning fruit. Anthony was the first grower I ever bought fruit from over a decade ago. Since then, he and his wife have been incredibly helpful, donating winemaking gear and always showing up to our restaurant events.
Great people. The straight Shiraz that we do is a bit different in that it's typically a blend of three or four different vineyards from McLaren Vale and the Adelaide Hills.
My philosophy is that the Adelaide Hills provides me with spice and aromatics, and that kind of alluring white pepper and baking spice that you get on really good Shiraz from the Hills, and McLaren Vale gives a little bit more depth, texture and a bit more tannic weight.
I love being able to blend those two together. Some people look at me a bit funny and say, "I don't really want a multi-regional blend"… but if you look at the great wines of the world, the truly great wines of the world, they're blends, they're from different varieties and they're from different little sub-regions, be it Bordeaux or Burgundy or Tuscany.
Blending is an art and it's been forgotten in today's craze of single vineyard wines….if you don't have a bloody good vineyard, you're not going to consistently make good single vineyard wines.
I mean you can take a fantastic single vineyard wine and there's always something that you want to tweak.
There's always a little bit more tannin that you want to introduce into it, there's a little bit more spice, there's always a little bit of something in the background that's lacking in some respect, and that's where the skills on the blending bench come in.
As winemakers we're photographed with red hands and stomping on grapes, and crushing grapes and everything… that's all fun and it's all part of the whole process but finalising the blend, that's the true test.
International Grenache Day – do you think that is the variety that McLaren Vale should be promoting ?
Yeah, it's won me over, it really has. There are some really, really old bush vine Grenache in McLaren Vale, we're very lucky to have it. It should actually be put on the National Heritage List, it should be illegal to pull out… it's too valuable.
The history of it being here is one thing but it's also just climatically perfect and as things are warming up and climate change is taking effect, we're actually getting better Grenache in McLaren Vale.
The Shiraz will always thrive here…you can put Shiraz anywhere and it's going to have different varietal characteristics wherever it is, but Grenache in McLaren Vale, it just seems right.
We're sitting here right now next to a press which is full of James Cooter's Old Bush Vine Grenache and, I can just see by the colour of it, that's black and it's Grenache.
If  someone said to me,
"I'm planting a vineyard in McLaren Vale, what should I plant ?"
Well, yeah, you'll put in Shiraz because you need to pay the bills but you need to put in Grenache as well.
The two winemakers I met you with on International Grenache Day ?
They're good friends.
Uffe whose label is Poppelvej, exports most of it to the US and Denmark.
He is an amazing guy, lives locally and brings his family and friends here often.
Rob Mack is awesome, he has a way with wine and he's got his finger on the pulse.
I first met Rob when he was working as a winemaker at McLaren Vale Winemakers.
I was borrowing a little corner of the winery to produce my early vintages.
My '17 GSM that James Halliday enjoyed, was made there and Rob was the winemaker at the time. I would rush down on my lunch break from d'Arenberg because it was just around the corner.
I would quickly plunge or reset my head or put it in the sun if it needed to be in the sun, or put into a cool and windy condition if it was getting a bit warm, and would beg him to throw it in his cool room which he was always obliging to do.
And he would call me and say,
"Mate, just letting you know the sun has just crept around the corner, do you want me to shift it for you?"
I got to know him quite well and he was always there on my press days when I'd book in and say,
"I need to press it tomorrow."
And Rob was like,
"Oh, yeah. I'll clear the deck for you."
The 2020 Vintage ?
It's the most surreal experience of my life, especially the past week or so… I don't have words for it.
The world has changed since the very first pick from this vintage, which was a Langhorne Creek Verdlho.
I remember heading down to check up on the vineyard with Beck Wilson and Matt Schmidt, it must have been late January, and no one had a clue what was about to hit us.
The cursed 'c.a.r.n.i.v.o.r.o.u.s c.o.r.o.n.a.v.i.r.u.s'  Virus has challenged everything, we've had to adjust our business drastically to cope with the change.
I'm very proud of the team here with what they have accomplished in that respect, because we're still trading, people are still purchasing, and we're still connecting.
It's not about just about purchasing and making sales but also still connecting with your fans and your guests.
We've managed to do that in the online way, in a virtual way and by picking up the phone and calling all of those people and saying,
"For your safety we've closed the restaurant but you can still order online."
The new regulations shutting cellar doors and their restaurants are completely understandable and we fully support them.
But we're still connecting with our guests and people interested in our wines.
They're still with us and when things eventually blow over, they will come back and feel safe.
Executive chef Chris Bone in the kitchen has got an amazing menu planned for when we re-open.
In terms of the vintage, the quality is great.
In December and January when half of the country was on fire and there was smoke taint everywhere, and the hot days kept coming, and coming, and coming….we were all thinking, this could be a write-off… this could be one of the worst vintages ever.
Then it cooled down and then it rained and we got lots of sunny days and perfect ripening … now I've got one block of Mourvèdre at Blewitt Springs left and one block of Nebbiolo at Longview, and once those are in, I'm done for vintage 2020.
We did about 30 tonne this year, in the past two years I've done 20 tonnes.
It was a little bit more because I just managed to find good fruit and the growers know I'm an absolute sucker. Whenever there is something in front of me that looks good in the vineyard I find it really hard to say no.
Varney Wines : Now and in the future ?
I don't have any cellar hands, I'm the only that touches the wines in the cellar.
Maybe I'm a control freak but there are ways to go big and there are business models that tell you, you have to go big or bigger, but I'm not convinced that it's right for us right now.
I would love to expand on the range a little bit, I'd like to maybe make a little bit more of the Entrada wines because they're fun and playful. We've got three different ranges, the Entrada range, which I mentioned before.
And then we've got our Essentials range, which is really our core. So our Semillon/ Fiano, which is an interesting blend.
I go the multi-regionals so it is Adelaide Hills and Langhorne Creek. Semillon from the Hamilton Family on The Range; our Adelaide Hills Chardonnay.
The reds, a straight Grenache from McLaren Vale; our GSM, which is McLaren Vale and finally the Shiraz which is the Adelaide Hills/ McLaren Vale blend.
We're releasing our 2015 Nebbiolo and our 2018 Cabernet, and that will be in our Exclusive Range, both with fruit from Longview in the Adelaide Hills.
Anything else you'd like to say ?
I left a job at d'Arenberg, I left job security.
My kids are in the kitchen all of the time doing the prep work, Kathrin's behind the bar and deals with all our customers and I'm out in the cellar winemaking and brewing.
The days are long but we feel a sense of fulfilment.
The Mclaren Vale community is fantastic.
I'm often overwhelmed by the amount of help we've had since starting this venture.
Wine is to be enjoyed with friends and family. I started my wine journey sharing a 5 litre cask of Stanley Dry Red with my now wife Kathrin and a group of backpackers in NZ .
Sitting at home and drinking alone, that's no fun at all.
It's not easy to make good wine but we should all try and understand that it's just a beverage, fill your glass, relax a bit, have a good conversation with the person next to you and chill out.
ENDS
Interview, photography & production  : Milton Wordley
Transcript  : Libbi Curnow
Edit : Anne-Marie Shin
Website guru : Simon Perrin Version Design
Alan's Easter Resurrection open letter.
Those who know and have spent time with me around Easter will be familiar with my annual speeches about 'Sad Christmas'.
Easter has always been for me a poorer sibling to the fabulous holiday of Christmas. There are no gifts and little sharing, no festive cheer.
It usually falls at the turning of the seasons and marks an end to long days on the beach. It beckons the end of daylight saving and our descent into dark and gloomy winter. There is also a whiff of guilt about Easter.
Something lingering from our more religious past where we were meant to feel guilty about crucifying poor Jesus. The air of death pervades the long four days and robs them of any celebratory flair.
However, against this backdrop of global death and despair which has not been witnessed in generations, I somehow feel great hope.
This years' Easter really does feel like the first green shoot in the resurrection and growth of mankind.
The images of bodies in makeshift morgues and desperate hospital staff the world over make it hard not to imagine a bleak future. The flow on effects to the livelihoods of so many humans is hard to fathom and the bizarre changes to everyone's daily lives can be so confounding that my sense of hope may seem naïve or even downright insensitive to what is happening across the globe.
However, I am now seeing in our daily human interactions, and the subtle changes in how we are now treating each other, some optimism that this year may be the beginning of a new renaissance of man.
Is this crisis the event that will wake us from our moral slumber ?
Will this mark the beginning of a brave new world where we are judged not by our personal accumulation of wealth, but by how we interact with the world and by our accumulation of moral capital?
Will it soon not be a person's bank balance that acts as our crude measurement of success in our culture, but by the contribution we all make as individuals to the rebuilding of our society ?
I am seeing many encouraging signs as we all find new ways to interact with one another and the world.
Of course, when society is forced to put nearly everything on hold we also see terrible scenes of hoarding and the breakdown of our usual social norms.
But we are now seeing that our social rituals of the old daily grind are being replaced by acts of spontaneous kindness, sharing, and a suddenly more respectful way of engaging with each other.
Of course, this is all very easy for me to preach about as I sit in the lucky city of Adelaide, in the lucky country of Australia. I am not an optimistic enough person to confidently say I would be feeling the same sense of hope if I was in Manhattan, Madrid, or Madras.
I do have enough confidence in my fellow man though to know that even in those god forsaken centres of despair there must be citizens helping one another and joining forces to begin the rebuild.
It is this rebuilding and the human spirit of hope that allows me to confidently suggest that Australia will emerge from this as lucky and as well placed as ever, and will enjoy a standard of living unparalleled on earth.
We will see some terrible scenes over the coming weeks and months and we will need to patiently wait for this storm to clear.
When it does though, we will have a new perspective on life and our priorities will be forever changed. I know that we will come out of this stronger, and more gentle in our treatment of one another.
I also suspect that Easter will no longer be my Sad Christmas but my annual Celebration of Hope.
Alan Varney : Easter 2020