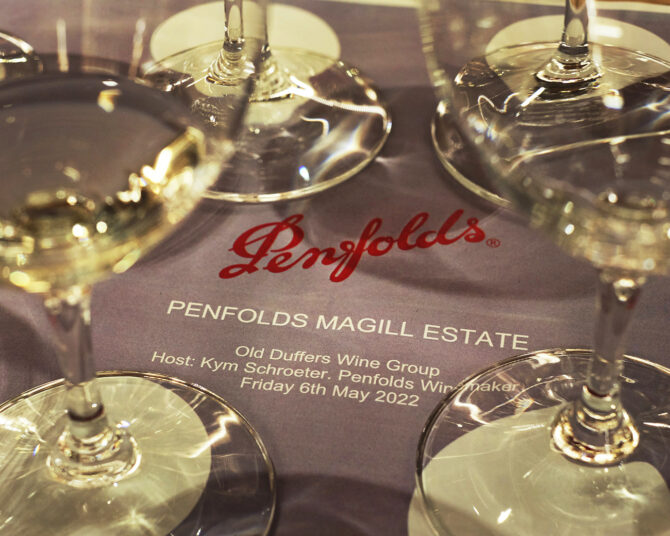 OLD DUFFERS : Penfolds White Wine Master Class.
Late last year Penfolds held an online White Wine Master Class with chief white winemaker Kym Schroeter.
I invited a few friends along to share the wines with me.
I emailed Kym to thank him and say what a great night it was and would he be interested in doing another one at Magill for the wine group I'm part of 'The Old Duffers'. Sure he said as long as it's after vintage.
We gathered at Magill Cellar door recently for a memorable afternoon.
One of the Duffers founding members and untrained winemaker John Greenshields commented.
To have Penfolds chief white winemaker Kym Schroeter spending 90+ minutes with us was an absolute privilege.
Kym has spent 35 years with Penfolds, following his Father Les, Uncle Kevin and brother Mick.
He's been with Penfolds as "man and boy".
In Adelaide, we are so lucky.
A masterclass that was world class, and priceless. As an untrained winemaker, I found Kym's technical insights acquired over decades just GOLD.
It is one of the great positives of the Australian wine industry that allows the sharing of knowledge to the advantage of us all.
A credit to a huge company Penfolds that allows for experimentation of wines into their Cellar Reserve range, and also conducts decades-long development of top shelf wines like Yattarna.
Sourcing grapes from Tumbarumba, Tasmania and Adelaide Hills takes great dedication and serious capital, which the growers appreciate.
You should too.
I'll be drinking the 2021 cellar Reserve Polish Hill riesling [only 500 cases] with some SA oysters this weekend.
This wine is just a cracker, and will last 20-30 years.
"Keep it up Penfolds."   *Says untrained winemaker John Greenshields
One of our members the not so old Jason Barrette was the Penfolds Magill winemaker till 2016. Jason had a ball helping Kym out on the day.
We even had our own tasting room.
And then our own room for lunch.
Quite an afternoon.
One of our guests Neville Sloss email to say thanks.
An amazing day, made even more memorable by Kim the winemaker who obviously loves making white wines and sharing his knowledge, along with a great lunch and great reds ! You Duffers know how to do it in style!
And a note from 'Old Duffer'  Adam.
The knowledge that Kym shared was fascinating.  A very very good day. Definitely one that will be remembered for a very long time.
Tasting notes
Here's some tasting notes for any wine nuts who might read this from another invited guest Josh Beare a Lecturer at the Wine & Spirits School at TAFE SA.
Wine 1  :  Bin 51 Eden Valley Riesling 2021
Nose: Fresh and bright lavender blossom florals with citrusy notes of kaffir lime, mandarin  and grapefruit zest.
Palate: Bright, taught, driving acidity. Fleshy lemon pulp and grapefruit pith with pretty, lifted orange blossom florals. Length and tension on the finish with lingering persistence.
Wine 2  :  Cellar Reserve Polish Hill Riesling 2021
Nose: Lean and steely with Epsom/talc minerals and wet gravel. Underpinned by brown lime and lemon peelings.
Palate: Tight, fine and somewhat austere on the palate with a steely and structured feel. Pithy lime and brown lime cordial with very high, mouth watering acidity. Refreshing and slaking with length – incredibly put together – will age.
Wine 3  :  Bin 311 Chardonnay 2020
Nose: Spicy and smoky French oak with a hint of funk and whisps of struck match. Peach and stone fruits with baked, spiced apples.
Palate: Balanced richness. Nutty, creamy feel with freshly buttered brioche, toasted cashew and custard apple against white grapefruit. Acidity is balancing and proportioned and provides a cleansing sign off.
Wine 4  :  Cellar Reserve Chardonnay 2017
Nose: Interesting aromas reminiscent of bruised peaches and stale beer nuts. Slight spicy/herbal edge (fennel?).
Palate: Somewhat diminished. Brown lemon juice with lean, puckering acidity. Expected more vibrancy. Finish is somewhat angular. My least favourite of the afternoon.
Wine 5  :  Reserve Bin A Chardonnay 2020
Nose: Freshly struck match and flint smoke with a slight sulphurous sting (not unpleasant). White stone fruits and damp lucerne. Seems complex and defined with promising complexity.
Palate: Lean and poised acidity. The oak is spicy and cedar like but enveloped by pulpy grapefruit, white peach and nectarine with yellow apple & orchard fruits. Oak & fruit complimentary and not vying for dominance – balanced and complex. Massive length and pull through on the finish. Impressive – my wine of the day.
Wine 6  :  Yattarna 2019
Nose: A powerful and forthright aroma of match strike and freshly toasted oak combined with ripe peach and creamy cocoa butter, white cooking chocolate.
Palate: Bold. Richness and ripeness with a weighty presence. Still in balance but certainly hefty. Ripe stone fruits, hewn timbers – very, very long.
Wine 7  :  Yattarna 2005 (100% AH)
Nose: Herbal, wild honey. Baked peaches and nutmeg (Baked peach crumble).
Palate: Quite weighty and muscular. Toasted and smoky oak with rendered bacon fat/pork scratchings and roasted almonds. Acidity provides a cleansing finish with lingering whispy, wood smoke on the finish. Runner up to my wine of the day.
We added a couple of International 2019 Chardonnays to look at along side the 2109 Yattarna.
Wine 8  :  Kumeu River NZ Chardonnay 2019.
Nose: Very clean and obviously spotless. Somewhat subdued in comparison to the other offerings. Bright apples and nectarine fruits.
Palate: Yellow peaches and fresh nectarines with some clean and spicy oak. Quite ripe. Some underlying grippy peach skin phenolics which gives some structure and poise.
Wine 9  :   Chassagne Montrachet 1er Cru 2019
Nose: Baked apple and toasted hazelnuts with some faint match, flint strike and wet straw.
Palate: Toasted cashews, hewn cedar timbers and spice with peaches/peach skin grip. Quite powerful but with a restrained elegance. Very long length with quite persistent oak lingering through. Very smart.
Wine 10  :  Sticky Viognier
Sorry, didn't write a note. Tasted but not my thing.
I agree with Josh, my WOD was the Reserve Bin 20A, the Bin 17A pretty bloody good as well.
I was at a Tasting Australia Chardonnay Master Class the next day : tough life I know but someone has to do it. ..
In the first bracket, I thought I know that wine.
When it got around to the group being asked if they had any idea of what wines the were. I said I reckon wine #1 was a Penfolds Bin 20A : Nick Stock replied with something along the lines of "That's a good guess" and then a minute later "You're  right".
I replied I had a heads up as I had the 2020 yesterday at a great tasting at Penfolds Magill with Kym Schroeter.
Nick then went on to say it was also one of his favourites and that Kym was doing a fantastic job with the Penfolds Whites and picking up Major awards all over the world. It got a round of applause from the sell out crowd.
Thanks again Kym, Tamara, Hannah, Milly,  and the rest at Cellar door & Magill Estate Kitchen.