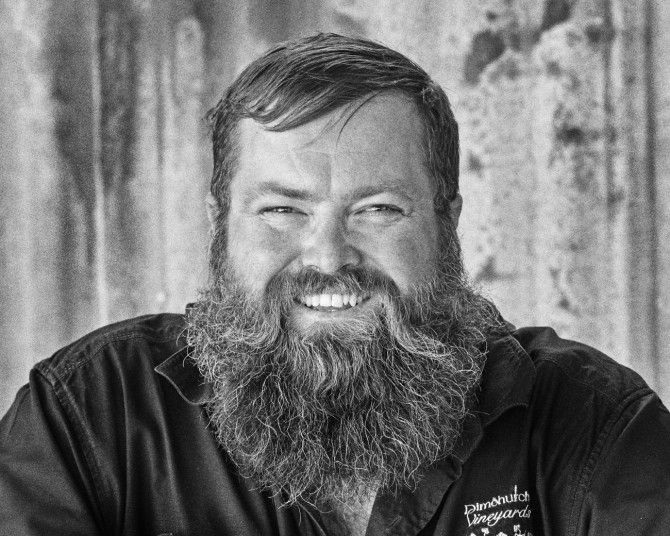 Adrian Hoffmann : Professional Grape Grower
A sixth generation Barossa boy Adrian Hoffmann was described in a recent 'The Barossa' magazine as, having matured into a super premium Barossa product.
Adrian describes himself as a professional Grape Grower.
The family 'Hoffmann Property' was established in 1857.
When Adrian took hold of the property in 2002, the family had 20 hectares of Vineyard.
They now have 135 hectares supplying  to around 30 wineries.
He has a long standing partnership with Chris Ringland, together they produce wines from the Hoffmann vineyard.
Representing the Barossa 20 years ago as the inaugural 'Young Ambassador' was an important learning curve for the young Adrian.
As he says in the interview
" I was  enthusiastic about growing premium quality, and not much else : When I got to travel to the other side of the world, suddenly, I realised, well it's not me versus my neighbour or me versus a grower in McLaren Vale. I'm selling a product on a world stage and now I must be globally competitive"
Wine, the Barossa, ever think of doing anything different ?
When I was at school, I was looking to do something like engineering, but my schools' grades didn't allow me.
Most probably, my lack of dedication towards school was the biggest factor, my English skills weren't the best.
I'm very much a hands-on practical learner.
When I left school in 1992, the vineyard wasn't doing exceptionally well.
I grew up right through the vine pull era so working in the vineyard was most probably not very attractive.
Dad owned vineyards, but he was a general engineer and my grandfather was a mixed farmer.
He still had his dairy cows, his sheep, cropping and with that came apricots as well. I started doing night-school, at the same time I was working for Dad during the day in the general engineering business, building sheds.
A lot of Barossa sheds have got my signature on them.
I started becoming interested in the wine industry in the mid-90s, went to TAFE at Nuriootpa to study Viticulture, once again a more hands-on practical approach. Wayne Stewart was our lecturer at that time, he made the industry sound very attractive.
I was in a class with a whole heap of other grape growers who were mostly older than me and who worked for larger companies. I was a young private grape grower.
That's where, I suppose, the bug really hit me.
I began to think if you grew better fruit you could get a better price.
Why the Barossa, that's easy, when visitors come here and they talk to someone from the Barossa and I don't think that has to even be a grape grower, or a winemaker. As soon as they talk to someone in the Barossa they actually realise what a unique place it is and then it's a trip of self-discovery for themselves, I reckon we're living the dream.
However, they often say
"You have to be here for 30 years before you can become a local."
I was heavily involved in the Vintage Festivals and the one thing that the Young Ambassador did for me was to realise how special and lucky we are in the Barossa.
When did your family start to grow grapes ?
I'm a fifth-generation grower and the sixth generation on the property.
My wife April and I have three kids, the seventh generation, and before I go any further, I must thank April for all her support.
Our oldest Byron is doing a traineeship at Torbreck. Amelia is 16, she's still at High School and our youngest Tegan, she's got the gift of the gab, so she'll most likely end up being our wine marketer or something like that.
The first generation of the Hoffman family didn't grow grapes.
We would have started to grow grapes as part of our mixed farming enterprise around 1880's in Ebenezer.
Our original vines were Mataro, Grenache and Shiraz.
We've still got vines on our original site, but they've been replaced and replanted.
We've got 60-year-old Shiraz there now.
We also have some 100-year-old vines on a block we bought from the Dallwitz family in the 1950s.
I still think Shiraz is the best suited variety to that area.
The reason the family got into grape growing was because wineries such as the Seppelt family encouraged people to plant vines and grow fruit for them.
We then started to deliver down to Chateau Tanunda and other Barossa co-operatives.
Back at the turn of the century, I suppose like now, not everyone wanted the same fruit every year.
I'd imagine my forebears would have picked the fruit and filled up the wagon and just went to a winery and hopefully they took the fruit.
If not, they'd go to the next winery.
I don't know if there were any contracts back then and the fruit would have been for fortifieds.
It was not until the 1960s and 70s when the Barossa really started to get out of fortifieds and started getting into the table wines.
Where do you live now ?
We live 100 metres up the road from the main vineyard.
When I got married I moved 100 metres down the road and when my dad got married he moved 100 meters up the road and when my grandfather got married, he moved 100 metres up the road.
All 3 houses basically have been swapping between the generations for the last 160 years.
Where I live is where the original Hoffmann mud slab house was built in 1850's
The 1980's and the possibility of selling the farm ?
Our most highly valued property, the Dallwitz block was on the market for quite a while, at the time the vines were not bearing any fruit.
Because the block had vineyards on it, luckily it didn't sell back then. Whoever might have bought it, the first thing they would have to do is remove the vineyard, which costs money, before they could plant another crop.
Luckily for us that changed in the late-80's.
Ever since then, I think the Northern part of the Barossa has really started to build a reputation of growing some of the best Shiraz in the world.
Influences : your Grandfather ?
My grandfather, I suppose was my grounding truth, he was my mentor.
Mum and Dad had me quite early, they were working long hours.
When I was a young kid I'd come home from school and generally the first thing I would do is to call in at great grandma's, have a biscuit and a drink and then I would go out and play on the farm.
We didn't have all the luxuries of some of the other families, we were most probably the last ones in the district to get a colour TV.
But it gave me a great opportunity to get into a lot of mischief in and around the farm with my grandfather, just helping with things like feeding the cows.
Eventually the paddocks that we were using to raise the cattle got planted up to vines because it was the best use for the land at the time.
When we were doing projects, he'd let me make mistakes that he most probably made on the same thing's years before. So, I was learning the old traditional methods through my grandfather and I suppose these were balanced by some of the new methodology I was learning at TAFE.
I took over the property very early.  I was still in my early 30s when I started making most of the management decisions here.
My Grandfather gave me free rein to run the place.
He never really retired, just slowed down and passed away when he was 87 in 2010, the year before one of our most disastrous vintages in 2011, which was made even tougher by not having someone like him to bounce ideas off.
My grandfather taught me many things, he was a fantastic mentor. He'd often say
"Sometimes it's the things you don't do that often give you the best results"
We follow that to this day. We've still got his small patch of white Frontignac, our only white variety.
Realistically we should rip it out, but I keep it for nostalgic reasons. The fruit goes to Rockford.
Tell us about your time as the inaugural 'Barossa Young Ambassador'
The Young Ambassadorship was very interesting.
It was over twenty years ago, I was a 24-year-old grape grower who didn't understand too much about the other side of the industry, especially the wine tourism and the wine marketing part of it.
I was quite enthusiastic about growing premium quality, and not much else.
When I got to travel to the other side of the world, suddenly, I realised, well it's not me versus my neighbour or me versus a grower in McLaren Vale.
I'm selling a product on a world stage and now I must be globally competitive.
So, the aspect of being a globally competitive grower really interested me.
I started to think, how we can achieve that ?
When I got home, I volunteered further as the Barossa Young Ambassador to be involved in things like cooking breakfast as part of a Barossa promotion at the Central Market down in Adelaide.
I bumped into other winemakers and began selling fruit to people I didn't really know like Trevor Jones.
It opened my eyes to the whole industry.
It gave me a lot more interest in what happens beyond the front gate.
A lot of grape growers are learning this, but there are still a few grape growers, who once they deliver their fruit over the weighbridge, they are only interested in the grape cheque, they're not interested in where their fruit ends up.
I'm very passionate and very proud of where all my fruit ends up.
The conversations that I was having with winemakers to understand how they make wine, helped me to work out in my mind what I needed to do to make sure that I'm delivering the quality of fruit that they require.
That's where you're no longer a grape grower anymore, you're actually a winegrower, you're actually growing their wine on your our vines.
I don't think there's a winemaker around that doesn't say that their wines are not grown in the vineyard they are made.
If we messed it up in the vineyard, they've got nothing to work with.
Where are your vineyards and who do you supply to ?
Our vineyards are in the Ebenezer area, in the Northern Barossa Valley.
Back in 1992 when I left school, between my Grandfather and my Dad we had about 20 hectares of vines, our clients were Barossa Valley Estates and Penfolds.
Having just two big clients can be a problem.
We now sell to about 30 wineries.
In early 1990's  my cousin was working at St Hallett's, and she asked whether she could get a couple of tonnes of fruit.
This was back in the early 90s when everyone was still struggling to sell fruit.
We drove down to the St Hallett's weigh-bridge. Robert O'Callaghan happened to be there that day and convinced my Dad to send a bit of fruit his way.
My Godfather Elmor Roehr was delivering there and it made sense to spread the risk.
I like to refer to Rockford as the 'School of Rock".
A lot of the cellar hands that go through Rockford's, they get to see all the ferments.
Through them we started generating a little bit more interest in our fruit.
A young winemaker / accountant, Dave Powell went through Rockford and started Torbreck.
When he started his own wine brand, he was another person whispering to people about our fruit.
But with Dad being a very loyal customer to Penfolds and to BVE, we found it very hard to give the growing number of other wineries more fruit.
We started more plantings in 1993 and we kept on growing right up until 2000 which was our last major planting before recent years.
These younger blocks of fruit coming on board they are all getting up to 20 years of age and a little bit older, so now we've got this very good quality Shiraz fruit.
This vintage : 2019 ?
A very challenging vintage, I'm calling it a winemakers year but in saying that I'm very happy with the result, we worked very hard, we used probably a third more water than we've ever used but for that water we've got the quality that we require. However our yields are probably down about 35% .
Short version of being a successful grape grower ?
I'm a professional grape grower, but it's hard because anyone who has a vine in the ground or on their property and grow grapes, can call themselves a grape grower.
I suppose, mentality I struggle a little bit with the grape grower and the professional grape grower aspect of it, but I've got customers and I need to deliver to those customers every year.
Where with other people or growers they've only got a small parcel of fruit, if it doesn't come up this year then it doesn't come up.
They potentially have other income, I'd have trouble telling all my customers that the fruit didn't come up this year when by good vineyard management I could have delivered.
It's all about getting good quality fruit consistently.
Our best planted block the 'Dallwitz Old Shiraz' block was the catalyst for the quality aspect for me.
Rob Gibson went for a walk through that block around the time of the vine pull. I'm not sure whether it was 1988 or 1989 and saw these little small clusters of berries and he said,
"The quality of the fruit was outstanding."
So, Dad said, "If you pay to get it picked, we'll pick it for you?"
It didn't pay us to pick the fruit because he was still only getting $250 a tonne.
After that year the price doubled and it's kept going up : we are currently getting between $5,000 and $10,000 for that fruit.
It's much sought-after fruit from many winemakers. As a professional grape grower, for me it's understanding your customer, talking to them and delivering the grapes they want.
Biodynamic & Sustainability ?
We are not certified, but I use organic and biodynamic principles in the vineyard.
I always refer to it as best practice viticulture because best practice in a certain year might not be all organic, especially if I want to deliver quality fruit to a winery and I'm limited to only putting X, Y or Z products on a vineyard.
It's all about being sustainable with frost mitigation and irrigation.
In 2013 we lost 40% of our area to frost, that's what we thought was a one in 50-year frost around home, so we didn't do anything about frost mitigation.
The following year in 2014, we lost 70% of our area to frost.
After 2014 I said to Dad, "We've got to do something about this".
We borrowed money, money that we had to borrow against our land because we didn't have any income, that was the first year that we've ever had to borrow money to actually get through a vintage, so with the half of a million dollars we put into frost mitigation, blowers and evacuators and things like that.
We went into the next season and we copped another very serious frost and if we hadn't done anything the year prior, we would have lost about 80% of our area.
Because we had the frost mitigation we actually only lost about 35% of our crop.
We irrigate when I think we need to. Really it's just drought insurance.
As I said I like to think we're using what I call best practice viticulture.
North Barossa Vintners collaboration of Chris Ringland ?
My favourite wines are the ones that have got age-ability, I like drinking aged wines.
I like seeing how far you can push a wine.
I've had some fantastic experiences and I'm sure there's plenty more to come.
I love opening wines that are older than myself and they've still got fruit and they've still got acid.
It is an experience that you can't really describe.
I chose to partner with Chris Ringland, I think our philosophy on making wines is similar.
We make wines that are going to live a long time, long beyond our years.
You're leaving a bit of a legacy. I like that fact that I'm already the fifth generation grape grower in the Barossa but to actually have wines that I've made or I've grown that people can try in 50 years' time is what I'm passionate about and I know Chris shares that view.
I don't discourage the hipster wine market and the natural winemaking movement but those wines are here for instant gratification, they're designed to be drunk early, they're not designed to be aged for a long period of time whereas the wines that myself and Chris are making from the Dimchurch and the Hoffmann label are.
When we get great vintages such as the 2013 and think the 2019 would be potentially one of those vintages as well, they're going to last for decades.
The Dimchurch and the Hoffmann are the same project, five 2 tonne parcels, 100% brand new French oak. Chris make's the barrel selection, so we'll end up with a selection of about 24 barrels and during the maturation process we'll lose two of those barrels during maturation for topping.
The Hoffmann is the best five barrels of the lot, it's more of an expression of the vintage, it's got a little bit of elegance and finesse to it but it's all about the vintage.
The Dimchurch is meant to be, as I keep on saying to Chris and he keeps telling me off about it, it's unapologetically, a big Barossa Shiraz.
We're trying to create one of the most dense, complex Shiraz wines that you can get anywhere in the world.
Soils and Spain ?
Chris has worked in Spain for many years.
I was over in Spain with him a few years ago, he introduced me to people he knew.
I looked at what people are doing and how they're adapting to their environment.
You think we're doing it tough here, but their rainfall is lower, it's dry grown, yet they're making a go of it and are  making some great wine.
When I took over the vineyard as a youngster, we were trying to homogenise everything, all the soil chemistry, this soil is too acidic so we'd  add lime or this soil is too alkaline, all right so we'll try and put something else in there, so we can get it close to neutral.
Mix clay with our sand, mix sand with our clay and try and homogenise everything.
In 2000 we carted a lot of clay out to the sand block and in the end, I thought,
"I actually wanted a sand block. I actually wanted a sand block so we could celebrate the differences."
Luckily we've still got a sand block and that's where the winemakers are going for the single vineyard Grenache and Mataro, because of the aromatics and the spice that the sand block gives, as soon as you go to the heavy soils with Mataro, it's quite savoury and creates quite a different style.
So my idea of the wine industry is to celebrate the diversity, it's not about saying,
"My fruit is better than another grower of fruit in the central Barossa floor or Coonawarra, it's just different."
I'm trying to grow for the ultra-top end of town.
My best returning vineyards are still what I would call my premium blocks where I can grow up to 7 tonne to the hectare.
If you get that right on any given year, you can return a lot more per hectare than some of the more premium blocks and it is more sustainable in doing that as well. You might be putting on a little bit more water but the overall health of the vine is better, you're not fighting so much against disease and everything else that goes with it.
The name Dimchurch ?
The township of Neukirch (Dimchurch) was meant to be established here where our vineyards are now.
The town was sub-divided ready for a township, but it flooded in wet years.
Dimchurch was the name given to the current town of Neukirch in 1917 under the Nomenclature Act of 1917.
It was the main route from Angaston to Kapunda, Angaston was where a lot of the wealth would have been at that stage, it was the largest mining town in Australia back in its day so this was the half-way-point. We bought our property in 1857, the family owned a blacksmith shop, that's where my grandfather was a trainee blacksmith.
Your wetland ?
If you look at an aerial map you'll see the big Hoffmann dam.
Right in front of it you've got the Dimchurch wetland.
It's just down the road from the vineyard.
While they had the heavy earthmoving equipment here building the dam, I got them to move a bit more clay to form a natural swamp.
The trees should have never been cleared as much as they were because that soil underneath is like potters' clay. It holds a lot of moisture but doesn't give it up at all so it's not suitable for the vineyard.
We hope to create a couple of bodies of water and then have a couple of islands within there and hopefully the birds can come back and start breeding up there once they know it's a safe environment.
The Dam will create a large thermal mass that will hopefully help with frost mitigation.
Anything else you'd like to say ?
Not much except to once again thank my wife April for all of her support.
She was born in McLaren Flat and then grew up in Melbourne, Sydney and Perth.
In her last years in high school, the family moved to the Barossa, she swore she was never going to marry a farmer, and once she finished school she was going back to Sydney where all her friends were.
Two years into staying in the Barossa she met me, and the rest is history.
She's really getting involved in the family business. We've got the barn out there so we use that for functions and also for tasting.
I love the many Barossa stories.
Personalities like the late Bob Mclean and Charlie Melton and many other winemakers who have really put the Barossa on the International wine stage.
I remember the story of those guys when they went across to the London Trade Fair in the very early years. For some fun they tried to take live yabbies in styrene foam boxes and tried to ship them across to use at the tastings.
Airport customs said "No, no, we only ship pets." So they just started naming them all and eventually they just let them go with their yabbies. They cooked them up over there as part of the Barossa tasting.
Great stories… Many more to come I hope.
ENDS.
Production, interview & photography : Milton Wordley
Transcript  : Libbi Curnow
Edit : Anne-Marie Shin
Website guru : Simon Perrin Version Design