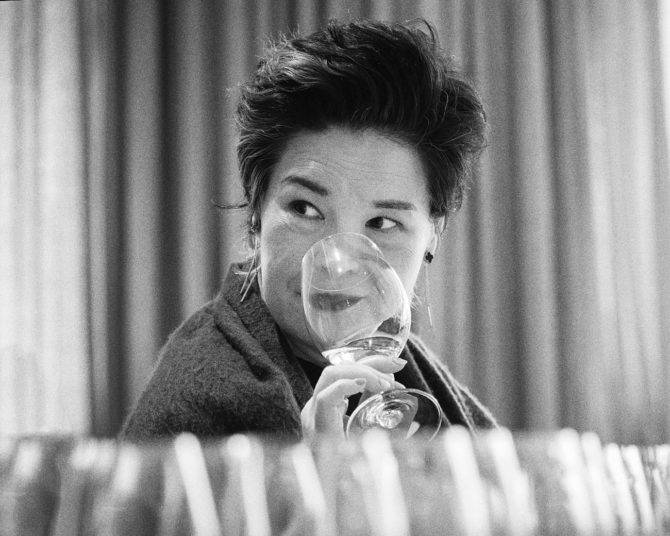 Fongyee Walker MW : Dragon Phoenix, Beijing
Fongyee Walker works as a wine consultant and a WSET Certified Wine Educator in both the English and Mandarin language,  based in Beijing.
She started her study of fine wine whilst reading a PhD in Classical Chinese at Cambridge.
Fongyee and her husband Edward Ragg run Dragon Phoenix Fine Wine Consulting, Beijing's first independent wine consultancy. They are both Masters of Wine.
China is an increasingly important export market for Australian wine.
I first met Fongyee at VinExpo Asia in 2014 and caught up with her again at the 'Rewards of Patience' tasting at Magill last year where she joined Andrew Caillard, James Halliday, Nick Ryan, Neil Beckett and Josh Reynolds.
The two day tasting  must be one of the most interesting wine tastings held anywhere.
Fongyee made some very interesting observations on wine in general and Australian wine exports to China in a recent 
Wine Australia
You Tube clip.
"I think the future of Australian wine in China is incredible good : Australia's got a great reputation here.
It's not just for wine, it's for food products that are safe and clean. Australia has this really premium image." 
Your early life ?
I have a very confused international upbringing.  I was born in Malaysia actually; my Mother is Manchurian-Chinese, her family fled the communists in 1949-50, ending up in Hong Kong.
Apparently my grandfather said,
"I don't trust the communists: the British are tough but they are very law abiding people so we're going to Hong Kong."
My mother wanted to study nursing, so she went to England in the 1960s to study where she met my father and then they moved around quite a bit trying to find somewhere to settle.
I was born in Malaysia when my father was teaching at the university there.
I grew up partly in Hong Kong, Vancouver and England, hence the funny accent.
My mother was a very Chinese-style entrepreneurial business lady and in Canada she actually started the first Sanrio stores… so I was the envy of all of my classmates because I had everything 'Hello Kitty'.
Then I was sent to boarding school in the UK , in deepest, darkest Dorset.
My English family, at that point, were much more settled in the Isle of Wight, so very much Southern England based.  I moved schools and went to London because it was for me much more exciting at the time, even though my marks became less than stellar !
Your PhD at Cambridge ?
I studied classical Chinese. However, I never finished my PhD.
I wish I had but unfortunately or luckily for me, wine tasting got in the way.
When I started I had a very good professor, but he moved from Cambridge to the University of California at Berkley. He said I could go with him, but I really didn't want to go to Berkley, so I stayed and got more into teaching.
At this time, I went into wine tasting as part of the Cambridge University Blind Wine Tasting team…then let all the academics go in favour of wine !
Why wine and China ?
My family always drank wine at home with food, so wine pairing is definitely one of the things that I get passionate about.
My mother nearly always cooked Chinese food (her western food was not great) and we always drank wine with it.
I never, never thought it was weird, I just thought, "This is what you did."
Actually I grew up with a very international palate as our family ate out as an Olympic level sport.
I actually thought it was normal as a six year old to have discussions about Kobe beef cuts. My uncle from Japan used to arrive with a suitcase of Kobe beef and we used to sit around and talk after grilling it.
Oh, my gosh, it was very good !
A six year old having fresh oysters followed by Kobe beef steaks !!
With food and wine matching, I remember we went on a family trip to the Loire Valley and my parents were very into trying all of the wines.
With every wine it was like, "Oh, this would go well with your dumplings, and this would go really well with Cantonese seafood."
I always grew up with that mindset and thought it was really strange that people thought that wine pairing was for Western food only !
As a family we were always drinking wine, and I mean always.  I actually asked for pink Champagne for my 10th birthday present but I never really took it seriously until I met my now husband at Cambridge.
He was the Captain of the blind tasting team so he kept on saying,
"You would be good at blind tasting" and "You have a great palate. Try it"
And I would think "It sounds so boring."
I finally said okay one day and then they were all horrible to me because I'd never heard of Sauvignon Blanc. So I decided to get even and study.
Mind you, I always drank what I liked, then it was Lindemann's Bin 65 mainly.
A nice buttery, oaky Chardonnay, it was crazy, but I loved it.
Bin 65 was the first wine note I ever wrote.
But after taking wine more seriously, I realised that I could actually blind taste.
The first year I was in the team I got the highest score in the match.  I had to go on to be  Captain and that sort of thing, but I always really enjoyed it. Of course, being at Cambridge, most of the people who were invited to come and teach us were MWs, so I learned so much about wine tasting.
Around that time we realised that there was no way I could continue in England in my field, namely  Classical Chinese. Jobs in the field were non-existent…. or maybe I could have killed my Professor to gett his job but I wasn't going to do that !
Fortunately, my husband got an offer to go to Tsinghua University in Beijing as a Professor in English Literature.
I said, "Well I like Beijing, I've been to Uni there, I've got family there, so that sounds good to me."
Back then my husband didn't even speak Chinese, but he speaks a bit more now; it's mainly wine vocab though.
I myself never grew up speaking Chinese, I do now, but Chinese is a very hard language to learn so I'm still studying it !
We went to Beijing and then opened our own wine consulting business, which is now in its 12th year.
So that was Dragon Phoenix ?
Yes, China has such a different attitude to education than the rest of the world in terms of the amount of respect for teachers and education.
When we started our company there weren't really any wine education companies in China, and I thought, "I just want to do something with wine. I'm not a writer. I'm not a winemaker. I can taste wine and I like sharing enthusiasm about wine" so we started a company for wine education and consultancy.
Now we're much more focussed on education.
We also used to do events but there's too much trouble in that, so now we really focus on education. We are perhaps the most successful wine education company in China.
We won the 'Riedel Trophy for then WSET Educator of the Year Award  in 2016.
Apparently making my students cry helps, mind you, I only let the high levels cry on me – haha !
Actually, we teach various levels and cater for both the trade and consumers.
Nearly 100% of my top achieving students, however, are consumers or amateurs.
Consumers in China tend to be much more engaged than people in the trade.
A lot of my friends are in trade; they're great people but really most of the students who know their stuff, the people who have tasted lots of wine, are consumers because they love it with a passion.
On the other hand, a lot of people in the Chinese wine trade seem to have fallen into wine….because it's trendy or it's fashionable or it sounds sexy, but actually they're not enthused about wine, they don't really want to drink wine. That can be a little bit disheartening.
Chinese wine drinkers ?
There are very few people in China who actually buy a bottle because they are seeking a particular taste in wine.
If the taste is acceptable, but more importantly if it has the correct label and gives the correct "impression," then that's fine… Chinese average consumers will buy that… but they will not buy on taste alone.
You can give people a Mosel Riesling, perhaps a Kabinett. They will all probably love it, but how many of them actually go out and buy it ?  Almost none !
I find that many wine regions or wineries, assume that the public has a far greater of knowledge of their products than they actually do.
For example, I would say the two leading brands in China are Penfolds and Château Lafite.
Chinese people buy on brand and those are the two brands that nearly everyone knows.
Penfolds is firmly entrenched, but not all Penfolds wines – it's just a very few and not even necessarily Grange.
I would say, in fact, that Bin 707 is much stronger in the Chinese psyche than Grange.
It's funny, we were just tasting Penfolds Bin 150.
Now that, for me, with its big flavours and taste profile would really suit some people I know, but I don't know anyone in China who buys Bin 150. In fact, I'm not even sure it's available !
So, what can we say about Chinese wine preferences ?
China has a far greater diversity of food than Europe and thus people have many more different palates than in Europe.
I'm based in Beijing, so a lot of my friends are Northern Chinese. Northern China eats salty food: it's strong, it's not chilli-hot but it's definitely got a big whack of flavour.
They're used to drinking spirits, they put a lot of salt in their food, they tend to like it gutsy.
As a result, these people like wine with a bit of oomph; they like big alcohol, they like big structure, they like fruit.
They mostly drink big red wine, and they find it very difficult to taste white. They're just not very good at it, they can't pick up finesse or nuance easily.
Mind you, that's also the same for beginner drinkers everywhere. And as a side note, everyone talks about Chinese collectors, but really they don't exist as really they are drinkers !
They may buy some wine to put down but they're buying it mainly to drink with friends.
Your WSET Students ?
Most of my students have been drinking for around 5 years.
Many were born between 1985 and 1995 and seem to have started their wine journey around 2009, so there's not a great familiarity with a wide variety of wines.
I was amazed the other week because in Kunming, Yunan, I met someone who actually had been exposed to wine for 20 years –that is amazing in China.
I nearly fell off my chair.
I was like, "20 years, really?" And he goes, "Yeah, I'm the old guy…"
My students are very keen to learn, but they're a bit lost too, because they just haven't had the experience, they don't make the connections, they don't have the knowledge.
A lot of them think that by studying WSET they'll learn everything about wine and then they get a bit upset when I tell them, "You know nothing yet, you can't taste really well yet…. it needs time"
And I say to them,
"I've been studying blind tasting seriously for 20 years, and I don't think I know that much about tasting.
I make mistakes, I write rubbish." At this tasting I'm with people like James Halliday and Andrew Caillard.
I just listen to how much they know and I'm just like, "Oh, my God, I know nothing, I know nothing."
When I tell my students, "I regard myself as just beginning to learn about wine." They say, "But you're a Master of Wine." And I have to add, "Passing the Master of Wine is realising how much you don't know."
Wine knowledge is cumulative, and it's really hard for my students to grasp that.
They're doing WSET and they're coming across wines that they've never heard of or that aren't available to China.
When we give them examples though, it is quite amusing because it's rather like watching young puppies gambling around or young children playing.
China is very important to Australian wine producers, any advice ?
Improving sales by volume is not the way to go.
My advice would be not to care so much about the volume but to care about the image, about the consistency,  about the branding, about the wineries' reputation and long term things.
I think that's what people should be working on with China, long-term sustainability instead of a short-term goal.
If you concentrate on increasing sales by volume, it's going to backfire. You're going to end up with the 'cheap and cheerful' branding that happened in the UK and Australia gets tarred with the 'cheap' brush.
Everyone is fickle and so in 20 years from now you guys are all ripping up the Shiraz that you planted or grafting it over to something else because Chinese consumers develop negative views once the market is saturated with Aussie Shiraz.
But also, it's important to remember that the way wine is bought in China is very different from many other parts of the world.
First of all from a consumer's point what makes them pick a bottle of wine?
It's a different logic to the way they look at wine.
Look at WSET… because, I think, they can have very Western blinkers on, the Level 2 textbook is all predicated on grape varieties.
But most Chinese don't buy wine on grape variety.
They buy wine on region and country of origin, that's the driving force.
I think, a lot of consumers in the West come to wine through grape variety, because they're buying it for taste whereas a lot of Chinese want to buy on region because they're buying for prestige, for face.
They will buy Barossa because Barossa is a prestige brand.
I can't tell you how many times I've had people, like friends asking me,
"Oh, can you source a good Barossa Chardonnay."
And I'm like, "What do you mean, like, what? Do you mean Adelaide Hills?" And they're like, "No, no, it has to come from the Barossa."
And I said, "Well you do know that the Barossa Valley is not well known for Chardonnay ?"
But they don't care as long as it says Barossa, because that's the key branding issue.
So for Chinese consumers, less sophisticated would go for Barossa, more sophisticated perhaps Margaret River.
Region, not variety is key.
Don't believe the hype. The Chinese wine market is growing but it's not growing as quickly as everyone would like to make it out. There's an awful lot of wine going into China that is still not being sold.
There are a lot of people importing wine that they can't sell.
In fact, not selling the wine in the end, is one of the biggest problems. Containers and more containers of unsold wine are floating around China.
Western people don't understand that because people in Western companies work to a Western business sense and a Western business plan.
There is no Chinese working business plan: almost everyone here does stuff by the seat of their pants, by going with the flow. That may mean, if you think wine is hot, maybe you import two containers because you've got good cash flow.
Such companies will bring it in and they will have no idea what to do with it.
Mind you, if you've got a company in China that has very good government and business relationships, then all of your wine is going to be taken care of, either gifted away or drunk at dinners.
It won't brand build that wine but most of those people are not in it to brand build. Wine's just another commodity.
So we are still a long way off in China from having a professional wine trade.
What is it you love about China ?
We have lived in Beijing coming up to 13 years soon. I love it.
It's a big city but I think, you can either deal with it or you can't and there's a very strong divide.
I love the enthusiasm, I love my students, I love the way that everything in China is so positive.
You really get the sense that people believe in the future.
I suppose it must have been like the 1950s in America, or the 1990s in Britain, there's this sense that people like going on an upward path and it's a tremendously heartening thing.
Wine styles you prefer ?
There are many wine styles that I respect but I don't love, even very expensive ones.
For me, it's like fine Cantonese dining.
I can go out for a very, very good Cantonese meal and with great chefs but I don't really love it to bits or I can go to a traditional Burgundian Michelin Star restaurant and recognise the quality but I'm definitely like, "Ok, I've had my one meal for the year or two years and I don't need to eat this food anymore."
I think wine is a bit like that for me as well.
I tend to prefer to drink undemanding wines that are not tannic and, in fact, given the choice, I would drink uncomplicated sparkling wines easily for the rest of my life!
I can recognise quality but it doesn't mean I want to drink it often, so you can save your Barolos and Grand Crus if I come over for dinner !
Alternative varieties, Future trends
I love alternative varieties personally.
I just had a lovely Nero d'Avola from Bird In Hand which I thought, "crikey, I could drink a lot of that."
I love Fiano and Greco.
There's a sparkling Fiano made by Corrina at Oliver's Taranga called 'The Hunt for Mrs Oliver', I love it, I want to go and buy one now !
But in China it's very difficult to find more alternative wines.
People have not been drinking wine for that long so they haven't had that long to get tired of the traditional styles.
Recently, in China, I did a presentation called 'Wines that I like'.
Because I taste wine a lot, some wines that capture my imagination are slightly odd,…like, you know, an 11% Semillon skin contact fermented wine from Argentina.
I'm showing these sorts of quirky wines and one of the students says "Sorry, I don't like any of these wines.," And I'm like, "That's fine".
Just because I'm an MW doesn't mean you have to like the same wines as me !
We all have different tastes and palates !"
How's the 'Rewards of Patience' tasting been ?
This tasting is great, really fascinating.
I'm afraid that for someone who lives in China, I'm not that familiar with a lot of the Penfolds wines.
It's quite disgraceful really, considering how important they are in my market.
But this tasting has really helped me to understand much more about the winemaking philosophy, the diversity of their wines and, most importantly, about the massive ageability of Australian wines.
Stand out wines at 'RoP ?
For me, there wasn't one stand out wine in particular.
But one of the things that impressed me the most was the ageability of the Koonunga Hill.
This is not a 'fine wine' or one with a premium price point, and yet it could age gracefully for 30+years !
A real testament to the ability of Australian wines to age.
Anything else you'd like to say ?
Don't think of China as a monolith.
There's every type of consumer there from 'Ganbei' to bottoms up, hard drinking business men who view wine as a tool to grease relationships, to hipster youths who hang out in natural wine bars, and women white collar workers who look to wine to enrich their lives.
Although the wine trade is incredibly different from that in the West, the consumers themselves have the same diversity of opinions, tastes and choices as other consumers around the world.
If you think that the Chinese love to drink wine with Coke….
…keep in mind that I was taught that drink by my Spanish cousins, not my Chinese ones !
ENDS.
Interview, photography & production  : Milton Wordley
Transcript  : Libbi Curnow
Edit : Anne-Marie Shin
Website guru : Simon Perrin Version Design