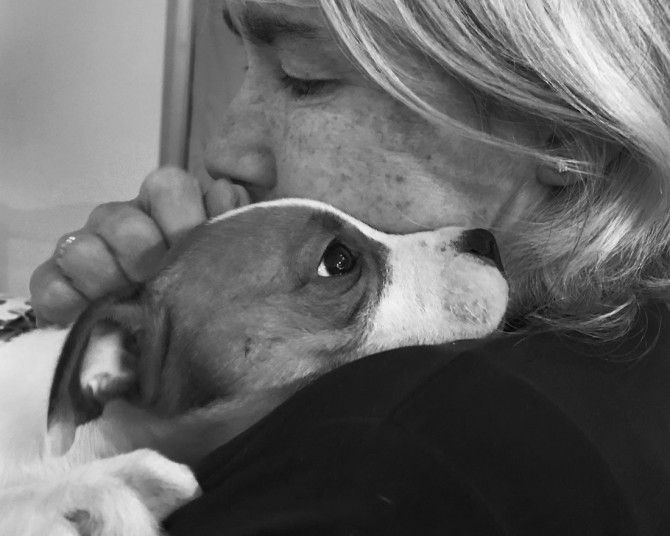 Myrtle : Our 'Brown Eyed' Girl.
So its official, we are 'with Staffy' again – after about a four year time since our Kauri died, we now have Myrtle. Why Myrtle you ask – Well one reason because Milton's preferred name "Brown Eyed Girl" was too long to call out on the beach and open to shortening in a not so nice way.
As you may remember Kauri's Dad Jarrah was black… Kauri was brown and red and so named after a red wood…
And so as Mytle is white with brown spots she is a bit like the crepe Myrtles from Maxwell street – that's our theory anyway and we are sticking with it.
Four weeks old – when we first met her – up at Mark and Heidi the breeders' place – she was so sweet of course she won us over.
Six weeks old :  when Milt next visited – not so sweet – could say even a bit bossy :  that is her brother she is standing on !!
We came to approach Mark and Heidi after two Aldinga Beach encounters with dogs from their kennel  Viper Staff  in Willunga.
One day we met Penny on the beach at the beginning of the year….
Then about two months ago we met Razor outside out local Indian cafe.
Razors' a gorgeous tan boy who let us know that Mark and Heidi's dog Ella had just had pups
So of course we got in contact….
Here is Ella the mum – what a sweetie !
So on Thursday 6th of September we picked her up from her gorgeous home near Willunga Hill …..
She probably misses her brothers and sisters… but she loves our garden – which is now her garden.
Lies all over it : even dug up AM's cucumbers the other day.
And of course has Milt wrapped around her little paw …
Takes advantage of anything she can find to lie on : like Rob's Crocs….
Loves the bed.
Got me under  her little paw too !! …
Here is her first intrepid foray onto the beach – the first of many !!
We just wanted to introduce her to you – sure you will all get to meet her soon.
Cheers,
Milt, AM and Myrtle.