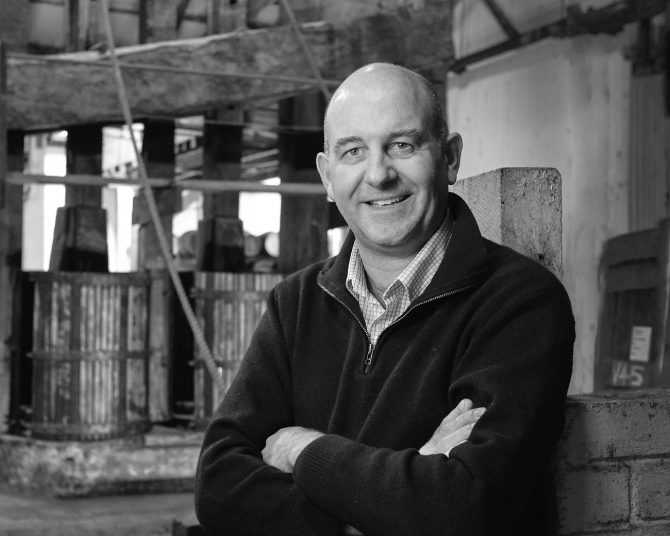 Paul Hotker : Bleasdale Langhorne Creek
I hope you are getting through these very challenging times. Its been a while since I posted an interview, as its been a bit difficult during these months of isolation.
Paul Hotker is someone I have been trying to interview for quite a while.
I finally caught up with him recently in Langhorne Creek, one of Australia's oldest wine regions.
Paul's a bit like Langhorne Creek, hardly anyone outside the wine trade (or wine tragics like me) have even heard of him, yet he and the Bleasdale wines he makes have won loads of awards, including last year's Jimmy Watson trophy and being named as the James Halliday '2018 Wine Maker of the Year'.
He studied viticulture and switched to oenology. I'm sure his knowledge of the vine helps his winemaking.
As he says in the interview
"Knowing what the vineyard needs to improve the wine is important, but you need to be patient".
Your early life ?
I grew up in Mount Lawley/ Menora an inner northern suburb of Perth.
Dad had a wholesale men's wear business and Mum was a teacher (US import).
My parents only moved once in my life, they're still in the second house which was about 200 metres around the corner from their first house.
My brother and sister still live in Perth. Dad came from a farming family in Western Victoria. He was the youngest so he was never going to inherit the farm.
He moved into sales and stayed there his whole working life.
I was really bored at school, misbehaving and not showing up very often, so I took some time off and became a Jackaroo, I did that for a year and came back home.
Through one of my Dad's friends Ian Yurisich, I got a job at Olive Farm Wines in the Swan Valley.
Olive Farm was established in 1829, it's even older than Bleasdale.
I worked as a vineyard hand, did that for a while, enjoyed it and enrolled to studying viticulture at TAFE.
I broke my little finger in the middle of the pruning season and so that was the end of pruning and TAFE for a while.
I'd always had an interest in bikes and I started working in a bicycle courier because I could do that with a broken finger.
Became a bicycle courier and travelled the world, spent time in Sydney, then off to Europe, Amsterdam and Germany.
Once the weather started to get cold again, I came home, I'd had enough of winter in Europe. Back here more bike work, some landscaping, some builders labouring and all sorts of stuff.
What led you to wine ?
When I was about 25 and thought I really need to do something with my life and went back to TAFE to finish my Viticulture in WA. I wanted to learn more so I came to South Australia in 1999 to get into Uni.
I enrolled in Viticulture at the Waite Agricultural Research Institute in South Australia.
And a few years later at Matt's 50th.
Back then we weren't allowed to do a viticulture elective if you were doing wine, so I enrolled in Viticulture and switched to wine half-way-through because I've always had an interest in flavour.
Peter Dry was one of my main lecturers : he was great, but I'd have to say, I get along better with Peter nowadays than I did when I was a student.
Peter had a habit in my view; if you were enrolled in the oenology stream, you didn't do very well in your viticulture subjects.
While at Uni I worked on vineyards in McLaren Vale and Adelaide Hills and holidays back in WA, my plan was always to go back West, but in my third year of Uni I met my now wife Sharon, a Barossa girl.
In my last year I heard about this job in New Zealand with Nautilus, a dual role; Vineyard Manager and an Assistant Winemaker and I thought, that's ideal for me because I still hadn't made up my mind about what I want to do.
I got the job and was there for nearly four years. Nautilus is owned by Negociants and Robert Hill –Smith.
Exciting times for me in those days. There was a new Pinot winery and that was my focus, but I obviously learnt a fair bit about Sauvignon Blanc, Chardonnay and Pinot Gris. We also made some really good sparkling wine, but I love Pinot Noir and that was the driver.
When I came home to OZ, I bumped around for a little while, and did a vintage with Pernod at Richmond Grove in '07. After that I had started doing some consultancy work with Shaw + Smith and a couple of other smaller hills growers.
Bleasdale & Langhorne Creek ?
In October 2007, this job at Bleasdale came up and I thought, it's close to the hills where we were living and I needed a job.
Consultancy was great but I didn't have a name for myself in Australia.
I had done a lot of work in New Zealand, the locals there knew me but I had to re-establish my career here.
I thought, here's a chance to settle in.
Brian Light who was the Bleasdale Chairman at the time said, "Paul just run with it and make it your own" so I did.
At the time we were living in Kuitpo, Sharon was busy with Oliver who had just turned one and we were looking at buying a house in the hills.
We settled on Strathalbyn, it's easy to get to Bleasdale and I can be in the city or the airport in about an hour. The weather is better than the hills as it doesn't rain quite as much and I'd landed this job.
I stopped most of my consulting, but I continued with Shaw + Smith because I really enjoyed the work and the people.
I learnt a hell of a lot and kept doing that up until 2013, about 6 years in total.
Did you know much about Langhorne Creek ?
To be honest, I didn't know anything about Langhorne Creek then.
I've come to appreciate Langhorne Creek as a much understated region and a quiet achiever.
When they started planting in 1850 it was to supply Thomas Hardy.
That basically established what Langhorne Creek still is today, it's a supply region for entrepreneurs from other regions.
At Bleasdale we don't supply fruit to anyone else and haven't for many years but Langhorne Creek the region absolutely does.
Bleasdale 170 years old & the name ?
Yes, 170 years old early this year.
Frank Potts purchased the first Section of the new town of Langhorne Creek in 1850, and together with his new wife, cleared the land of its huge red gum trees and began farming.
When the Shiraz and Verdelho were vines being planted a few years later, Bleasdale became the first winery established in Langhorne Creek.
The name? Apparently there was a Reverend Bleasdale who was extolling the virtues of all things viticultural.
I've heard a story, I don't know if it's true, apparently the Reverend was promoting wine as a drink of temperance as opposed to spirits.
Maybe Frank Potts thought that was funny, I don't know, but apparently, he named the property after the Reverend.
I don't think they ever actually met.
We now have a couple of new shareholders but a number of the Potts family are still involved on a daily basis.
Viticulture v Oenology ?
Good wine can be made in the winery, but great wine is always made in the vineyard.
Great wine can be made almost anywhere, but it can take years.
Some winemakers don't understand the viticultural connection, in the winery they're just treating symptoms and they're treating the same symptoms every year, whereas if you know a bit about Viticulture you can see what the deeper issue is with the wine, you can start treating it in the vineyard.
Knowing what the vineyard needs in order to improve the wine is important, but you need to be patient.
Any particular wine where you've seen the results from considerable effort on in the vineyard ?
I'd like to think all of them to some degree, but the 'Powder Monkey' vineyard would definitely have to be one of them.
'Powder Monkey' was Frank Potts' job in the British Navy in the early 1800's.
When I got here that fruit was going into a $12 bottle of Shiraz-Cab and now it's probably our best Shiraz vineyard. I often think it's possibly the best in the district but it is also on the flood plain and the first patch to go underwater if we get a flood.
This year, to me, is shaping up to be the ideal year, lots of rain with no flood.
I'm learning how to deal with floods but they're not easy, I mean the Powder Monkey vineyard is great but in 2017 all of that fruit went on the ground because we had a flood at Christmas.
We lost the lot, that's just part of being here, but when that vineyard is 'on'… it's amazing.
The current 'Powder Monkey' vineyard was planted in the early 90s. I think some of our best vineyards are generally in that 25 to 40 years old range.
When I got here everyone said the old Grenache vineyard was only good for Tawny, now it's another really important vineyard to us, it was a big part of the fruit for the Jimmy Watson wine and some of our GSMs have won trophy after trophy.
We've done a lot of work on that vineyard.
A big range of wines : whose your market ?
Our main focus is locals, just about every pub and cafe around here has Mulberry Tree or one of our wines on by the glass.
We sell bucket loads in Adelaide and deliveries into Strath nearly daily; as well as Mt Barker, Goolwa, Murray Bridge and Encounter Lakes regularly.
We bought a van a month ago just to service the locals because through the COVID-19 restrictions we've sort of become the local bottle shop. It's been good, it's keeping us really busy.
It's hard to pigeon hole Bleasdale, what sort of wines we make and what our market is.
If I ask people, what is Bleasdale to you ?
They most likely say it's all about Malbec or Cab, but we sell more Adelaide Hills white wine than we sell Malbec. We export a bit; Canada has been really good for us, Germany and the UK is pretty good as well. We've got lots of customers all over the place.
Bleasdale wine style ?
We make a wine for everyone, we seem to be all things to all people.
I guess to some degree that comes from our customers. Many have been with us for three or four generations and we don't want to upset them, so we have to continue to make traditional table wines and fortified wines.
We can evolve those a little bit and not upset anyone but we can also make modern wines that are lighter and fresh, fruit-forward, that suits the newer generations.
That's really been the Bleasdale story forever, we have always been the glass of red that you have with your half price schnitzel on a Tuesday night at the pub.
The challenge now  regarding style is to produce and market some our top end wines.
I think the perception of Bleasdale is changing particularly with wines like Frank Potts.
The '02 won the London International for best Australian red wine, the '2013′ and the '17' both won the Cabernet blend trophy in Perth. Fantastic, I loved doing that because WA is still my 2nd home.
Also wines in the style of the Jimmy Watson winner, modern fresh, bistro wine, that's all it was supposed to be.
It's a wine-bar wine, something I imagine that Jimmy's in Melbourne would have sold in the old days.
Whose on the winemaking team ?
Just the two of us in winemaking team, Matt Laube the Operations Winemaker and myself.
We've got a Sarah in viticulture, Meagan in the lab and a small but very good cellar team, obviously the numbers go up for vintage and we bottle everything here.
Yeah, we do everything, we grow it, make it, bottle it and we sell it, we're a one stop shop.
The 2019 Jimmy Watson ?
The wine was a simple Shiraz-Grenache blend with a little bit of Mourvèdre.
It's predominantly Shiraz, but definitely a blend and not very Shiraz like.
I tasted it one day in the lab and shows weren't part of the plan, but I thought, actually this is the kind of thing that would do well Melbourne, let's stick it in.
We only made a few hundred dozen, It was sold out in three or four days after the JW, it was gone, just like that.
It's funny, we've won a lot of awards over the years but the Jimmy Watson does bring a lot of attention to whoever wins, it's incredible.
Remember Wolf Blass won three in a row in the 1970's, plenty of that fruit came from Langhorne Creek.
Because Langhorne Creek is not that well known for young fresh wines, it's been a better strategy to make traditional reds that are a bit fuller bodied that can be aged because you're never quite sure when they're going to get sold and drunk.
But lately, I've been making more and more wines that are about drinking now.
We've been trying to improve the approachability of those fuller bodied wines, a foot in both camps really, but they can still age beautifully.
Wine Show Judging ?
I enjoy the challenge of it, it's the same with winemaking, sometimes things are not perfect but they're challenging.
I need that stimulation because I can get bored easily.
In winemaking, the big decision is often deciding what not to do rather than what to do.
Just because you can, doesn't mean you should.
Judging is a little bit like that too, it's easy to see how young judges (including me) get sucked in by big alcohol or big oak, or obviousness in wine and then overlook joyful, fun, interesting wines that people are just going to love drinking.
There's absolutely nothing wrong with wines like that.
Influencers ?
There's been lots of early influences in my career.
When I started to take things more seriously, people like my father in law Alan Hoey, who was with Yalumba, now BVE and Delegats in NZ, he's very analytical and that was good for me. Also at Yalumba, Brian Walsh, very philosophical so I learnt about perspective from Brian.
Clive Jones (Nautilus) taught me about winery engineering and obviously Martin Shaw and Michael Hill-Smith were very influential and gave me a holistic view of wine.
I was just one of the cogs at Shaw and Smith but as part of that, I got involved in many parts of the business and how every piece fits their mission, a great experience.
James Halliday of course; I actually read all of his reviews, and try to understand what he's saying, be it positive or negative, James is a master of subtext.
When he awarded me Winemaker of the Year, most of the jokes that came around was proof that James has finally lost it!
I hope I've lived up to the expectations.
A couple of others have changed my views, Steve Pannell from McLaren Vale and Tom Carson, from Yabby Lake.
Steve was working with Shaw + Smith at the same time as me and we both were panel chairs at the National Wine Show.
The chair attends the exhibitors' tasting so that people can talk to them and no one ever does, that's what they're there for, so go and ask questions and learn. Whenever I think "this wine is really good but they've canned it", I'll just see if they can spend 5 minutes to taste it with me and discuss it, I'm a sponge for information.
I try to buy a few of the wines of people who have influenced me, every now and then just to see what they're doing. The wines aren't always that relevant to what we do here but they're always interesting.
So lots of people have influenced what I've done, I don't think I've ever tried to copy anyone.
Langhorne Creek is what it is, and I try to just capture the beauty of what it is, rather than manipulate the hell out of it.
Wines you drink ?
I probably like drinking younger, lighter wines but I have a great appreciation for mature, medium bodied reds so for me it's about the food and the occasion.
ENDS
Interview, photography & production  : Milton Wordley
Transcript  : Libbi Curnow
Edit : Anne-Marie Shin
Website guru : Simon Perrin Version Design