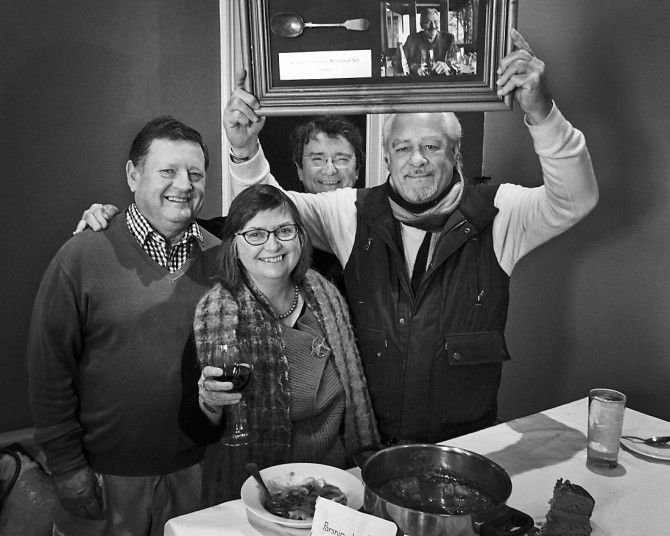 Food writer Nigel Hopkins came down from the Hills with boiling oil. Lisa and Derek Michalanney came up from Glenelg with sausage rolls. Ralph the Curry King suddenly materialised after 30 years in Libya and other distant climes.
Would another Derek, the serial winner "Fluffy" Robertson, have the ticker to fight back after his dish was adjudged "ingenious but disgusting" at the most recent contest in May ?
Call it what you like: that could be by its proper name, the Howard Twelftree Memorial Stir. It also gets cred around town as the Howard or Brunswick Cook-off, or for its chosen ingredient.
That made this one, the ninth to honour our late food/wine raconteur and roué, the Parsnip-off.
Whatever way, the food event in Howard's own local front bar, the Duke of Brunswick in Adelaide's West Village, just goes on pulling its crowd and making its waves. There were 17 entries, a serious record. In the heat of such intense competition, emotions were bound to spill over on the crowded converted pool table.
Nigel brought along his own wok for his parsnip and gruyere goujons, in league with Howard's long-time photographic sidekick Tony Lewis. The Cook-off is a blind tasting – which Nigel, a first-timer, wasn't to know. Local Chris Sykes wished for the same last-minute heating privilege for his parsnip bao.
Syko is also our unpaid community adviser on OH&S. He raised questions of same over the wok.
Eventually order was restored; there will be no more public food preparation in the Howard Twelftree Memorial Stir. In future, if Nigel wants he can do that at Syko's place, where his OH&S will be impeccably monitored.
The Cook-off is a community show, but open to anyone who knew Howard, aka John McGrath, or shares his belief systems when it comes to having a good time. That's where Nigel and Tony, and Lisa and Derek, and Ralph came in.
And as it happened, celebrity judge Liz Ho couldn't split the other Derek, with his parsnip chowder with smoked grenadier, and Ralph, with his parsnip and lamb curry, for the top prize.
Derek, with four wins, now has his culinary confidence fully restored. Adelaide-born Ralph, a retired geologist with the birth name Greg Ambrose, is a recent blow-in to the east, or Paris, end of town. We subsequently learn that Ralph's curries have heated heads from Tripoli to the Timor Sea.
Baysiders Lisa and Derek jagged the Packing Case Prize for their parsnip sausage rolls with caramelised onions.
Liz, co-author of Cheong Liew's "My Food", picked spring herbs for the next event, on Sunday October 25. Then as the next judge she chose Professor Barbara Santich, eminent food scholar and writer. As a guide only, Barbara already has mentioned dill, chives, garlic chives, cress, fennel, tarragon and chervil. Then there's tender spring growth or flowers of borage, mint, sorrel, lemon balm, sage, savoury, lavender, salad burnet, oregano, Vietnamese mint and lemongrass. For now, that should concentrate the minds of some of Adelaide's best recreational cooks.
And you reckon Showdowns are big.
They have serious competition from what Howard left behind !