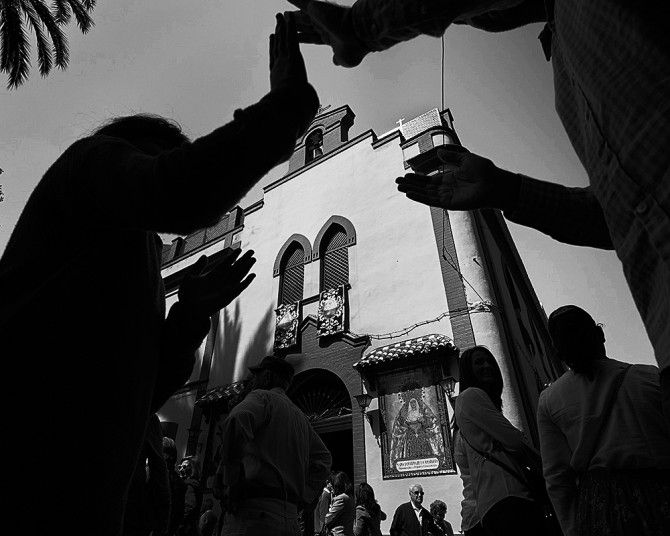 EU 2017 : A few days in Huelva.
On previous visits to Madrid, we had heard much about Huelva. It is the southern city, about a six hour drive from Madrid. Bea's mum Pilar was born there and it's also a place which Ventura, Bea's dad really loved. We had always hoped to visit it with him.
Spanish
Sadly this was not to be… however it was so special to be included in the family group with Bea, her mum and her brothers Carlos and Javier as they went down to Huelva to be with family and friends, celebrate a mass for Ventura and to scatter some of his ashes in a place that he loved.
"Ventura was not born here in Huelva : but he loved it just the same…." was the sentiment that Antonio, a close friend of Ventura and Pilar's expressed in his opening remarks at the mass.
Day one
The trip started with Sam teaching his Padré a valuable lesson in travel. 'Got a car ?' asked Sam, 'Sure' said Milt, 'booked it thru my Avis preferred account, don't like to stand in queues .'… 'How much did it cost?' say's Sam. '13 to 1400 Euro's': 'That's bloody ridiculous Dad, we can get one much cheaper than that.' Sam left Milt dealing with Avis and went outside their office to ring around. Came back five minutes later and cancelled the Avis. We picked up almost the same car at two booths away for 680 euros.
Manolo, Bea's uncle is kind of like El Padrino in the streets of Huelva…. his quick smile and infectious laugh open doors all over the city and surrounds which invariably lead to the most fantastic food and service.
To say we ate well in Huelva is an understatement. From the 'light dinner' when we arrived after a 6 hour drive ….to the very fine dining lunch we enjoyed on our last day there it was all very memorable indeed.
Day two.
One of Huelva's claims to fame is that it was the launching off point for Christopher Columbus on his discovery of America. There are some replicas of the Nina, Pinta and Santa Maria at the dock at La Rabida – just outside of Huelva. Also just down the road from there is Casa Carlos, an unlikely looking place for amazing food – but as you can see from the plates below it was spectacular. Octopus two ways…. on the left – Andalucian style with vinaigrette and on the right Gallician style with potato – both delicious.
This was the first Huelva lunch with all of the family… here are the heads of the family – from right to left… Manolo, Pilar and Manolo's wife Lorenza.
Also at lunch Bea, Sam, Milt, Anne-Marie, Manolo's daughter Loren with her children Rodrigo and Jimena, Bea's older brother Carlos with his daughter Hiri ( doing a flying leap in the photo below) and Bea's younger brother Javier.
What a feast.. the first of many…
As you can see with all the cameras flying around there were many photos taken – these are just a few…. thanks for your contributions Javi!…great shot of oldest brother Carlos with Sam and Bea.
Left to right… Anne-Marie, Sam, Bea, Loren, Jimena, Lorenza, Rodrigo, Manolo, Pilar, Hiri, Carlos and Javi ( Milt of course is behind the camera) This photo in the front bar of Casa Carlos at La Rabida
Huelva is often described as not the prettiest town – however it is one of the friendliest…. it has a large pedestrian area in the centre of town and it seems that everyone is on the streets from 8pm til at least midnight, eating, catching up with people ( everyone knows everyone …) or just strolling. That's us at the table on the right.
Brothers Javier and Carlos.
Bea and Anne Marie in a photo taken by someone.
Could have been anyone, seemed everyone had a go with Milt's Fuji XT1…..He likes the shot, thank you to however took it.
Manolo gets an iPad lesson from grandson Rodrigo.
Day Three.
We couldn't get through any meal without friends calling past to say hello to Manolo and Pilar….we are at a local beach restaurant Choco Bar ( Chocos are cuttlefish which one of many local seafood specialities )
Simple food cooked beautifully.
After much negotiation, and with much reluctance, Manolo let us pick up the tab for this lunch – but there was no sneaking the bill we were severely blocked until Manolo gave the OK. Here he is telling the manager not to let us pay, finally it was agreed to.
Sam and Pilar take a moment to look out to sea… there are so many fond memories in Huelva….
Semana Santa – the holy week celebrations for Easter are big all through Andalucia and Huelva has at least four processions per night which start in the early evening and don't finish till after midnight. Different parish communities take charge of putting on processions, each float has a rotating crew of men under it to carry it through the streets and usually a band to follow and some ……. to follow it. The streets are packed for seven nights in a row.
Bea and her neices Hiri and Jimena having a break Semana Santa..
We joined everyone on the streets of Huelva every night..
Part of the Parade.
Thru all the main squares.
Day Four.
Ventura's Huelva mass was held in a convent chapel in the square near where Bea's grandmother grew up. Antonio, an old family friend spoke about Ventura and Antonio's son and other family members played fantastic guitar as part of the service which was really moving.
After the mass we went with the family group to Isla Cristina, this is where Bea's aunty Lorenza grew up – it is very close to Portugal and is one of the main fishing villages and main fish market for the south of Europe.
The fish market manager is a family friend and he and his family joined us in a restaurant on this square.. again an unassuming place but with the most amazing dishes including this seafood rice – quite different from Paella and a local specialty.
By then the pace was showing… an after lunch sleep perhaps ?
Lucky Manolo knows how to get comfortable !!
Sam and Pilar take us for an after lunch a walk to the fish market to see how the seafood is sold straight off the boats to merchants and restauranteurs from all around the area, including Italy, Spain and Portugal.
Fish everywhere… 'VERY VERY FRESH FISH'
Day Five.
Last day in Huelva, a walk along the harbour….
Fun with the kids…
… however when we got back to our car – the front tyre was completely flat.. thanks to Carlos for the hard work and the kids for their patience and Bea for handling logistics of working out getting it fixed through the rental company…..
Final lunch at Azabache Restaurant – fine dining this place was a founding member of the Andalucian Gastronomic Association and it was known for its fine wine list and exquisite food … pictured here left to right … lomo (cured ham), razorfish and jamón some of the best we have ever tasting.
Another fantastic meal : thanks you Manola and the rest of the family.
Milton gave a short speech to remember Ventura, we were able to toast him with a Muga wine that was one of his favourites… and also to thank Pilar and Manolo for their amazing introduction to Huelva … Bea on hand for translation, although Milt's Spanish has developed from Si….No and Gracias to  Estoy contento…..I am happy.
After four days of the most amazing seafood – the piece de resistance was these small crayfish….
After all that seafood….
It can get a bit messy..
After lunch… back to Manolo's spacious house at La Rabida where we left some Aussie wine for Manolo's cellar (we found some Plexus by John Duval and Terrior Australis by Julian Castagna in a Madrid wine store) and enjoyed a quiet evening and some drinks with Manolo's neighbours.
Day Six.
Off to Lisbon for more wine tasting,
Plus some dancing in the square.
Day Nine : Back to Madrid…
We are here for a few days before that great 30 hour trip home. Anne Marie has over 40 assignments to mark before we leave…. she's lovin' Sam's three monitors.
ENDS.