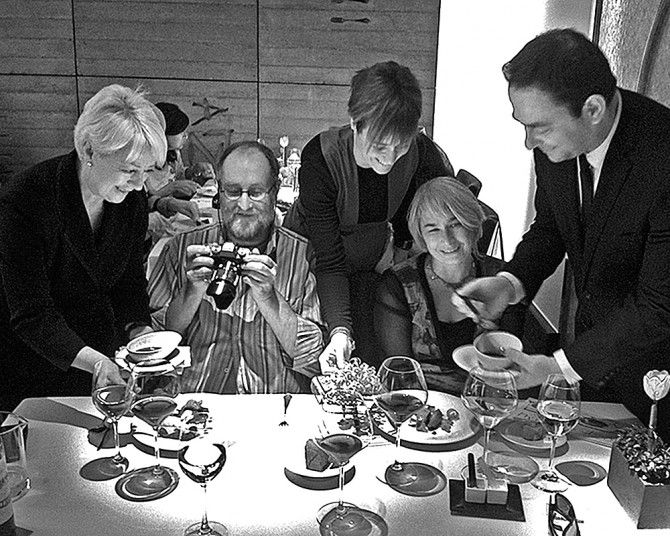 If you like food and wine – ya just gotta' get yourself to Spain.
Did you know Spain has 7 restaurants in the worlds top 50, we even ate in one un-beknown to us at the time. That's us above in a Sam Wordley iPhone snap at Arzak in San Sebastian. Fantastic meal, we have a rather large Visa chit to show for it… but you get that. Next interesting Milt fact ….. Spain has more planted area of wine grapes in the world, but only comes #3 in total wine production. Wines have all been great – must be something about low yielding vines.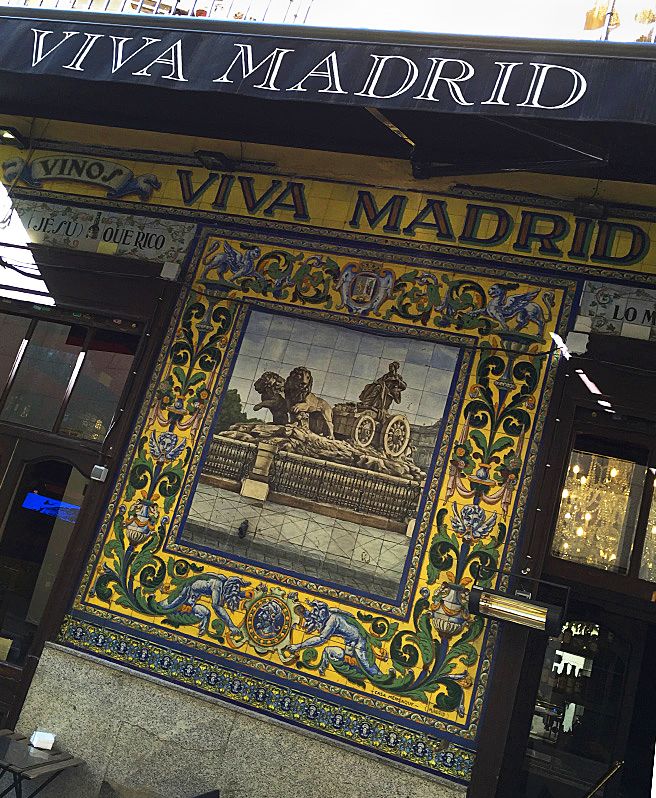 What a week – we have been on a 10 day feast. Even got into Spanish time. We should get bedroom window shutters in Australia – instead of waking when the sun comes up….wake when you feel like it. Bed around 1am , up again around 10 !
Madrid !! we love it
Road trip to San Sebastian with Sam – we left home and caught the Metro from Opera to Atocha station to pick up the rent a car…. red Golf… great little car, very comfortable and Sam a super driver through chaos of Madrid traffic then on to the motorway.
First stop – breakfast at a little town – hadn't done any research just pulled off the road when coffee was calling – found ourselves in a quaint semi walled town just out of Madrid before Ribera Del Duero – got a great tostata with tomacca and jamon  and some of the best coffee we have had so far in Spain from the most unlikely little bar….. not at all touristic. 
The town looked like it was suffering economically – as many smaller regional areas of Spain are….the walls dated back to the 15th century from the Moors.
Then on to Ribero Del Duero – famous for Tempranillo – we had a contact there through Johann Henschke – and visited his wife Angela's family winery for lunch. Really beautiful winery – very grand – looks like it would do a roaring wedding trade in the warmer months – but as it was on a Monday- we were the only ones in for lunch.
Sure lunch is available – as we were shown into a magnificent golden dining room and then graciously attended to by Jolie and offered a menu starting with tapas…. salmorejo (chilled tomato soup) and then the chef's speciality roast lamb….almost but not quite as excellent as Pilar's on Saturday.
Wines were also superb  both from tempranillo grapes— rose fresh and very dry and then a Riserva Ribera – very different and excellent for the lamb. To finish a desert ( need to look at pictures to remember) Needed a good stroll around the vineyards after this before heading for Haro. The soil and elevation of the vineyards  showed quite a few changes even in a short walk. Quite old bush grown tempranillo vines growing in rocky soil topped with quite large smooth pebbles.
From Ribera del Duero to Rioja – we stayed at Haro overnight – this is at the beginning of the Rioja area – and has quite a few bodegas close by the town – including Muga where we had an appointment the next day. We got into the town about 7pm, stopped at a bar with wifi for a beer and checked out the accommodation possibilities –  found some apartments which looked good, but were in the walking only bit of the town.
Sam and I left Milt in the car, fiddling with his phone while we scouted out …it seemed deserted except for a few kids playing soccer, Sam asked around, very glad we were to have his Spanish skills…. and we soon found it great place  (Beethoven) opposite the St Tomas Cathedral— but very modern rooms and furnishings, booked a room then went back to the car – to try and find the closest parkable space, maze of one way streets and an uncooperative Tom tom… we nearly gave up… but found our way in eventually.
Haro is in Basque country – and so pintxos heaven – we walked the town till around 10 and then chose two local bars to sample cerveca, vino and pintxos…and of course watch soccer. The two bars were next to each other and it surprised us to see the easy movement between them – people would pick up a snack and drink from one place and chat with people for a while – then just take their drink and snack to the place across the square and vice versa.
Having had such a mammoth dinner we only sampled a couple …but its a great way to eat..usually on slices of bread with a couple of tasty ingredients jamon, anchovy, baccala, calamari, prawn, pimento, etc….all on display at the bar. Back up to apartment for a very comfortable night sleep – would really recommend Beethoven apartments if you ever find yourself in Haro.
Next day Muga….what a treat, our friend Susana is a great friend of Jorge Muga and gave us an introduction and he is truly one of the most hospitable and modest people who we have met in the wine industry.
Muga winery is a family owned small to medium winery in its volume – however due to its quality and reputation it has an amazing reach – both in Spain and internationally. It is one of the only wineries to have its own cooperage, they select oak from France…but also from other regions of Europe – eg Hungary and Romania, seeking different qualities in the oak to enhance the development of the wine.
Jorge spent the whole morning with us showing us all the aspects of the winery the barrel making, the egg fining process for white wine, the pumping over for red wine and the storage for barriques. He also explained some of the very challenging context of wine making in Spain where there are very many as he put it 'stupid rules'  like counting buds…to control  how many vines are grown in a plot.
During our visit we came across the auditing team from the DOC who were counting all of the museum stock as part of a regular inspection. We also had the pleasure of meeting Jorge's aunt who in her 70s was just returning to work after a short holiday. 'We all work' said Jorge – as he outlined in the history of the winery how his grandmother had a fantastic palate and could identify parcels of fruit when tasting.
At the end of the tour, Jorge provided a superb winery lunch, beginning with traditional chorizo, jamon, and amazing green olives, then fat white asparagus from the winery garden, followed by carciofes – artichokes in a green sauce with just a little jamon, fabada- bean soup with pork, then a main dish of pork  and of course desert- truly Spanish food heaven…Jorge had almost stopped eating after the artichokes –  but we just couldn't resist each new flavour. Best vegetables ever !! Jorge let us know that due to a bequest if you are a resident of Haro you can apply for a plot of land to grow vegetables to feed your family – you have to work it you yourself – you are not allowed to sell it or use it for another purpose – great food culture.
Over lunch we also sampled the full range of Muga wines from the cava, to the white wine using a grape variety 'bira' which is predominant in Rioja then on to the reds, creanzia, riserva, and grand riserva.  
These wines are purely defined by their age. Muga is known for keeping its wines in barrique for longer than the 'required' amount for each wine style. He let us know that a grand reserva is not necessarily the best in quality it just means it has been held for longer – and gave us a good tip when buying Spanish wine; if the region is big on the label and the producer is small it is probably not the best quality wine – eg it might be trading off of the region's reputation rather than its own. 
On the road again… lucky Sam as designated driver…. don't know how fast the Spaniards drive but it seemed longer than the 90 minutes that Jorge had predicted it might take…. San Sebastian… in April…with sun shining over the Concha beach, found park, bar with wifi for beer and accommodation finding.
Sam keen to try air bnb however in a few clicks after thinking that there were heaps of places vacant – found ourselves back on the hotel booking site and found one 5 minutes walk from the end of the Concha beach – perfect. Checked in….found 24 hour carpark – and then great local pintxos bar for a very small bite and a glass of wine while watching Barcelona v Paris .( for the first draw) …..home to bed…
Another amazingly fine San Sebastian day… slightly overcast but warm… near the beach….after eating since we set foot in Spain…. what to do…. get up early…very un Spanish…. Sam had a run… Milt and I had a walk and swim. Well Milt planned to have a swim until he waded in and felt the Atlantic temperature. Me – I was in…. bracing  but really worth it.
Quick coffee and breakfast tortilla before thoughts of lunch …… Jorge had mentioned Arzak ….. Albert and Nyhra had said that Recondre had an amazing wine cellar and was about the best meal they had ever eaten…. we tried Recondre but it was closed for renovations…. so Sam – because of his brilliant Spanish was charged with ringing Arzak. Yes, we could get in for lunch…2.30pm …. don't be late…. where are you staying…. which room number…. what are your credit card details…. "Thats a lot of information" said Sam….. "Well if you don't turn up for lunch we will be charging you 100 Euro "…….."thats ok" said Sam…… "Per person".
Again on our 'health kick' we decided to walk….. about 20 minutes to old part of San Sebastian….then about another 40 up a hill towards the mysterious Arzak…. mysterious as we really hadn't had a chance to research it…. "It better be good" said Sam…..
Arrived…..I had the foresight to wear a frock…. Milt had a tourist T shirt – and a proper shirt on top…this was hastily buttoned … Sam's mountain bike T-shirt from Melrose would have to do. It was pretty flash…..more waiters than patrons… you know the kind of thing…. Menu…… gasp….. Degustation ?….. Why not?
Won't bore you with explicating the whole menu -but started with 5 amazing snacks. including the pictured,wrapped in spinach and served on the crushed can…then on to five courses …. one a lobster dish, served on a translucent plate over an iPad with waves breaking…..and 2 desert courses including the picture, huge deconstructing truffle, then highly engineered chocs……began with some exquisite cava ( keeping to the Spanish theme) …..then Remulleri Blanc 2011 and Gran Reserva 904 2004. The service was great and not at all stuffy…. good wine suggestions… the chef Elena came out to greet everyone. Interesting bunch of diners, sitting just near us.. 1 couple having romantic lunch, group of 4 gastronomes from Dubai and HongKong and 1 young Canadian chef making a pilgrimage and copious notes….she joined us for coffee. Very memorable meal…..
We walked back, slowly…through the old town…stopped at an architecture photographer's exhibition….. glass of wine in the old square admiring life and dogs…..then back to hotel.
I managed to get in one more freezing swim… In the morning googled Arzak to find it's a Michel 3 Star and has been awarded as the 8th best restaurant in the world and in the top ten for the last 11 years……
On the road back to Madrid….just time to drop in on a little fishing town that Jorge had recommended – again for its food.
Stopped for brekkie at fisherman's pintxos bar…. the pintxos were fantastic – and we enjoyed seeing the fishermen coming in for Spanish smoko, large glass of red couple of snacks…smokes…then back to the boat.
We walked up to the main town to have a wander and find the Kaia Kaipe restaurant reputed to have a great champagne list. Not for that day… 10am's a bit early for lunch and drive back to Madrid a bit too long… but for future reference. After 3 laps of the old village – admiring its Flemish 15th century history, including an amazing cathedral which was built into a cliff and which on entering we were greeted by some amazing singing; initially thought it was 'piped' music however it was a backpacker – probably on the Camino, just standing in the middle of the aisle, singing her heart out; we found the restaurant.
We were greeted by Igor  " we're not open yet – but have a look around"…… "so Jorge sent you", he said….."Lets go!" So we trailed behind him up the hill – "We pipe the water up from the sea, under the road" pointing to ancient cobbled path… "then in here we can keep everything absolutely fresh"  and opened the door to a pristine room full of large tanks in which were lobsters and fish- some of which were being prepared for lunch. It was amazing….
"So you like wine?" said Igor….. again "Let's go"… he ushered us into another room off the laneway – an amazing 40,000 bottles of wine…..including a huge diversity of Champagne
Knowing that we were from Australia, Igor also found his Australian section – just 2 bottles of 1998 Grange….good vintage – the same one that Milt photographed in LA for the book. Again we were blown away by Igor's open ness and generosity….. It is on our must do list for next time – in fact we think we would love to spend a couple of days in Getaria. If you are planning a trip book in Kaia Kaipi– you won't be disappointed.
On the road…. through to Bilbao…time for some culture…. the Guggenheim has absolutely changed the face of Bilbao. Sam said that Bilbao was reputed to be a dirty, ugly port town until it took the opportunity to have the Guggenheim built there. It is now quite beautiful with a lot of contemporary public art, a great tram system and parks. We lucked out and got a 3 hour park opposite !!! Not long enough – I hear you say – but there is always next time! Amazing building…. where on earth would you start the build of such an ambitious design we wondered….and a wonderful collection ….we only just scratched the surface but particularly enjoyed the Niki de Saint Phalle exhibition – giant sculptures, beautiful and poetic illustrations. AM really loved the Jeff Koon Puppy at the front …. yes we both want another dog !
Back in Madrid… and looking forward to another Saturday with Bea's parents, Ventura and Pilar. This time they came into the centre and showed us the historic bar area just near the Puerto del Sol. Beautiful and historic tiled frontages on these bars – even when the style of bar has changed.. such as a now 'Irish' pub … the tiles fortunately remain. Ventura took us to a bar which specialises in grilled prawns – he used to go there as a student and it is likely that it hasn't changed much since then- it was fantastic.
Then off to a restaurant specialising in Gallician food – for delicious pork and seafood – another feast…Ventura and Pilar ensured that we had a taste of everything….we rolled out, had a beer in Santa Ana square then back through Opera district and past the Royal Palace to Plaza De Spaina where we farewelled Pilar and Ventura – with promises to come back next year – and this time to go down South !!
For the last day a bike ride in 'Casa de Campo'. This is a huge park in central Madrid full of local families relaxing. We were told during the Spanish civil war many major battles were fought here. Back to town to sample Paella from one of Ventura's favourite and reliable restaurants – then on to meet up with Mr Alex and Bernice – who we first met last year when they came on exchange to Sydney to stay in the Balmain palace…..it was great to see them.
Off to Jazz Fest, but  not before celebrating Beatrix and Sam's wedding with one of the bottles of 1996 Bollinger, we bought them for the day. They saved it for us to share when we got over to Madrid. We found a great park, just down from the Royal Palace, overlooking Madrid with many other picnickers…. but we were confident we had the best drink !!! We are so proud of Bea and Sam and the way they are making their life together in Spain. They looked after us really well and there is no doubt that this is the first of many future visits. We wish them the best of luck with their building plans for the new Spanish apartment. It should be sensational…..Guapissimo….