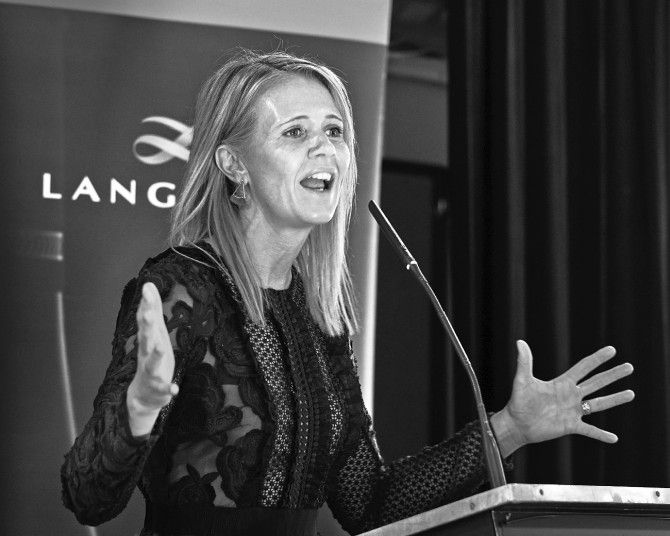 Jane Thomson : Australian Women In Wine Awards
The recent 'Barossa Wine Auction' was hosted by the founder and chair of the '
Australian Women In Wine Awards
' Jane Thomson, and auctioned by Langton's Head of Auctions, Tamara Grischy with Baron of Barossa, Andrew Caillard MW.
The day was a great success, cumulative total sales from the live auction equated to $243,901.00, inclusive of Buyer's Premium, with a 100% clearance rate.
The average per lot price $6,775.00 – a new record. 
This year's national charity partner was The McGrath Foundation with $12,000 of the net proceeds of the auction being pledged to it. 
Women in Wine had a big presence on the day.  
The 'Australian Women in Wine' awards gets a reasonable amount of discussion both good and bad in the Wine Trade, but as Jane says in this interview, 
"I think that ideally, if there was proper recognition of women in the wine industry,  there should be no 'Women in Wine Awards'. I mean, it's crazy that in 2019, we still have to do this and I'm with some of those naysayers asking
"Why are we doing this, why should we be doing this ?" 
But the reality is that it's still really hard for women in the industry to get a look in and by championing and celebrating, showcasing and putting faces and names and stories out there, there is this visibility that I don't think was there 5 years ago. 
I think that more than anything if it starts a conversation or two then that's our job done – really it's about building awareness ". 
It's  unfortunate that in 2019 there are still many areas where there is not gender equality : EG the other day I picked up the sports section of our local newspaper, I had to wade through 8 pages of articles and photographs of mostly very aggressive looking men, all focussed on mens sport, before I got to a single story and a photo about women's sport.
I'm starting to think the AFL Women's league is a great thing for sport in general. 
Earlier in the year the 'Women in Wine' committee produced a fund-raising wine 'hear me roar'.
The wine has just sold out raising around fifty thousand dollars to be used in furthering the education of women in wine. 
The 'Australian Women In Wine Awards' is five years old, its been quite a journey. 
Jane's story is an interesting one.
You are here at the Barossa Wine Auction as  Mistress of Ceremonies. How did it go ?
I think it went really well, there was such a great buzz in the room, particularly in the second half.
I'm really excited because it's the first time that the Barossa Wine Auction has had a focus on women in wine.
They've created a deliberate focus this year so they're highlighting women in their region.
I'm hoping that over the next few years other regions will say, "Well the Barossa did it, we need to do that too."
Langtons Auctioneers Tamara Grischy and Andrew Caillard worked very well together.
There were some records broken, like the $21,552 (including buyer's premium) for a single bottle of  Penfolds 'Bin 60A'.
My favourite lots were then Rieslings.
The Pewsey Vale vertical of only six bottles had a reserve of $1200 to $1600.
It went for $5,242 (including buyer's premium) which equates to $874 per bottle, an Australian auction record for Riesling.
As it should have when you consider it included lunch and a day with Louisa Rose.
What an amazing experience.
Louisa is a goddess, she is amazing, she has had to fight the fight, she has been a pioneer.
I would imagine that it hasn't always been an easy process for her and she does it with such brilliance.
She's got an amazing personality to backup her talent.  No wonder people want to hang out with her for a day.
What's the background to 'hear me roar' ?
'hear me roar' was an idea floated at our annual Australian Women in Wine Awards board meeting about 15 months ago.
For the last 2 or 3 years, we had been thinking of ways in which we could raise more money to enable us to do more things to support women in wine.
We run the 'Australian Women in Wine' awards which has had a fantastic run.
This year is the 5th year of featuring and providing a platform to celebrate the achievements of women in wine, but what we didn't have was the funding to be able to introduce things like mentoring, professional development opportunities and all of those other things that would assist women in the wine industry to advance their careers.
We simply just don't have that and sadly it's not forthcoming from any industry bodies either, despite our various pleas.
There's something to be said for having a structure and providing opportunities for women who perhaps aren't so forthright to actually ask for them or go and seek them out.
Sometimes when there's a structure around something it creates better access for people.
Most importantly  professional development opportunities are needed, so scholarships for women to pursue different things that they'd like to do.
So we played with a few different ideas and then this idea of creating our own wine as a fundraiser came up, and suddenly it had legs.
We created a sub-group from the amazing all volunteers board of industry leaders that helped run and fund the Women in Wine Awards. We found four winemakers, plus a group of wine industry people and companies to contribute their skills and donate to the project.
'hear me roar' went on sale in February this year.
At the time I said to the Board, "It won't be as easy as what we think to sell this wine."
In general people were very on board with the story, they get right behind it, but it's very hard to get people to put their hand in their pockets.
Luckily we have just sold out.
Raised around $50,000.
A fantastic result, thanks to everyone that supported us.
Who were the winemakers ?
Sue Hodder : Wynns Coonawarra, Rebekah Richardson : Irvine wines, Emma Norbiato : Calabria Family Wines and Corrina Wright : Oliver's Taranga.
Backed up by some hard work of board members, Sarah Collingwood, Jeni Port and Toni Carlino.
It's been a huge collaborative effort and many suppliers from the industry have also discounted or donated their services to make this wine happen.
Where was it made and the wine style ?
It's a 2018 multi region South Australian Shiraz, made at Irvine Wines so it's a fully South Australian wine.
I think it's a fantastic wine.
I mean, I shouldn't be surprised because the talent behind the wine and the quality of the fruit means that it should be amazing…. but it is amazing and that's been backed-up by a few of the reviews that have come in from some of our top writers as well.
Max Allen in the Australian Financial Review, Feb 2019 wrote,
"A very attractive approachable young wine with bright purple juicy fruit, a sprinkling of spice, lovely vitality and fresh tangy tannins running along the tongue."
Toni Patterson in The Real Review, March 2019 said:
"The aroma makes you fall in love with the wine in an instant: red roses, orange peel, Turkish Delight, cherry pie. The wine is deliciously medium-weight with an ultra-supple mid-palate. It is lively, expressive and intensely flavoured. Silky smooth tannins. Limited quantities. Sold by the six-pack. Get in quick." Score: 95 ★★★★★ . It's drinking beautifully now but it's going to be amazing in a few years as well."
What is planned for the money  'hear me roar ' raised ?
The board is ecstatic that we sold out and raised so much.
We met this week to discus the process from here.
"At this stage it looks like we will  be calling for applications or expressions of interest from women in wine with a particular project in mind.
That could be anything from doing vintage in another region to a particular line of study or research somewhere and how much money they think their application will cost.
The applications need to demonstrate how the grant will not only benefit their career but most importantly they must be thinking bigger than the individual.
They must let us know how their application will also assist other women in wine .
I'd like to add that 100% of the profits from the sale of 'hear me roar' will be going to the program.
When and why was 'Australian Women in Wine' awards started  ?
I started the Fabulous Ladies Wine Society initially focussing on female consumers.
Naturally it attracted the attention of a lot of women who worked in wine, and naturally I began working with them.
It became very clear to me very quickly that they were involved in an uneven playing field.
I mean that's not unique to the Australian wine industry, there's many industries like that.
But what also became clear to me is that there were so few platforms available where we could hear and see and witness what women in wine were doing and there's that old saying,
"You can't be, what you can't see."
So if we've got magazines articles and ads, wine dinners, wine writers, and most of the information coming at us from a male perspective, then women don't feel like they have been seen or noticed, and those women coming through who might want a career in wine are not seeing or imagining themselves in this industry.
So I ended up feeling quite passionate about that.
Late in 2014 I was starting to go, "Oh, what is there?… there's nothing out there – what do we need to do?…. what needs to be happening here?"
Around this time somebody sent me an email about the first ever Women in Wine Global Symposium in Napa, CA, in March of 2015.
I got myself over there to experience what they were doing in the US.
I was very inspired by conference, and came back thinking, alright, so symposiums, conferences, women's get togethers are one thing, they're great but they don't actually provide the platform I thought we needed.
So what do we need to do?
I thought an awards program would probably be a better option, so from that inspiration, I contacted a few key people in the industry.
The first person I contacted was Jeni Port, the Wine Writer, because she had written this amazing book, I think, it was back in 2001 called 'Crushed By Women', which I found very inspiring.
I thought, "Where are these stories?… why do we have to read a book about women just to hear these stories?… why aren't we hearing them more broadly?"
So Jeni was on board straight away.
The minute she said yes, I knew we had something and then beautifully everybody else I asked also agreed. So within a few weeks we decided we were going to go ahead.
What's your back ground and why wine ?
I started life professionally as an organisational psychologist in Sydney.
I've been around wine for many years, my father has vineyards in the Hunter Valley.
He was a heart surgeon, it's amazing how many doctors  are in the wine trade.
I moved from Sydney up to the hinterland in Byron Bay when I started my family.
There's very few opportunities for organisational psychologists in that area.
So after the move I started very top-level communications'.
I kinda moved sideways into the PR and communication space.
The Byron Bay area is a real magnet for people who have developed great careers and they want a bit of a sea change so I was able to tap into some pretty amazing people and do some pretty amazing work for a few years.
I helped run PR for The Economist magazine, Embraer Executive Jets and companies like that , but I always still had a passion for wine and it was a very important part of my social connections with people.
I started 'The Fabulous Ladies Wine Society' journey from a consumer point-of-view and I've almost accidentally ended up feeling this really passionate advocacy for the women in the industry.
' The Fabulous Ladies Wine Society '
I run the 'The Fabulous Ladies Wine Society,' we've got consumers as members and then we introduce those consumers to women who produce wine.
We run the 'Australian Women in Wine' awards under the FLWS umbrella.
We have an advisory board who pretty much keep me in check, making sure that we are working hard for all of our common goals, they're all volunteers.
We meet once-a-year in various regions, the board donate quite a bit of their time during the year particularly in this last 12 months where we've had the 'hear me roar' wine released.
I'm just personally incredibly passionate about it and really excited.
These opportunities don't come along often in your life where you feel like you're able to make a small difference. It feels very good to be able to be working hard for something that is impacting people in a positive way.
What's so special about the Barossa ?
For me the Barossa is where, I guess, myself and many other wine consumers started their wine journey.
It's a very recognisable and well-loved region. They market themselves so beautifully that the industry recognition amongst consumers is very high.
If we talk about Australian wine, not just here but around the world, it's the Barossa that is known.
Because of that, their regional identity is so strong .
I don't know of any other region in Australia that is known world wide.
I think that recognisability is really important, it's helped a lot of consumers have confidence in making their choices, because they know what they are getting with a Barossa wine , it's got credibility and history.
It's also special to me because the women of that region have been very supportive of the 'Fabulous Ladies Wine Society', particularly people like Christie Schulz from Turkey Flat and Judy Schild from Schild Estate.
Right from the very early days I don't think they've had a particularly easy time in the Barossa being women of wine. …really no region has been particularly friendly to women over the years.
So the fact that this world leading internationally recognised region has taken the step to make the Barossa Wine Auction event into a 'Women in Wine' theme has me so excited.
Back to the 'AWIWA' : are you seeing any changes in the Wine trade ?
Oh, yeah, so the first year we started was in 2015.
At this time the online chat (which people think we can't see, but we actually do !) was quite negative and from many people, including many women.
Often though not always, women don't want to be seen as 'female' wine producers – just wine producers.
Thus there was a lot of negative chatter and we've received some pretty cruel criticism directly in what we're doing.
We've been accused of dividing the industry, of making unnecessary ways of defining people and all of that sort of stuff.
Early on there was a lot of negative talk, however we did have some really visionary companies who were happy to come on board and sponsor us in that first year which made it happen.
After that first year the chatter died right down.
I think that the celebratory nature of what we were doing somehow outweighed whatever negatives that were perceived to be possible and it's only built from there.
So now, 5 years later, our 5th year, we've got a partnership with Wine Australia to take the Women in Wine Awards to New York this year.
We've already had over 90 expressions of interest from women to accompany us on the tour over there.
Two years ago we were in London for the Awards with a similar Wine Australia partnership.
So that's how it's really built over that 5 years from being, sort of, almost laughed away, you know.
People were ready for you to die before it even started, through to the biggest contingent of female winemakers who are probably ever to travel overseas together.  
I think that ideally, if there was proper recognition of women in the wine industry,  there should be no 'Women in Wine Awards'.
I mean, it's crazy that in 2019, we still have to do this and I'm with some of those naysayers asking,
"Why are we doing this, why should we be doing this?"
But the reality is that it's still really hard for women in the industry to get a look in and by championing and celebrating, showcasing and putting faces and names and stories out there.
There is this visibility now that I don't think was there 5 years ago.
I think that more than anything if it starts a conversation or two then that's our job done really –  it's about building awareness.
Now we've got groups who are inspired by what we've been doing and are now forming their own, sort of local Women in Wine collectives.
So you've got the 'Yarra Valley Wine Women' with some pretty amazing names in that group and other women around the country have gone, "Hey, this is inspiring to us."
I don't think this would be happening without us having that grass-roots push to start something and give them the boldness and the confidence to go,
"No, we can do that and we're going to do it."
Favourite wine style ?
I can't be loyal if you ask me that question because it's always going to be champagne.
If we are talking Barossa it's Grenache.
It's only been in recent years, especially since Turkey Flat won the Jimmy Watson for their Grenache.
That it's really taken the next-step-up but I just think Grenache from the Barossa is amazing and that would be my go to red choice from that region.
Then, of course Riesling.
I love Riesling so the Eden Valley wines are fantastic.
I think, everybody should be drinking more Riesling, that's one of my, kind of, quiet missions in terms of my consumer interaction –  it's always getting people to have more Riesling.
And if I'm ever doing events with wineries that produce Riesling. I love making sure that we have them on our wine list of what we're going to try that night.
 Anything else you'd like to say ?
I'm looking forward to seeing how the rest of this year plays out.
When we started 'Women in Wine' we gave it five years and this is our fifth year.
I can't believe it's been five years already. At the end of this year we need to make a decision as to how we move forward. I think the momentum is building, there is still plenty of energy.
Certainly today is an example of that.
It's taken us five years for  a major wine region in Australia, like the Barossa, to invite 'Women in Wine' to be the focus of the day.
That was amazing.
Our partnership with Wine Australia to take the Awards to New York has had incredible interest.
For me personally as a Gen X with three daughters, two of them teenagers I'm very interested in how they are going to develop and choose their careers.
As I mention today there is still a lot of work for us to do to make sure our daughters can, not only choose whatever career they want but also flourish in that career.
ENDS.
Production, interview & photography : Milton Wordley
Transcript  : Libbi Curnow
Edit : Anne-Marie Shin
Website guru : Simon Perrin Version Design