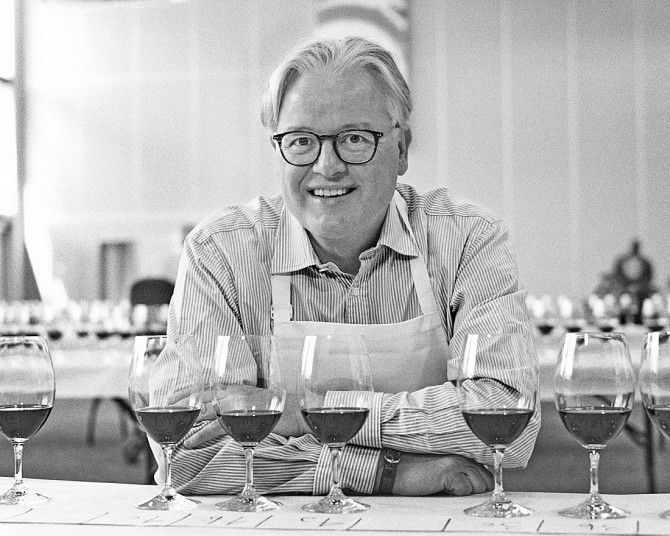 Andrew Caillard MW : Fine Wine Consultant, Langtons
I first met Andrew Caillard as a young cellar hand at Petaluma over thirty years ago. A few years later we caught up again at the 1997 Penfolds 'Rewards of Patience' tasting in Adelaide. Andrew was one of six independent international panellists. He has gone on to author the last three recent editions of the 'Rewards of Patience' book.
In a 'Decanter' wine magazine interview some years ago, Adam Lechmere's opening paragraph read "It is no exaggeration to say that there are few people in the world who understand Australian wine better than Andrew Caillard MW, the fine wine principal at Langton's."
Andrew was born in England but has a long family connection to the Australian wine Industry.
He has lived in Australia for thirty five years.
Your Early Life – Why Wine ?
My father served in the Royal Air Force and was based in Australia at Amberley in Queensland during the 1950s where he was involved in converting Australian pilots onto Canberra Bombers.
He met my mother, who was born in Adelaide, while returning to England. Although we lived in places like Malta and Washington DC, my brothers and I went to boarding schools in Shropshire and Sussex in England.
I had a pretty undistinguished career at school although I was good at applied art.
Painting is something I still love to do.
With my family's background in the military it seemed like a good idea to join the British Army. While serving as a soldier at Catterick in Northern England, I lost a rifle and 20 rounds of ammunition on two separate training exercises.
Joining the army was disastrous, so I became involved in wine, working in Bordeaux and Germany as a stagaire, before a brief stint in the London wine trade.
The 'Reynella Wine Company' connection ?
My mother's family were the Reynells, so in theory I am a sixth generation Australian, although no one would ever guess that from my accent.
Although we grew up in England, Europe and the US, we were instilled with our South Australian heritage. John, Walter and Carew Reynell – are all direct great grandfathers of mine.
The business struggled after the two world wars, especially with the loss of my Grandmother's father Carew Reynell at Gallipoli in 1915 and her brother Richard Reynell, who was killed in the Battle of Britain in 1940.
Without obvious family continuity and investment, my Grandmother Lydia Crawford (née Reynell) eventually sold out in the early 1970s. Nonetheless the Reynell legacy is something we are all very proud of.
Reynell Selection Cabernet Sauvignon, 19th Century colonial vine stock material, is highly regarded in Coonawarra and elsewhere, so the family's spirit lives on.
What bought you to Australia and Roseworthy ?
I came to Australia to start afresh.
I landed up getting a placement as a "supernumerary" crew member on the maiden voyage of MV Tolaga Bay – which I think was the largest container ship in the world at the time – from London to Sydney via the Panama Canal and New Zealand.
I had hours to spare on that voyage so I got my steering certificate for "driving" ships over 100 tonnes.
When I arrived though, I realised pretty quickly that I needed to get a formal qualification in wine.
Both Sarah and David Dridan, old family friends, were quite instrumental in helping me enroll at Roseworthy Agricultural College where I completed an associate diploma in wine marketing in 1984.
Roseworthy was quite a culture shock.
I lived on the campus for two years and did quite well but it was not always easy.
I also worked vintage at Brokenwood and Petaluma during this time.
My Englishness was bashed out of me too and by the time I finished I was swearing like a trooper.
Your early days in Australian wine ?
After Roseworthy I found a job with the Wine Society in Sydney and worked with a bloke called Richard Warland who was a real enthusiast.
But after a year I left because I wanted to work in fine wine rather than commercial wine.
It wasn't the best of decisions because things didn't really work out well and it must have looked like I couldn't hold down a job. Finally, through my brother's connection, I landed a position with an auction house called Rushton's and worked for Colin McWilliam, a well known figure in the Sydney wine scene.
He was fantastic and really mentored me into running the wine department. It was a very small part of the Rushton business, but the experience (I was there for two to three years) was invaluable.
Auctioneering.
During the early 1980s it was a bizarre necessity to hold a Real Estate Auctioneer's Licence to auction wine, so I completed an intensive course at Hawkesbury Agricultural College, in order to attain one.
I could have gone into Real Estate then, but I am bloody glad I didn't, despite the obvious opportunities presented. I am sure I wouldn't have enjoyed it.
I am quite shy and to stand up in front of an audience was really very difficult.
The very first time I took a wine auction was in south-west Sydney at a restaurant liquidation sale. It took something like four hours to sell 150 lots and it was amazing how patient everybody was. To put that into perspective – at the height of my live wine auctioneering life – I could sell at roughly 250 lots an hour.
In 1988 Stewart Langton, in Melbourne, established a wine auction business, called Langton's, and I was loosely in competition with him.
The Australian secondary wine market back then was very, very small with a combined value of around $1 or 2 million. It's much much bigger than that today.
In 1989 Stewart took me to dinner at the newly opened Rockpool Restaurant in the Rocks and offered me a job.
So I set up the business in Sydney and soon after became a partner and director.
The overall business struggled for a while but it really did validate and build momentum for Australia's fledgling fine wine scene.
Your current role at Langtons ?
I am the Fine Wine Principal of Pinnacle Drinks Group but this role extends across Endeavour Drinks Group a division of Woolworths. I work effectively as a consultant with all the banners including Dan Murphy's, BWS, Cellarmasters, Pinnacle Drinks and of course Langton's.
The role has me running from one end of the pitch to the other, but it has given me a rich and diverse life in wine.
One week I can be tasting "en primeur" at Chateau Lafite, the next reviewing cask (bag-in-the-box) blends in Mildura.
There are not too many people in wine who have that broad horizon. The best part is meeting and working with so many extraordinary people in wine from all backgrounds and places.
Within Endeavour Drinks Group, I work with some exceptionally talented individuals who aim to do their best for Australian wine.
At our size, business processes are complicated and sometimes this is interpreted by wine people as showing a lack of interest.
But retailing is extremely competitive and hard going. There is nothing genteel about meeting the expectations of the market.
The Langton's Classification of Australian Wine ?
The evolution of Langton's Classification goes back almost exactly 30 years when I was working at Rushton's.
I was writing articles for the Australian Antique Collector, Wine Life and the Australian and New Zealand Wine Journal and attempting to build interest in the wine auction wine market by classifying the performance of Australian wine.
When I switched to Langton's, Stewart and I gradually refined it including the criteria of a minimum of ten vintages and a reputation on the auction market for eligibility.
It was actually Stewart that came up with the idea of the poster which I think was first released in 1992.
He always had a very good design aesthetic.
Our clients really loved the poster, but many wine opinion leaders and the wine trade found it outrageously impertinent! The Late Len Evans and his ilk, who ran the rump of the fine wine agenda, were quick to put it down but the more people talked about it, the more it gained traction.
Every put down was a leg up!
Since that time we have always catalogued wines at auction using the conventions established with the classification. It is through persistence and credibility that it is considered as a benchmark around the world.
The posters – we have published six editions over the years – are found all over the world in the most surprising places.
The idea of Langton's Classification was very ambitious considering the size of our wine auction business back then. Although the history goes back into the 1980s, the first Poster Classification (Classification I) comprised 34 wines with Grange listed on it's own at the top.
There are a few labels that no longer have any currency on the secondary wine market including Balgownie and Rothbury Estate. But if you look at all the classifications (I,II,III,IV,V & VI) – it is a wonderful prism of contemporary Australian wine history.
The posters give an incredible visual narrative for collectors and I am convinced they powerfully portray, defend and validate fine Australian wine across cultures and markets all over the world.
This outcome was never envisaged by anyone. It just happened.
From the outset Langton's Classification has always had an underlying purpose of building confidence in fine Australian wine. There were and still are people who cannot see the brilliance or beauty of Australian wine and usually their opinions are unfounded, ill-informed or plain wrong.
The fascination for Australian wine by Napoleon III, Queen Victoria, Louis Pasteur, Jules Guyot and a myriad of opinion leaders in the second half of the 19th Century was perceptive and visionary.
There was a belief by many that Australia would become the France of the Southern Hemisphere.
While this is not really a perfect phrase, I think Australia is making some of the greatest wines of the world.
The generosity of spirit and intuitive flair of contemporary Australian winemakers translate to exciting and classic wines.
We are working on Classification VII which will be released in 2018.
The methodology is the same and the list is rigorously and fairly compiled, all based 100% on wine auction data including price realisations, demand, supply, clearance rates and reputation.
There has been no change to the process with both Tamara Grischy (Head of Wine Auctions) and myself given total independence in compiling the list. Jeremy Parham (GM) has also helped interpret data, as well as a number of analysts.
The stakes are so high now, that we are compelled to get it exactly right.
Wine shows : the 'Provenance Prize' ?
My career at Australian Wine Shows came to a grinding halt many years ago, a combination of lack of interest and difficult relationships with stakeholders and over-inflated egos, some of my making.
Nonetheless I pursued another avenue and judge regularly in China, Japan and elsewhere when it suits.
When I was asked to participate in the Provenance Prize a while back by Sue Hodder, I was quite nervous as it meant judging with Brian Croser and James Halliday again. And as I predicted they had both decided the outcome before I sat down with the international judge. It was terrifying and empowering to bash out a proper panel decision with them and in fairness they did collaborate… eventually…
I really enjoy participating in the Provenance classes, because its such a lovely way to look at wine.
Provenance has always been a key issue surrounding fine art.
In this case provenance is all about style, consistency and longevity on top of the usual quality expectations.
I am pretty sure it was Brian Walsh (current Chairman of Wine Australia) who presented the idea to the Royal Adelaide Wine Show committee.
It has now been going on for a while and many national and regional wine shows have followed suit.
The Provenance classes offer collectors or anyone interested in fine wine, a brilliant window into the trajectory and potential aging capacity of many classic or new classic Australian wines.
From a judging point of view, its not whether a wine has survived the passage of time, but how the wine has evolved and improved over the years. Judging is more of a triangulation test.
It's a bit like a knockout competition, because all three wines per entry (all the same label from different vintages) have to perform.
The Provenance Prize fits in very nicely with the Langton's Classification narrative too because it's all about generations of effort, lasting quality and voice of place.
It encourages wine lovers to keep their wines for a while and enjoy the beauty of age.
The very fact that this kind of prize exists promotes winemakers to think about wines for the long-term.
I hope that winemakers all over Australia get behind the Provence classes as it can only generate interest and excitement.
Unfortunately many creative people fear rejection so it might take a while to get going in the way it should.
Caillard Wines ?
This is very much a family venture with my wife Bobby very involved in pulling all the elements together.
She calls the project "Andrew's dream, my reality."
She is brilliantly organised and clever and to be quite honest my world would be chaos without her.
Caillard Wine all started while I was writing the 5th edition of Penfolds Rewards of Patience and talking to veteran Penfolds people like John Bird, Dr Ray Beckwith and Don Ditter.
They were all very nostalgic about the Quarry vineyard near Magill and quite tearful when recounting the day it was ripped up for urban development.
They used to tell me how beautiful the Mataro was and how it was totally undervalued.
Although a few winemakers were producing Mataro circa 2007, I couldn't really understand why there wasn't more around.
So I thought I would start making some for fun, without really knowing how difficult it is to commercialise wine, not to mention the capital required. I like to think I was doing the Mataro thing as an intellectual exercise, but in fact I had no idea what I was doing.
Luckily we were helped and encouraged by so many people including Ron Brown, Paul Georgiadis, Louisa Rose, Kevin Glastonbury not to mention Peter and Margaret Lehman, John Duval and a ton of others including the entire Penfolds winemaking team.
But encouragement is one thing.
We were very lucky to meet winemaker Chris Taylor who selflessly collaborated with us for nearly ten years and continues to show interest in our project. Also grower James Rosenzweig got us into making Shiraz which has been a great addition.
Phil Lehmann has taken over the reins with his team, and we are really enjoying working with him. He has a very gentle eye, a lovely feeling for place and a sense of kinsmanship that is really wonderful.
It translates into the wines completely.
I like to use the word expressive to describe our wines. We aim for volume and mineral length, wines that are not overly gluggy and are fresh. Freshness is a really important, freshness is the key word for all modern wine in my view !
Most of the fruit comes from the western edge of the Barossa; I really like the western edge.
Mataro is a very important grape variety in the history of Australian wine. It was first bought out to Australia in the 1830s (South Australia probably in the 1840s) and there were huge aspirations for it until the1870s when the world changed.
A lot of people back thought Mataro would be the main grape variety for Australia and at one time it was probably more prolific in the Barossa than shiraz.
Everything we have done in the Barossa has been done with a handshake. The value of a handshake in these parts is worth more than a contract. It speaks volumes about Barossa people, who are as generous and warm as the landscape they live in.
We were originally going to call our wine label Pinxit – which was how the old masters used to sign off their works, but wine critic Ch'g Poh Tiong from Singapore said to me that no one would ever remember that name.
Caillard – which sounds to Australians like Car Yard – is sufficiently low brow. Anyway we just bottled a four-barrel fuck up wine of 2015 Mataro-Cabernet – probably the first of it's kind since the turn of the 20th Century and called it Pinxit.
Your love of Painting ?
I have been a painter since I was a young boy.
I completed Art "A level" at school and hoped that I would go to the Slade, but the bohemian lifestyle was alien to me and I didn't have the confidence to take that journey.
Although there was a hiatus for around three years, where I didn't pick up a paint brush very often, I have been painting continuously since 1984.
I have always loved being with artistic people and at times have wondered about becoming a full time painter.
I get lost in the world of imagination and colour. I am fascinated by colour theory and how colour can intensify or retreat depending on how its used.
My paintings never turn out to be quite what I am hoping for, but the discipline of starting and completing a canvas has been valuable in other parts of my working life.
I am very much an amateur painter but composition, balance and aesthetics are important in winemaking, tasting, writing and film making as it turns out.
From a philosophical point of view all of the things I do are in some way inter connected.
I had an exhibition in 2004 which went really well but I realised then that it was something I should enjoy rather than make a living from. But for me painting keeps my spirits up.
Highlights ?
There are plenty of highlights and I am really lucky to have had so many varied experiences in wine, but one of the most memorable was spending a few days with Dr Max Lake in his cellar many years ago when he decided to sell his wine collection through Rushton's.
Max wrote the book 'Classic Wines of Australia' which is still one of the greatest books ever written about Australian wine.
Practically all the wines he wrote about were there lying in a cellar untouched for years. Many bottles had been welded into their racks by the effect of insects eating away at the wood.
The cellar was a disgraceful mess and removing the bottles was like doing wine archeology, but it was hilariously interesting speaking to Max one-on-one and going through every bottle and learning the stories.
It really was an extraordinary Australian wine collection.
I hadn't realised how extraordinary it was until years later when I looked back at my notes with all the great wine vintages of the early and mid 20th Century.
It also included two bottles of 1948 Penfolds Kalimna Cabernet Sauvignon, which were bought by John Ryan from Sanctuary Cove.
He gave one of those bottles to John Duval and we drank it at a Sydney Wine Show dinner with Len Evans, James Halliday, Iain Riggs, Huon Hooke and others.
Fascinatingly it predated Grange by three years and it had all the hallmarks of the Penfolds style we know today.
Maybe Max Schubert had thought about making his great wine before he left South Australia on that fateful trip to Europe?
I have never seen anything like this cellar before or after; there are other collectors that have extraordinary things, but nothing as profound as that. There were five or six hundred bottles, including all the great vintages of Maurice O'Shea, Colin Preece, Roger Warren, John Davoren, Max Schubert etc.
Those two days I spent with Max was for me a great education about Australian wine.
Max was a hand surgeon but had an inventive and creative side to him. He and his wife Joy were friends of my grandmother.
I was invited to lunch one day in early 1983 so I could chat to him about my future in wine.
But after lunch while I was talking to him, he fell asleep.
I was so pissed off and so disheartened. But in fact he was really good to me over the years. Although I didn't see a lot of him he was always very genuine and very generous to me.
Fast forward to when I was at Roseworthy we had to do vintage experience in the second year.  Len Evans and James Halliday, before I blotted my copy book, were incredibly kind and helpful to me.
James Halliday introduced me to Iain Riggs and I ended up as the first intern to work at Brokenwood in the very wet 1984 vintage.
Iain opened my eyes to wine and the fun it could bring.
The partners were all so wonderful. Looking back it was one of the happiest times.
Soon after I did vintage at Petaluma with Brian Croser, thanks to Len Evans.
There I met and worked as a cellar hand with winemakers Andrew Hardy, Martin Shaw and Con Moshos.
After the free artistic atmosphere of Brokenwood, it was like working as a powder monkey on a 19th Century Ship of the Line.
Well not quite, but it was a seriously focused place. There is no question that the experience was invaluable.
Croser was the heroic poster boy of Australia's fine wine agenda and I saw what it took to be at the cutting edge.
Writing & Film making : 'Red Obsession' ?
Well most people who know me would describe me as a frustrated artist, so I'll drop everything to do anything creative.
I started writing articles for off beat publications initially during the mid-1980s and then was eventually pulled into the orbit of Australian Gourmet Traveller WINE Magazine both as a tasting panelist and then a columnist.
I like to write because I can think through issues and explain things in a more orderly and thoughtful way.
I hate speaking in public because I can never really articulate my thoughts very well and I am petrified of forgetting what I am going to say.
I prefer writing books rather than articles because there is something more tangible and long lasting about them. It started off with the Langton's Wine Investment Guides of the early 1990s and soon after I had the opportunity, through the publicist Adrian Read, to author the tasting notes of the Rewards of Patience project.
I have been involved with five editions over a period of roughly 25 years and have authored the last three editions on my own. When adding the re-corking clinics to the equation, I think I have pretty much tasted every Penfolds wine made since World War 2!
Penfolds is definitely a cornerstone of my career and yet I have to carefully manage my role as both gamekeeper and poacher.
Collaborating with Peter Gago particularly has been a very meaningful journey. In fact we have also worked together, as has Dr Peter Dry, on a few other book projects with Dr Patrick Iland, one of our greatest national treasures in wine.
He gave so many of my generation and the next the academic grounding and applied knowledge to embark on meaningful careers.
I notice that Winemaker of the Year Dave Bicknell of Oakrdige made a lovely comment about him on Instagram the other day. Our latest collaboration – "Australian Wine – styles and taste, people and places" – just won the 2017 Australian Wine Communicators Best Wine Book Award (consumer).
I have also just completed a book about Marqués de Riscal which will be published by Penguin Random House (Barcelona) next year. It is called "A Travel through Time" and features an historical narrative structured around an historical tasting comprising almost every vintage from 1862 to the present day.
My involvement as an associate producer with Red Obsession, which won two ACTA awards for Best Feature Length Documentary and Best Direction, happened accidentally after meeting the film producer Warwick Ross (Young Einstein etc) on a flight to London some years back.
The project was a phenomenal experience.
There were so many moving parts that it is miraculous nothing serious went wrong (except the loss of a large part of footage during a single day in Bordeaux on a secondary shoot during vintage).
The film, which was narrated by Russell Crowe, is really a story about the economic shift in power from the West to the East through the prism of Bordeaux wine trade.
I spend a lot of time in Bordeaux and China, and so with those contacts it enabled unique access into a world that is not that easy to enter.
But the arc of the story was extremely difficult and took a while to materialise. Warwick and co-director David Roach, together with editor Paul Murphy, did an extraordinary job.
The film, which was first screened at the Berlin Film Festival, was also nominated at the Tribeca Film Festival and got a plug from Robert de Niro. Red Obsession has brought many of the participants – in front and behind the cameras – together as lasting friends.
We have been looking to making another film for quite a while, but in truth – as years pass, it was looking more and more unlikely.
But recently I was chatting with Jancis Robinson at The Fine Wines for Fine Minds shindig at Nicole Rolet's Domaine Chene Bleu in the Cotes du Ventoux. She recounted a story that had been written by South Africa's Erica Platter about four Zimbawean refugees, working as sommeliers in Cape Town, who were planning on competing in the World Blind Wine Tasting Championship in Burgundy this year in October.
Warwick Ross and Rob Coe, who also worked as executive producer on Red Obsession, jumped at the story.
To my utter surprise and delight I have landed up getting involved with this project too, which has been a buzz.
We recently followed the "Zims" through Champagne, Germany, Alsace, Burgundy, The Hague and Paris including the competition itself at Ch de Gilly near the Clos de Vougeot.
Preliminary production work has also taken place in Cape Town and there is a plan to film in Zimbabwe and South Africa next year.
But it is still early days.
There is no formal production title yet, but the documentary is planned to be a full length theatrical release feature film. It was fun working with all the Red Obsession people again as well as new faces including Marty McGrath, who was the cinematographer of 'Muriel's Wedding' and currently works on the 'Rake' television series.
There is a hell of a lot of work to do now. It will take at least a year if not longer before it is completed. But it will have a lot of heart, I am sure.
Australian fine wine : the future ?
I think the Australian wine industry is more interesting than it's ever been.
There are so many fascinating characters and ventures of all types. Over the last thirty years we have seen the explosion of boutique wines and a common purpose to make interesting and characterful wines.
Wine regions, old and new, are all building up their individual identities. Vineyard sites are becoming better known, technology and wine making philosophies have improved, and we are seeing a proliferation of young exciting winemakers.
The women in wine agenda is gathering momentum and offering further richness to our story.
There was a time when there was a high barrier to enter into the wine industry.
The investment was huge if you wanted to own a vineyard and winery.
Over the last 10 or 20 years, a younger set of resourceful people with limited capital – who are really passionate about what they're doing – have found a way to move forward. They might buy some grapes from a mate, rent a corner of a shed to make the wine and then find a market.
They are investing their heart and soul into what they're doing and some of them are making beautiful wine.
I don't really know Taras Ochota, but what I like about his story is this belief in himself and the power of nature and that he is doing something that is different and groundbreaking.
Whether we like what he makes or not is irrelevant; he's doing something that many find marvellous and inspiring.
He is forcing us to rethink what wine is all about.
Alex Head, who used to work for me at Langton's, has achieved remarkable results with very limited capital. He is making the most extraordinary and exquisite wines in the Barossa, particularly Grenache.
At the other end of the spectrum Vasse Felix, Tahbilk, Yalumba, SC Pannell and d'Arenberg – with it's extraordinary cube – are giving form and substance to our contemporary visions.
There's a lot of things that are happening all over the place. In the Barossa, the wine community has been working on the 'Barossa Grounds' project, trying to work out the nuances of sub-regional shiraz.
That kind of stuff is happening in Margaret River and McLaren Vale as well.
Organic and Biodynamic viticulture is gaining momentum. Alternative varieties like Nebbiolo, Fiano and Vermentino are attracting more interest from consumers.
Grenache is back in favour and Cabernet Sauvignon is tracking forward once again.  Australian Chardonnay is exciting particularly in the Yarra Valley, Adelaide Hills and Margaret River.
Pinot Noir is on the ascendancy with some incredible wines beginning to gain meaningful attention in the secondary wine markets – always an indicator of things to come.
I think Mornington Peninsula will become the new great classic region of Victoria in future years. It has the physical beauty, the superb land and the capital investment needed.
It also has some of the most generous and creative people like George and Ruth Mihaly (Paradigm Hill), Paul and Juliet Staindl (Staindl), Richard McIntyre and his daughter Kate McIntyre MW (Moorooduc), Lyndsay McCall (Paringa Estate) Martin and Karen Spedding (Ten minutes x Tractor) and an endless list of other superb estates like Yabby Lake, Main Ridge, Stonier's, Kooyong Estate and Montalto etc. Warwick and Margot Ross also have a unique and beautiful vineyard called Portsea Estate which lies at the boney metatarsal end of the Peninsula.
Wines really need to have an individual identity because people want difference and distinctive experiences.
That concept of terroir applies to Australia even though it translates in our own unique way.
We have an ancient landscape and incredible natural flora and fauna.
We have introduced European vines that have adapted to Australian conditions and function to the rhythm and voice of the land.
But it's not only about the land, but also the people who farm it.
Their individual personalities and practices are the elements that give wine interest and life. It's very difficult to divorce personality from anything creative. You know how people often look like their dogs? It's the same thing with wine. Cold people make cold wine. Warm people make warm wine. Difficult people make difficult wine. Nonetheless the current generation of winegrowers/winemakers are so generous and supportive of each other.
It's that emotional connection with the landscape and with each other that brings that extra buoyancy and richness to Australian wine today.
I was recently up at Pewsey Vale, in the Eden Valley, where I tasted, with other media and wine trade people, many older vintages to celebrate 170 years of viticulture and winemaking.
The pioneers of the 19th Century really did have a vision for Australian wine.
The culture of helping each other in a harsh and difficult environment has been distilled through generations. When I look across the crumpled and rolling landscape of Pewsey Vale and its contour-planted vines towards infinity somewhere beyond the Barossa floor and Greenock Hills, I feel that we live in one of the most beautiful places on Earth.
If we look after our land and our people and believe in ourselves Australia will continue to build its fine wine reputation.
Robert Hill Smith's Yalumba really expresses these values really well.
It has many employees who have worked their entire lives building, creating and continuing on a great 19th Century vision and tradition.
Unfortunately, the market is more complicated than this and we are challenged by relatively high costs and vigorous competition.
We must always be honest in how we make and sell our wines and not let marketing bullshit exaggerate or distort our national character or undermine the efforts of previous generations.
Because it's our history that determines our future.
ENDS.
Production, interview & photography  : Milton Wordley
Transcript & edit : Anne Marie Shin
Website guru  : Simon Perrin DUOGRAFIK