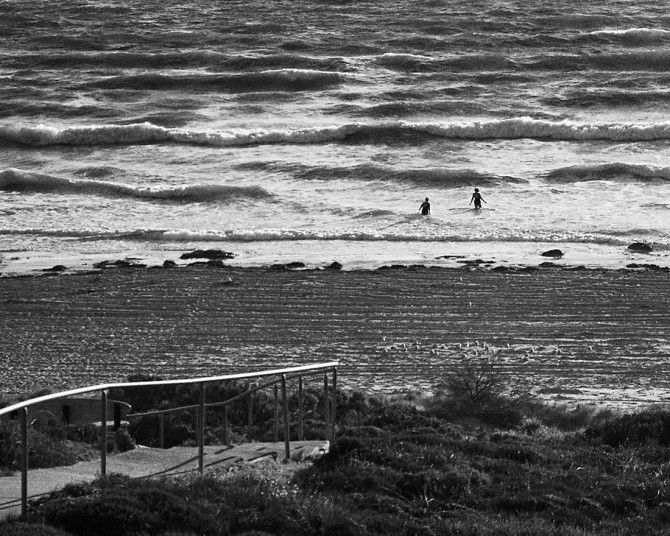 Sea Change : Aldinga Beach
We have talked about it for years : and finally did it last month. We bought a beach shack. Well Anne Marie did actually. No bank is going to give a 63 year old freelance Photographer winding down his career a home loan. Apart from a quick look at it on the Agent's web site, it was bought absolutley sight unseen. Anne Marie was not at the auction. She was at home had no intention of buying it. After Chris rang to tell her it was passed in she put in an offer. They re-convened the auction late on saturday January 31st. Sold to the small lady with the silver grey hair. Thanks to Neville who found it while driving down the back streets of Aldinga, Chris Waterman for his advice and a missed phone call from Joanna Manolakos the agent.
It's a very basic fibro shack. Been in the same family since they built it in 1955. It'll do us very nicely for a while, and will give Anne Marie something to do in her 'Gap' year next year. She mentioned something about a fruit and vege garden. We are told the area is full of possums so I'm not sure how fruitful that might be.
Good size verandahs all the way around. Ideal for a casual gathering. Drop in some day if you are in the area. Lizzy, Neil, Neville , John and Vyonne did on our first day there last Sunday. Had a great meal.
The night before was even better. Neil found an old very origonal and very dirty, Simpson wood fire oven down the back corner behind a tree. He spent 3 or 4 hours cleaning it and turning it into a BBQ. Thank you Neil.
One of the best beaches along the South Coast is just a short walk away.
Fantastic place for a swim.
Fantastic place for a wander. The Aldinga scrub about 2 minutes away. Plenty of Kangaroos.
Fantastic place for a sit in the sun after a game of netball, near the out door dunny to the left.
Fantastic place for a place to sit and watch the moon rise.
Fantastic place to watch the world go by.
Fantastic place for a glass or 3 of wine. Hating a drink as you all know we do, we could not resist wetting it's head. Here's a selfy of us celebrating with a Moet and Chandon 2004 Grand Vintage on our first night : Thanks to Neil and Elizabeth.
That's it there by the small red flag top right