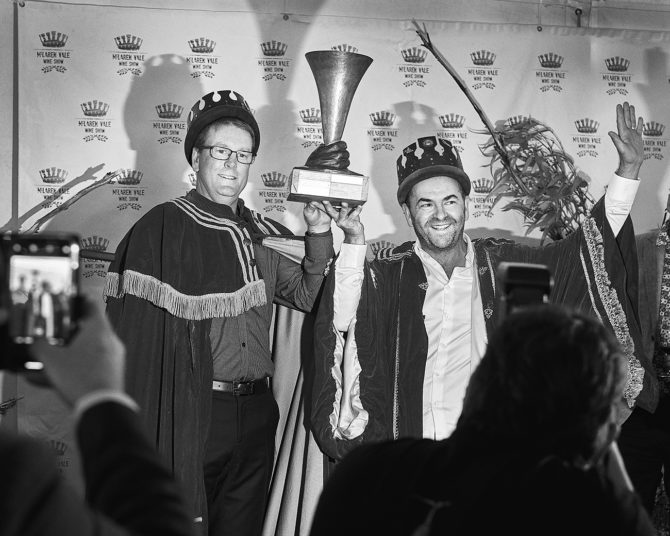 The Leask Brothers : Bushing Kings 2019
The Hither & Yon 2018 Nero D'Avola is this year's McLaren Vale 'Best Wine' of Show. Brothers Richard and Malcolm Leask are Hither & Yon.
In describing the wine Chair of judges, David LeMire MW said.
"There were some really strong candidates for the Bushing King or Queen, in very diverse styles. What the wines had in common was plenty of character, fruit intensity, and great purity, and the winning wine had all those qualities. Good grape growing shone through in the best wines
Malcolm was off working in China straight after the presentation, but I caught up with Richard recently.
Interestingly, Richard Leask is also Steve Pannell's viticulturist, so he's also the green fingers behind Steve's many Bushing Monarch wines.
The win caps off a big year for Richard, he also just won "Best Viticulturist" at the recent Australian Alternative Varieties Wine Show (AAVWS) at Mildura, the first time this award has been given.
As well as that he has been travelling the world doing farm and trade visits for his study on regenerative agriculture as part of his 'Wine Australia' sponsored  Nuffield Scholarship.
Good year indeed!
Richard's got some interesting things to say, especially on Mediterranean varieties and regeneration.
How do you and Malcolm work together ?
Basically we meet in the middle all along the way.
I'm obviously at the coal face end out there in the vineyard, but we are both very involved in the winemaking process.
Once the blends are set, Malcolm takes it from there to bottling, labelling, packaging and sales.
It's good, we've always been quite different and Malcolm has always been focused on business, people, marketing and sales.
His Uni degrees are all along that line.
I've always been more attracted to the land and farming so we're nicely split down the middle.
I don't think we ever really thought we'd be in business together I suppose because we were so different in what we were doing.
But it just naturally came together and this was a good fit for us.
We just get on really well, we always have.
Your family moved here from the Hunter Valley in 1978 : Why McLaren Vale ?
Both our parents grew up on the Central Coast of NSW.
When Dad left the family citrus farm, he and his brother did a lot of earthmoving stuff building dams, highways and the like, even worked on the Snowy Mountains scheme .
He got into the wine industry through Murray Tyrrell.
Murray was looking for a guy that didn't necessarily know vineyards but was off the land and knew machinery.
So that's where it started.
While in the Hunter he was bringing machine harvesters down here to McLaren Vale.
He did that for a few years.
In 1977, Ryecroft needed a Vineyard Manager.
Dad took the job and came down here for good.
I had just started school in Cessnock, I did a term of Cessnock and then started primary school in Willunga.
Within three years, Gilbey's who owned Ryecroft had decided to exit the wine industry and Dad was out of a job.
He ended up buying a vineyard with Geoff Hardy,  that's where Pertaringa was born, and away they went.
I did ask Dad once, why here if your family are all back East, he said,
"Well if you're going to grow grapes then it's a lot easier here than the Hunter."
When Mum and Dad bought the farm on Sand Road, it was a traditional mixed farm of about 20 hectares, we had some almonds and a bit of cropping area.
All of the blocks that were planted there were in these little one or two hectare parcels and of course they were all very traditional French varieties.
Riesling, Semillon, Sauvignon Blanc, Pinot, Merlot.
When I came back to work here after being away for a few years , there was real a downturn in the varieties we had.
I don't think we were that aware of the fact that the area was getting warmer, but we could see that the varieties weren't working from a market perspective and from a fruit quality perspective.
What did you do ?
We started looking at pulling some out…
Like most families in the area we were fairly strong on Shiraz and to a degree Cabernet.
I thought well I can either add to that bucket, which at that stage probably made a bit of financial sense, or for some reason and I can't even put my finger on why, I just thought maybe we needed to create a bit of interest and try something a bit different.
We were having some very warm years and water availability had been an issue for some time.
So I started looking at varieties that handle dry years better and obviously that led you to places where it's hot so, you know, that led me to all of these Mediterranean climates.
We did a little bit of research and I'm open about the fact that I really didn't drink any Sicilian Nero, I've had a little bit, I thought it was interesting.
They make it over there very differently to us and obviously it's a totally different climate and soil type but I thought, it just felt right and I do a lot of stuff like that when it just feels right.
So that was the Nero we planted in 2009.
Before that we'd done Aglianico and Tannat in 2007.
They're only just starting to reach their straps now.
So from then on we kept looking at and planting Mediterranean varieties.
I think this climate is perfect for it.
I'd like to see more Greco ?
Funny you should say that because we've just put some in.
White varieties have been very much our search lately, because we're red dominant.
I think Fiano is fantastic and does work here well, but we just looked at it from our point of view and thought,
"Well we don't need to add to that, there's already a number of people doing it really well".
So I thought well maybe we can look to Greco, that fits in with the Aglianico, it's from the same region so, yeah, that got planted last year.
The winning wine 2018 Nero D'Avola ?
It's quite a feat to win the Show with an alternative variety.
I think Nero just fits in really well here in McLaren Vale.
What I really like about it is that there is now a number of producers here, we're just one of a number of wineries that are doing fantastic stuff with Nero like Kay Bros, Coriole, SC Pannell, Lino Ramble, Zerella and Sherrah to name a few.
In my honest opinion, I think McLaren Vale will be the home of Nero.
There are going to be other regions that do it well, there's no question, but I just think we've got a bit of a head start and it really, really works here.
I think the public needs a bit of security around new varieties and the fact that there are several producers is a good thing.
I planted it on a gut feeling, I love it.
I think it's just fits so well, and it's been really interesting to watch it's evolution as the vines are ageing.
It started off as what we would call a crunchy red in the first few years.
What we're seeing in '17 and '18, and now '19 is some depth, length and a little bit more complexity with the wines.
That's just solely due to the vine age.
They're just maturing into their nice zone and the next 10 years will be really interesting.
Climate change, the best varieties to plant in McLaren Vale ?
As I said I think Fiano is probably off the ground and running now in terms of quality you've got half a dozen to a dozen good producers doing a great job with it.
The Portuguese variety Touriga is also going to be very special in the Vale.
There's so much interest in it and I think McLaren Vale is a good spot for it climatically.
Montepulciano is another one.
I think we need to make a conscious effort on whites and not forget them, but as I said I feel Greco is going to be really good, I think Arinto would work here pretty well and Grenache Blanc is another one that is pretty interesting.
The list is long.
You could look at all sorts of stuff and there's a point to say where is the end point…. and there probably isn't one.
Commercially I think we want to be careful and not to end up with too many varieties, whatever that number is!
At Hither & Yon we are introducing a new varietal wine most years.
I think the note of caution is, viticulturally they take a fair bit of work these alternates, because they love to crop and they've been selected over the years to do that.
You know, when the Italians and the Spanish open up about the fact that there's no point growing something that has one bunch per vine, you're not going to make much of a living off of that.
We just seem to have this collective of producers here wanting to try new varieties, maybe it's an age group thing but I think it's also a group that just are interested in looking outside the norm and who are willing to take some risks.
Not all of them work…like I said we planted some Tannat… I think it worked as a grape variety but we found it really difficult to sell and to be honest I don't think it fit in with the current trend of drinking, which is a little bit more medium bodied and a little bit lighter red style.
I think McLaren Vale is embracing that trend, maybe that's where it fits in the wine landscape.
I've been here for 25 years, and obviously for a big part of that the predominant varieties like Shiraz were what we did as a region.
I think we're now more comfortable that we can be different stylistically to Barossa and provide something that's different.
I think McLaren Vale is well positioned to get the reputation of being the 'go-to' region for alternate varieties in Australia.
Shiraz isn't going to go away in McLaren Vale but its the alternate varieties that are going to be our strength in the future.
The question that you have to ask yourself when you're planting new varietals is that if this wasn't here would anyone notice ?
And I think with many of these new varieties there is a market.
Wine lovers will say, yeah, actually these are interesting, well made.
They'll sit up and take notice.
Growing up here ever think of doing anything else ?
Quite a few times especially when the wine industry wasn't going so well.
I couldn't see myself doing anything other than farming.
It's a hard game but there's something about it, something about the people in it, there's the challenge of it that I like and you set your own agenda to a degree.
I do like livestock as well, its good fun having them in the vineyard.
I'd could have a crack at anything really,  just growing stuff is good fun, it's hard work though… much harder than people think.
McLaren Vale Water Plan ?
The idea had its genesis during the last really nasty drought around the 2006/07.
The McLaren Vale region was using a fair bit of mains water for irrigating grapes.
The recycled water infrastructure was there but not that widespread, a number of growers started discussing how can we make this bigger and be able to utilize more of that water, how can we get people off the mains water.
Financially it was becoming uneconomic and water restrictions were about to be imposed on mains water use which was only going to make that worse.
I didn't have anything to do with securing the funding.
Dudley Brown did an enormous amount of work over an 18 month period with all sides of politics both State and Federal to get the funding, he was helped along the way by Jock Harvey, Phillip White and Derek Cameron.
I was on the MVGWTA board at the time and was asked to set up and run the project.
I said, "Sure, it doesn't sound that hard."
Six years later it finally finished, it was a challenging project because it took up a fair bit more time than I was expecting.
We set up a steering committee of which I was the Chair and there was 4 other people Jim Zerella, Ben Lacey and Gerald Martin. and Brian Pridham. We were charged with administering 4 million dollars' worth of public money to help small to medium sized growers switch from mains water to recycled water.
It was our job to ask for submissions from growers, work with the Willunga based water company to work out where we could deliver recycled water from the Christies Beach water treatment plant and I had to give regular updates to both Federal and State Governments.
Through Dudley's work and that of Leon Bignell a new 1 GL dam was built down near Aldinga .
That helped us expand the project to areas that didn't have water especially around Willunga.
It was all run at that stage by a group of local investors called the 'Willunga Basin Water Company' It's now a private company.
The project transferred 80 odd growers and 925 ML from mains water to recycled water which probably secured some vineyards that may or may not be there now if we hadn't so, yeah, when I look back and I'm really proud to be part of that large group, all of us worked really hard to get that outcome.
It took basically six years to administer and we did a lot of work in the first four  but for me I had a lot of reporting to do to government which was a good learning curve, and I learnt a fair bit.
I'm not entirely sure that I would do it all again but it's just one of those things you get on with when it's your turn.
I'm proud of what we achieved for the community it was a great community project with many people involved and a great outcome.
We are very fortunate in this region to be not governed by what happens in the Murray Darling Basin.
The local ground water has its challenges, but I wouldn't want to be hooked up to the Murray right now to be honest. I think probably right now the region is getting close to a 50/50 between recycled and ground water.
It's a very good model for how we can reuse water.
Hither & Yon : who makes the wine and the winemaking philosophy ?
Once again Malcolm and I meet in the middle in the winery with Josh Waechter at Gemtree.
We do it all as a trio, style is being driven by what we are finding in the vineyard with these new varieties.
Tasting fruit in the vineyard is really important, we'll do that twice a week or more depending on how the vintage is tracking.
The same thing happens in the winery, we do all the blends together, and we work out style and oak, it's all very collaborative.
We draw on each other's different skill sets.
We're both quite comfortable with the fact that you just can't be in two places at once and they are a great small crew at Gemtree.
Leask Agri a vineyard management and contracting company ?
We've got our family vineyards, a portion of that obviously goes into Hither & Yon.
We also provide viticultural management for about four of five other clients, not particularly big ones.
We do all the vineyard work for S.C. Pannell, Ministry of Clouds, and then Doctor Matt Brown down in Willunga who has The Good Doctor wine brand.
We like working with people who are like minded in the way we do vineyard management and we like having connection back to a product.
We're very much down a regenerative agriculture path which has its challenges, so you need to have the right mindset to take that on.
We are organically minded but not certified organic, I'm not a great believer in paperwork and other people's rules.
I understand the need to have some rigour around organics because you have to have a clear line between people who want to not have any chemistry in their food.
But if I've got my practical farmer's hat on, I think that not all of conventional agriculture is bad and there are some really good tools that you can use and we just need to use them sparingly.
I would put myself in the 90/10 category regenerative/chemistry… if I have to do something I can but we would say we are land stewards and its about how to look after it… making it better for the future generations.
My whole Nuffield topic is answering that question, I guess, we say it a lot, so what does that mean and that's where regenerative agriculture comes in.
Nuffield Scholarship ?
My topic is 'Regenerative Agriculture systems and their role in the future of the wine industry'.
Essentially it's about regeneration.
We've got to be better than sustainable because if we assume that we've actually degraded to this point then what's the point of sustaining it at that level , you know, we've actually got to turn it around so that's the way we look at farming and that inherently is going to be more organic than chemistry but that doesn't mean no chemicals.
I mean there are some things about organic systems that I don't like, excessive use of cultivation being one.
There's some really good stuff that's come out lately around under vine management we've gone from okay, let's get rid of herbicides, let's go back to cultivation.
Are we swapping one bad habit for another ?
I think you have to rethink that, we've got to actively work on building the soil capacity again and that requires a bit of thought and a bit of work.
I think we're looking at a farming system that's much more ecologically connected to its surrounding environment.
That means vineyards are going to look different to what we people are used to, which obviously is sometimes a bit of a challenge for people.
We're used to things looking very neat and very tidy, and very ordered.
If you look at nature it's anything but ordered, it's got its own system, it's not manicured.
Everything is there for a purpose, it doesn't exist just because it exists, it exists for a reason.
We need to start asking those questions before we do things.
So I think that's just where we'll turn to, you know, our farm managers Scott and Wayne every time they do something now they will be asking why?
What am I trying to achieve?, what's the impact I'm going to have on the landscape?, is there a better way of doing it?
And that gets us out of that recipe/calendar-based farming and much more back to observational management.
Okay, do I have to do something ?, do I have to intervene ?, or can I just let it roll and see what happens ?
So that's the way we're viewing things and we're going to make some mistakes along the way and some systems are going to take a little while to get back into balance but I think it's the only way forward for farming in general and for viticulture.
I think there are so many other tools that we can be using that we need to think about.
That's the premise of my report which will be released this time next year.
I'll present a condensed version of that at the Nuffield National Conference in Perth in September next year.
All the reports are freely available on the Nuffield website.
Toby Bekkers did a great one on branding and customer engagement two years ago and Martin Gransden has just released his on Alternate Varieties for the wine industry.
How's the report going ?
I'm almost finished my travelling.
Now the hard part, I've got to sit down and start writing it! I feel like I've got a pretty good framework.
I've only got a couple of weeks of travel left to do which will probably be in New Zealand because they've obviously got a good wine culture and land stewardship culture.
I've just come back from Africa.
I was in Kenya, Zimbabwe and South Africa.
That trip was about soil management and biological pest and disease management.
I went to a company Dudutech specifically that breed up live predators and micro biology and then they use them in the horticultural industry in Kenya, cut flowers, you know, big areas too so I think the argument has always been, oh, we can't do it, we're too big whereas this particular farm was 120 hectares of greenhouse roses, high plant numbers, high pest pressure and they were using biological and predator pests for control.
Occasionally they would have to come in and re-balance with some chemistry and then they go straight back in with biology, the 90/10 rule.
So I think it's about opening people's minds from… it can't be done to …actually well it is possible.
Can we be using more parasitic fungi and bacteria to control mildew diseases and common pests?
So those sorts of things will form part of the report… to say this is out there and it's possible, and maybe we should be looking at it a little bit harder in viticulture.
We shouldn't' just say, "Oh, we're too big, we can't do that."
I think it's a very important thing to do at this time. There's already people doing some really good work on it, such as using insectary plantings of native plants to bring those predators in, give them somewhere to hide but again it's about bringing it to people's consciousness.
Its not just looking at the production area of a vineyard as the only important bit of the landscape…. what about the bits around it, how can we use them to actually help influence what we do in the vineyard, and it's about bringing overall profitability into your farming system.
One of the few things we can control as farmers are our inputs, because the outputs are governed by everyone else… its outside of your control.
It's what you put into your farming system that you can control, so why aren't we looking harder at how we can make that more profitable by doing things a little differently.
The back label to the name : Hither & Yon ?
We worked with the guys from Voice.
Malcolm had seen them present at other business functions in Adelaide.
I think at that stage they were working with only one other wine brand and so that appealed to us.
We wanted something that didn't look like artwork or a name that we'd done ourselves !
We're very collaborative like I said before, we know our skillsets and so we wanted people that are outstanding at their craft.
We got along really well with them and the whole crew.
It took a year to do and I just loved their process, they really got to know us and understand who we were and what we were about.
Hither & Yon is really a bit of a nod to our Scottish heritage, you know the saying here and there, Hither and Yonder.
Our vineyards aren't all in one spot in McLaren Vale and we're not from McLaren Vale originally, we've come into the region to get there, so it works on all of those levels.
Then of course from a pure graphic point of view we loved the '&' the ability to make it a real feature of the bottle and have some fun with it.
We don't particularly like being in the limelight so we didn't want our name splashed all over the front of the label, we were quite happy for it to be just quietly on the back and, yeah, I think it worked really well, just a good collaboration and it still is.
Voice still work very closely with us.
Describe the style of the wines you're producing ?
Everyone says it, but really, we're looking at styles that we like to drink, we're probably leaning much more to that medium bodied, bright style, we like the fruit to shine through.
With the newer varieties, we want people to see the variety primarily and that drove our style from the start.
What we see in our vineyard, in our conditions is what we try and put in the glass.
As they evolve as varieties in the vineyard, they will drive style, we're just letting the variety choose the path a bit and trying not to fiddle with it too much.
All the fruit is from our vineyards, they're all by and large single varietal wines, there's a couple of little blends.
I want people to pick up a bottle of Hither & Yon and say, "Wow, that's what Nero d'Avola tastes like or Touriga or Aglianico"
We can see it when we look at the other producers' wines, they all have similar characteristics and then there's winemaking style that makes it different, that provides the extra interest and I think that's really good.
I like to think down in the Vale we all work together well, we talk a lot and share what we are doing.
Working with Steve Pannell has been great we have known each other for years and have very similar philosophies.
The vineyard is the spot where it all happens really.
If we can get everything right there, then it's just finessing the fruit in the winery and the wine should then taste like where it comes from.
Anything else you'd like to say ?
We see wine as part of the community and everyone's everyday life, bringing people together over conversation.
We are active supporters of the Arts and local music.
During autumn and winter seasons we will stoke up the fires in H&Y's cellar door for the Cellar Door Sessions which support local music and interstate acts.
Really, it's about getting people together, and enjoying each other's company.
That's what wine is about for me.
ENDS
Interview, photography & production  : Milton Wordley
Transcript  : Libbi Curnow
Edit : Anne-Marie Shin
Website guru : Simon Perrin Version Design