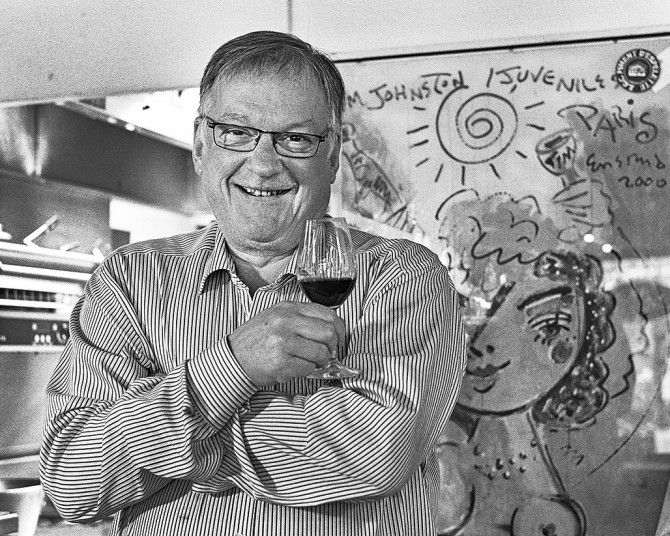 Tim Johnston : Juveniles Wine Bar, Paris
We were at Joe's Cafe at Henley Beach earlier in the year. Joe's is a ten minute drive out of the Adelaide CBD and  our absolute favourite place for an after walk or swim coffee. That morning we bumped into Hazel Murphy and Annie Knappstein. Hazel was the Australian Wine Bureau chief executive for Europe up until 2003 and was largely responsible for promoting Australian wines to the British Trade and press. She said that she had been enjoying the 'Wine Ten Questions' site and suggested that Tim Johnston would be an excellent subject – when next we were in Paris…. sure we said… we get there most weeks. Luckily we  got the opportunity recently  and met up with Tim at his wine bar – Juveniles in the 1st arrondissement.  Juveniles has been an institution for nearly 30 years and is still going strong at a time when many restaurants turn over in under 3 years. Tim's is a very interesting story….
Who is your ideal customer ?
One that comes back with a smile and likes what we are trying to do, because that's actually all that matters. I'm very lucky because I have customers that I recognise who have been coming for at least 25 years, not necessarily only French and British but Americans and Australians too. That is the best compliment one can have.
What are you trying to do here ?
Keep it reasonable, keep it really good and keep it moving. There are 60 wines over there ( pointing to the shelving along the side of the bar). I have friends that say to me, "You don't have my wine"  – and I say , "I did twenty cases of it in December … my list has to change… the reason why people come back is that they know that they will get different things here." New customers are wonderful – but the one that says –  'This place is really good – lets go back there". That's the one I really want…
What is your history, how did you  get your love of wine and come to be here ?
It goes back quite a long way. I was desperate to leave school – I hated it.
My father had a friend from his schooldays who had a wine company so I was able to go and start there, as a cellar rat. I actually found for the first time that I really enjoyed life and this wine thing was really quite fun.
In 1967, my brother in law arranged for me to go and work in Bordeaux.
I worked at Chateau Cantenac-Brown for eight months. Cantenac-Brown is a third growth Margaux and was not a very good one in those days.
Today the wines are pretty good but it has passed through several hands since then.
I arrived in the Medoc – flat as a pancake – howling wind in the winter and cold and wet.  I was 16 and a half years old – it was quite an education.
All those years at school didn't prepare me for it at all.
I was one of two English trainees; we lived for board and lodgings in a loft over the stables. It was very rudimentary.
The loft had wooden slats on the floor which you could open and close if you got cold. But with the heat from the horses came the smell !
The loo was across the yard – and the boss would take an evil pleasure in moving the farm machinery around, so when you had to go out and have a pee at night, you had to negotiate your route.
We had to recork all the 1962 vintage; it had been bottled by this old guy who had been had been injured at Ypres in the first world war.
He was slightly hunchback and couldn't get the cork in with one go, so he would take several pulls on the machine, before he succeeded .
This put a nice little slit up the side of the cork ; 1962 was actually quite a drinkable vintage … so we had to open all 60,000 bottles , taste them, top them off and recork them – it took 3 months.
I hate cork – it is a thing of the past.
Did you study wine at all…
No, I did some Wine Spirit Education Trust exams but that wasn't until later.
On that first "stage" I stayed right the way through harvest. I was lucky because I had always been brought up with horses and on about day two into the harvest, Albert,  who looked after the horses fell off the trailer and the trailer rolled over his leg.
The patron said "Well you know horses, you better look after them" – so I didn't actually have to spend months bent over in the field, picking grapes.
I have always loved the process of harvesting, with its noises, smells etc.
In 1978, following an amazing trip on a motorcycle across the United States, I worked for Jerry Luper (iconic winemaker from the re-birth of California) at Chateau Montelena, a fantastic experience.
On returning to France I ran a vineyard in Provence for two years and then returned to California for harvest in 1980 at Jordan Winery in the Alexander Valley.
In 1985 I worked for Jean-Louis Grippat in Tournon.
Following Hazel Murphy's first 'Wine-Flight of a Lifetime', I spent time in Margaret River with Vanya Cullen – I was there in '93.
She and her mother, Diana were making fantastic wines back then, and Vanya is still making incredible wines now. Margaret river is one of the closest things to being heaven on earth – its a little bit like Provence, you have the mountains, the sea is on your doorstop – and sunset over the Indian ocean is unforgettable, that is what it is all about.
I had a heart attack during my stay there – the best place in the world to have a heart attack because Vanya's father was a doctor and the founder of the Busselton hospital. One of her brother-in laws, Dr Mike Peterkin has Piero winery – he is a doctor too! I had my heart attack at about 4.30 in the morning, when we were crushing.
We would pick until midday, then in the afternoon we would work in the winery with the grapes from the morning pick and put them in cold storage until the next morning when Vanya and I would go in before anyone else and process the grapes.
I guess it was just too much. But I was very lucky, I went to hospital – only lasted there about 5 days because I said I'd got to get back. Because the heart surgeon at Charlie's was another of Vanya's  brothers in law! He said,"Well, we've done all the tests, you should be fine – it must have been just a hiccup – take it easy"
Juveniles Wine Bar was established in 1987 – What is the background to that ?
In October 1980 Mark Williamson had opened Willi's Wine Bar, I started working with him when I returned from Jordan winery in California , then I went off and did a project in Bordeaux for about 6 months, it was an interesting time.
When I came back, Steven Spurrier asked if I would open the Blue Fox for him, that was at the Madeleine.
He was really keen on me going back to work in the shop, but the last thing I wanted was to go into straight retailing again – I had done that before.
Mark suggested that we do something together … The original idea was a wine shop and Tapas bar, we ended up with this (Juveniles). It became abundantly clear very quickly that what I thought about retail was true. Pure wine retail on its own is dead. So we started doing simple food. Then the food got slightly more serious – plat du jour etc. and it was fun. In 1998 Mark and I parted company. Its been very good for both of us – he kept Willis and Maceo and I stayed here .
You've got a local cricket team …
Yes, mainly estate agents, expat bankers and insurance people, they came to me and said, "We want to have a cricket club but you need to have a head quarters – we'd like to do it at Juveniles because we can have a dinner at the beginning of the season and a dinner here at the end of season."
I said that was fine – I thought they would all behave well – what was I thinking !
Its more complicated now because the captain had another baby, changed jobs and was shipped back to England – so although the club is actually still based at Juveniles, they mostly live in England.
They get to play more fixtures now – when we were playing here, they had fixtures with the likes of Chateau Giscours in Margaux which has a cricket ground – used to be a polo ground, but I guess money got short.
We played against Mick Jagger's team in the Loire – beat them by 8 wickets. Mick was nowhere to be seen – probably On Tour, but it was a great game with a whole load of Sri Lankans. The team play in a competition in England in September, as well as a team from Chatsworth House – very smart. Of course our kit is really chic !.
Juveniles was one of the first bars in Paris to stock Australian wine – How did that come  about ?
Really through Hazel's wine flight in 1991.
Before this I hadn't heard very much about Australia – I'd had about 4 or 5 wines…. Wine flight was a revelation – she made certain that there was a pretty amazing bunch of people ….somebody said on the plane going over – if this plane goes down you lose pretty much three quarters of the decision taking wine people in Britain.
We were on 3 buses and I was obviously on bus C with the naughty boys – we had a wonderful time.
Even on short flights we got to our destination with nothing left to drink – until some of us went on from Sydney to Perth and the captain came on at the beginning of the flight and said ' we are happy to welcome aboard all the poms who have come to look at our wine industry.
We've heard about your reputation and have put two passengers off the plane – so that we can get more grog on..'
We were happy as Larry.
That first trip was when I met Bob Mc Lean, Peter Lehmann, Robert O'Callaghan and Charlie Melton.
The other thing that changed my life with wine flight was the relationships that I made with wine merchants from England – particularly David Gleave at Liberty Wines, who became a close friend.
I bought a lot of Australian wines from him at the beginning.
I guess you've got a few memorable stories from the trip….
One of the things that will stay with me forever …. we were having lunch at Rockpool, at the end of wine flight.
There was a small group of us who stepped out – Katie McAuley, David Gleave, and Simon Loftus, of Adnams, a tall elegant merchant from Norfolk. We all had enormous hangovers – from a big party at the opera house with Hazel.
I was wearing dark glasses, and couldn't hold my glass properly.
David Gleave tried to help with a technique of putting a napkin around your glass, putting it around your neck and pulling it – and it worked.
Anyway we were wondering what to have to drink- something that would make us feel better.
The very young sommelier came along, we asked for a Henschke, but they had run out of that, so the suggestion was …"if you want a riesling and you don't want some flimsy, flouncy wine  – I've got this wine…. its a 1971 and its got a real grunt to it."
It was a Leo Buring and it was very good. When I came back to Paris, I changed all of the wine lists for specials for the week…. down at the bottom saying, we have three wines 'with grunt' – because I thought it was a great way of saying it….
What sort of wines did you first bring into Paris ?
We had Rockford and St Hallets, we still have Charlie Melton.
And of course we do Steph Toole's Mt Horrocks  wines.
I have a theory about girl winemakers, like girls every where else, if they are good and enjoy what they are doing, they are better than the men !
At the beginning I didn't know what would sell. Sometimes you are better off having things that you really like and drinking them yourself if you cannot sell them !.
In '92, I took 3 pallets – about 150 cases of Koonunga Hill – but there is nothing that would make me buy that today.
I'm not being precious – I just don't have room to stock that sort of wine and I don't buy the French or Italian or Spanish versions of that wine.
It was fantastic wine – I used to sell Koonunga Hill at 12 Francs when I was selling a nice Cotes du Rhone for 8.50 – 9 frs. It was a really good buy.
There are wine shops today – like Hedonist in London that are really jewellery shops – you don't go there to buy a bottle of wine you go there to show off.
They sell fantastic things – but I'm not an oil sheik.
I am interested in selling wine that people can drink.
How was that first Australian wine accepted in Paris..?
People thought it was a bit strange but you have to remember that in 1992 Australian wine was still very undervalued and things like 'Old Block' were the same price as a mediocre St Julien.
When you put them on tasting, because they weren't an arm and a leg – people would go – "shit thats really good."
I think my problem with what is happening today is that the Australian domestic market has woken up to the quality of their wines.
Now the wines that I see from Australia, firstly –  I can't afford them and secondly – I have never even heard of them.
Lets face it, all of us, Brits,Italians, French, Aussies and Americans are really quite chauvinistic, so we tend to stick to the wines we know.
I think Bob McLean put Australian wine on the map, because he was the most generous, big-hearted, unselfish person.
I remember the European launch of the Old Block 1990 in Paris, (in 1994) Bob and Craig Smith came over from London and we went to the Prix de l'Arc de Triomphe horse race.
At the time we had a blue Ford transit van. We filled it up with pretty waitresses and dustbins full of ice and Coopers ale – that's the other thing that I brought back from Australia – best beer in the world
"Lunatic Soup" I think they called it…..
Bob and Craig Smith, his importer from London worked well together.
Craig was importing a lot of these wines before anyone else was interested.
How do you see the evolution of Australian wine ?
Luckily people are paying much more attention to the most important thing which is the vineyard ?
Looking back when people just brought tracts of land between Adelaide and Victoria for planting- a lot of that is gone already and this is one of the things that is fantastic about today.
In the 1700 or 1800s it would have taken 100 years for that to happen – today its 20 years max.
People are paying much more attention to alcohol levels and over-ripeness – for white wine they have stopped making that sticky, sweet, alcoholic oaky chip stuff.
I've always loved Martin Shaw and Michael Hill Smith – their chardonnay is out of this world but even their bog standard Sauvignon Blanc is delicious.
I read that Torbreck made a Juveniles GSM- how did that come about ?
In 1998, Matthew Jukes who was at the Australia day tasting – said to me, "You've got to come and taste this – its not on the table, but they have a bottle underneath" – and Craig Smith who had the stand said,  "Yes….100 points Parker"
Of course I replied, "Fuck that, I'm not interested in that – but the wine's actually quite good" … of course it was the 1994 Torbreck RunRig.
At the end of '98, Dave Powell turned up in Paris with his friend Rupert, who was his sales guy.
I had a table of 12 growers from the southern Rhone, who had all brought samples of their new wines, just out of malo.
They were still quite rough but '98 was a great year for grenache.
I said to the boys – "This guy is a very good winemaker from Australia" – so they passed him their wines and he got very excited, went back to his hotel and reappeared 5 minutes later with a bottle of Run Rig 94.
We put it into a decanter and gave it to them and all the boys said, "what is this shit, sweet over concentrated.." and I was trying to tone down my translations to Dave. But he paid his bill and said "This is fucking disgraceful" and stormed out.
The next day he called me and said, "I behaved very badly last night-  I admit it but I want you to take me down to the Rhone because I want to understand."
So we spent four days and visited most of the people I know.
At the end of the four days Dave said to me " I think I understand what you are talking about – I don't necessarily agree with you – but I understand ".
Then in February '99, Dave called me and said, "I've put a bottle in the post, I'd like you to taste it and I'll call you back"  We opened it and it was fabulous, so I called him back and said ' This is really good – you've got it spot on"  – it was one of the first un-oaked Grenache-Syrah- Mourvedre.
He said, "I've got a proposition – if I bottle it like that … can I call it Juveniles? "
I said, "Of course."  The wine was the right price, It had a nice back label, and came at the right time…We sold lots of it – and the punters loved it.
I was very sad when Dave Powell's relationship with Torbreck came to an end.
Your daughter, Margaux and her chef/partner, Romain Roudeau now do the day to day running of the wine bar – what is your role ?
I still do all the paperwork and buy the wine. There are a lot of people who come here and still want to see me and thats OK.
I've been here for 30 years – almost an institution.
The place has changed incredibly – we started off doing sherry, Bordeaux and cheap Cotes du Rhone.
Then we did better Cotes du Rhone, Languedoc, Provence and Roussillon. We still do sherry, Italian, Spanish a little Australian and American wines.
Randall Graham, has this thing called Old Telegram – he has made many interesting wines over the years.
Old telegram is a direct take-off of Vieux Telegraphe Chateauneuf-du-Pape – nobody has ever bothered to contest it,  the wine is so good, they quite like the idea of being associated to it.
Does your future son in law mind cooking haggis ?
Put it this way,  he quite likes it because he doesn't have to do much with it.
It comes from Mac Sweens in Edinburgh.
He just has to make something really tasty to go with it – he has a tendency to jazz things up so its not just lumpy potatoes, turnips or parsnips…
* Note from Milt – I had it for lunch and I can vouch for its flavour !! Haggis with finesse…
Favourite wine styles ?
I guess Syrah is still my favourite,  although I can't really say that.
Put it this way – I like Rhone style… but I'm not a great believer in this frightfully mod trend for 100% grenache wines.
I think grenache is the best blending grape – it can bring fruit, it can bring alcohol, it can even bring freshness , but on its own I'm not convinced.
I think Chateauneuf du Pape is really outstanding when it is properly made- something like Domaine de Marcoux, Clos des Papes or Domaine la Biscarelle – those are the sort of wines that bring joy to your life and you don't have to be a millionaire.
And of course, I love good sparkling shiraz from Australia but nobody does that here !!!!!!
ENDS.
Production, interview & photography  : Milton Wordley
Transcript & edit : Anne Marie Shin & Neville Sloss
Website guru  : Simon Perrin DUOGRAFIK