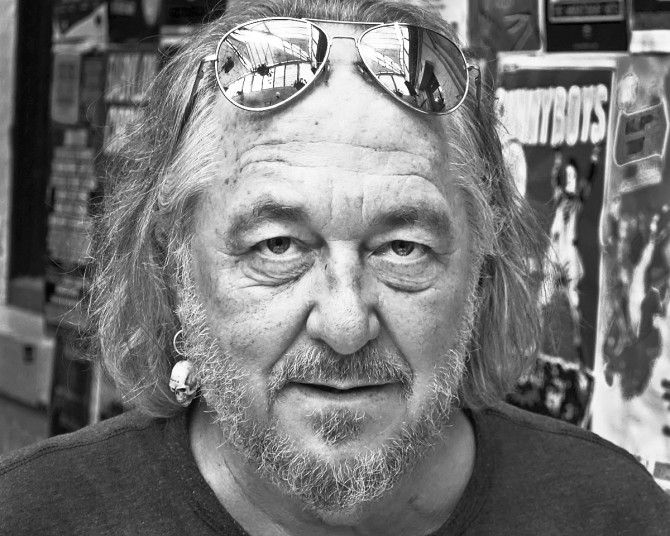 Philip White : Wine Writer
Philip White : Wine writer.
Stephen Pannell,  our last interviewee,  reckons
"If you ask most winemakers who is the best wine writer in Australia, the answer is Philip White "
Philip was diagnosed with cancer late last year. He's had major surgery,  is currently having more radiotherapy and about to start chemo.
He's even drinking more water.
This week Langtons are running a fund raising on-line auction to help with Philip's medical and living expenses.
Philip has never been that interested in money. Right now everything that is raised will help.
All proceeds from the Auction go to Philip.
There are some very special wines on offer. Here's a link to the 'Philip White Fundraising Auction'
Peter Gago and I have got together and donated the 'Number Eight' of the book that Philip and I did together 'A year in the life of Grange'. Peter has raided his own cellar for a bottle of the Wine Advocate editor Lisa Perrotti-Brown's 100 pointer, the 2008 Grange to go with the Number Eight 'Collectors Edition' of the Grange book, together RRP price is well over $5,000. Philip, Peter and I will sign the book  personally to the successful bidder.
I have known Philip or Whitey or Mr White, as I often call him, for many years.
He's an interesting bloke to say the least, got the best general knowledge and intellect of anyone I know.
I once asked him why he didn't drive, he answered
" I love to drive, and I love to drive fast. I also love to drink, and when I drink too much I like to drive even faster. I decided in the interests of public safety to take my license away from myself "
Philip lives in the beautiful Yangarra 'Ironheart' Shiraz vineyard, miles from the nearest public transport.
Not having a driver's licence and right now having to get to Flinders Hospital often creates a bit of a problem.
A few of us who live down south get him there, he refers to us as the 'Beloved Transport Corps'.
A mate of mine, journalist Robbie Brechin has started what is planned to be a series on Adelaide characters.
He started work on the first book,  'The Whitey Chronicles', long before Philip was diagnosed.
It will be published later this year by Wakefield Press.
Robbie has kindly allowed me to use an excerpt from the book.
It's a great read >
Robbie on Whitey
I throw words at the ether, like darts at a board, in the struggle to describe Philip White.
Wine writer is the tip of the iceberg.
Guitarist – yes, good enough to play in Paul Kelly's first band, the Debutantes.
National editor of the influential Wine State magazine in its early days.
Consultant to mining magnate Robert Champion de Crespigny, one of several unlikely admirers and friends.
Poet – Lawrence Ferlinghetti, a New York beat star, visited Adelaide in the 1970s, heard Whitey recite poems in a bar and told observers to watch out because he'd be the next 'Big Thing' in Australia.
Adventures, derring-do, multiple bouts of random fisticuffs, 200kms an hour-plus highway speeding on motorcycles and cars that would land him in jail these days.
There are many deviations.
One of them being that Whitey voluntarily gave up driving "in about 1989", despite his deep love of motoring and exotic vehicles. "I knew I was a danger."
But clues may also be in the sly asides, the throwaways at the end of one of Whitey's epics. Most of us – even the most driven and successful – have downtime. Dull minutes and days.
Whitey seems to have fewer dulls than most.
For example, there is a comic yarn about four "fat, stupid" coppers pouncing on Whitey during his wander through a magic mushroom paddock at Aldgate in the early Seventies.
The "mushies were for a sandwich" to be enjoyed during a train trip to visit his brother in Canberra.
It is wickedly funny in a Keystone Cops way, but is also a lesson in recent social history ending on a serious note, with an intriguing series of court cases, legal intrigue and a hefty fine.
Mesmerising when he gets into his special zone, Whitey often closes with a gem.
As in his tale of the four fat coppers.
"Eventually, I got to Canberra," he says.
"My brother was a garbage collector to the late Sir John Kerr." Pause, and a chuckle.
"So somewhere in this house here, I've got a box with John Kerr's toothbrush and aftershave.'
Later in our conversation, Whitey adds: "I took a lot of acid in those days.  "Three years of acid". Like, sometimes two tabs a week.
"In retrospect I realise it was a purgative and it was very convenient for removing all the Jesus out of my blood. I'm living proof that Jesus leads straight to acid."
Life in the fast lane has left obvious marks.
Whitey admits his brain has been damaged by severe knocks to the head, which number in double figures.
For reasons explained in this forthcoming book, The Whitey Chronicles, Whitey has found himself in a variety of physical fights, mainly in his teens, and twenties.
Whitey fears he is raging with viking blood.
He can wield a verbal bluntness and bellicosity that scares outsiders, yet almost all assessments of Whitey include the words 'gentle' and 'kind'.
It's generally accepted that his demeanour is a shield for a soft centre.
While Whitey may have been in a few fights, he is no thug; that part of his life is as incidental as it is complex. He has so much curiosity, such a powerful intellect and the nose of five bloodhounds.
And, for all his physical escapades, everyone close to him agrees he is still capable of extraordinary lucidity.
Feats of thunder and lightning oratory, with fireworks dancing.
Once Whitey gets on a big, curling wave, he can hold audiences spellbound with the breadth and depth of his knowledge of our universe.
All said and done, Whitey is best known as a wine writer.
As with AFL footballers, debates rage about who is best of all.
Those arguments can never be settled.
But fellow wine scribe Nick Ryan, who has a wine column in The Australian newspaper, has no doubt who is the pick of the bunch.
Wine writers see each other a lot and don't agree on much.
It's a collection of pretty big egos.
The only thing we all agree on is that Whitey is so much better than any of us.
It must be like Neil Harvey or (Adam) Lindsay Hassett  who played with (Donald) Bradman must have thought:
I'm pretty good at this, you know, I'm better at it than most people. But I'll never be as good as that prick (Whitey).
That's what anyone who writes about wine has to acknowledge before they can move on and flourish.
Knowing there is a ceiling, and that ceiling is Whitey's arse.
There are no cheap and easy routes to measuring Whitey as a human being.
As you trace the ups and downs, just remember the horizon is distant.
Here's a bloke described as looking like a bikie.  Wearing $400 Italian shoes.
But if you want a hint, much will be revealed in Whitey's revelations about his father Jimmy, a firebrand preacher with a bad case of domestic violence and a vocabulary stoked by the horrific imagery of the Old Testament.
"He quit the Methodists in about 1956 or 1957, because they were going to have a dance in the hall.
We became Brethren, like exclusive, very conservative.
There was a while when we weren't allowed to have clothes with zips or anything too flashy.
They all had large cars, black ones, American.
But they would paint the chrome black so it didn't look too extravagant.
Dad got involved more and more with hard right-wing Protestantism and somehow linked up with the Reverend Ian Paisley, who slept in the same bed I now sleep in."
Ends
*Footnote from Robbie,
The only thing I might add, on my own behalf, is this observation.
Getting to know Whitey – as his biographer – is a magic carpet ride.
No tedious tasks. 
Scrolling through his columns is endlessly educational and entertaining.
Never know when he's going to leap out from behind a tree.
As in his observations during a heatwave in early February 2009 :
2020HRS: "I have just turned the exhausted air-conditioning off and opened my windows and doors for the first time since January 28th. There's a beautiful sou-easterly breeze coming in from the Gulf St Vincent (appropriately patron of viticulturers, lost things, schoolgirls and vinegar-makers), and the crickets are singing with glee! I can almost smell the whales' breath."
Here's a link to another Drinkster post in 2009, what a stellar year. It has Whitey's fighting' side – taking on greed, corporates and charlatans. He was awarded the Trott Family Tropy of Honour.
 * In his research Robbie talked to a lot of people. Here's a few comments from a couple of them, most of these people have donated some serious wine for the auction.
Wilma Mclean : widow of Barossa identity 'Big' Bob McLean who died of Liver Cancer in 2015.
Whitey has a good relationship with many winemakers.
But the rambunctious, larger-than-life Bob McLean has a special place in Whitey's heart.
Whitey describes an early meeting :
"McLean was a jolly soul. The big fella with the neat beard – a rarity then – and the gravelly voice; a backslapper and hander-out of cigars."
Bob made a huge impact wherever he went, putting St Hallett wines on the map and acting as international ambassador for Australian wine.
Later, he and Wilma established their barr-Eden vineyard on Menglers Hill, producing Riesling, Mataro, Grenache and Shiraz.
Wilma  :  We met Whitey in the early 70s; we had many crazy times. I'm thinking of Bob's 40th birthday – which he wasn't going to have. Philip came and observed that the place looked really familiar to him.
And we found out why.  It was close to where he'd lost his car eight years before, a light blue Valiant ex-police car. He loved that car dearly, but forgot where he left it. It had been parked at his uncle's place.
I remember he was so happy because he finally got his car back again.
He and Bob were similar characters. They were both pretty ebullient.
Colourful, loved to tell stories. They bounced off each other.
I remember one night the boys were all sitting round having a few drinks.
They had no musical instruments so they made things up and started a band. They were all in very good voice.
Bob decided he was a drummer.
Philip often stayed over and he would get up in the morning, in his blue dressing gown, he'd invariably have a riesling at about 9 o clock.
Lots of stories, lots of laughter.  And Whitey had such a wonderful laugh, it was contagious. He has the most incredible head, fabulous memory, very articulate.
He is a caring person although he tries to put up this very hard shell, His poetry is amazing, he's a very rounded person.
His DRINKSTER.com  has been absolutely wonderful. A very special friend to both of us.
* The Mclean family have donated over seven dozen bottles of wine to the Auction : see list below.
Gus Howard
Film producer Gus Howard met Whitey in the early Seventies and they collaborated on music and documentaries, including the ground-breaking Backs To The Blast, which lifted the lid on Maralinga in 1981.
Also broadcast in the UK, it sparked a House of Lords enquiry and a Royal Commission in Australia chaired by Justice James McClelland.
"Everybody who knows Whitey think they know him, and they do know him in their special way," Gus says.  "He's been mythologised.
When he's not scaring people, he's making them feel safe. When he gets on a spoken riff, he can be quite something.
Even a long time before he had a subject, he's the kind of person who reserves the right to say what he feels. You don't want to charge for that, you just want to say it. He doesn't like to be beholden to people. Because it impacts on his freedom.
I know from working with him, I've paid him to do things. You've got to lean on him to get delivery but when you get it, it's good.
He's not so much concerned about money as the effect.
Some people wouldn't understand that. But his causes are as personal as they are commercial. In fact, his causes have never been commercial. He understands the commercial world and the commercial world's needs, but they're not his causes.
He reserves the right of an artist, I suppose, I think that's what it's about.
And there's another thing too: It's just possible one of the things he learned as a child was that the truth is there to be spoken.
His father never made a lot of money, his father was supported as clergy sometimes are, but not particularly well.
Whitey and I have never had an argument though Whitey has fallen out with a lot of people and pissed them off.
Put it this way, if I got arrested in Tangier and only got to make one phone call, it'd be to Whitey."
* Gus Howard has donated a bottle of  1976  Chateau d'Yquem Sauternes from his own cellar for the Auction : Lot 438 in list below.
Stephen Pannell of SC Pannell.
Stephen Pannell is one of Whitey's favourites, not least because Whitey has been such a champion of the Grenache revival.
The feeling must be mutual, because Stephen took the trouble to text a few lines for this tribute while on a family holiday in Japan.
"If you ask most winemakers who is the best wine writer in Australia the answer is Philip White.
He has a great love for wine and the people who grow, make and drink it.
His introduction to the Grange book he created with Milton is my favourite piece of wine writing.
It's evocative and beautiful.
He has often been controversial and we all need and value his contributions to the Australian wine landscape."
Stephen also brings out the swaggering best in Whitey, as in this inspired snapshot of the winemaker, who has been crowned for the fourth time as McLaren Vale Bushing King.
"A bit like, say, virtuoso guitarist Andrés Segovia, but a Segovia who, having played brilliant concert-hall classical and flamenco guitar for one lifetime, suddenly sheds a million ornate, hard-learned and rehearsed trills and arpeggios and counterpoints to switch to good old 12-bar blues and starts again.
With about 95 per cent fewer tricks and flourishes. Fewer dots. Back to three chords.
This is what confounds those pretenders and winey blatherskiters."
* Stephen Pannell has donated some very special wines to the Auction : see list below.
Rick Burge.
Rick Burge, who sold Burge Family Winemakers in 2018 and retired to continue his ongoing battle with cancer, is a big fan.
"His writing is such that I re-read it because it is written so well.
It's as if it is 3D writing.
He paints pictures; you put yourself in that situation.
The other thing that strikes me is his almost oxy-acetylene intellect.
He always gave me oxygen and respect for who I was and didn't try to categorise me, didn't pigeon-hole me.
What I notice about Whitey is he always introduces a human element.
You almost feel you know more about the winemaker and his wife and his thoughts on politics or whatever than the wine itself.
Never dull, Sometimes wrong. Often intriguing. Always exhilarating.
Whitey can be a striking dresser; when he makes an entrance on certain random occasions, all heads turn his way.
One night, winemaker Peter Barry walked in to the Universal Wine Bar in Rundle Street dressed as the Pope, in very convincing robes, followed by Whitey, who was in Cardinal Pell-type regalia.
They tore up the place that night."
Leon Bignell : Whitey's local member of parliament former Minister for Agriculture, Food & Tourism in SA.
Biggles – as he is known –  is grateful he won the seat of Mawson, which takes in McLaren Vale, just when Whitey took up residence.
They literally found common ground – a desire to protect the agricultural status of the vineyards of McLaren Vale and the Barossa.
Stop the urban sprawl.
The eventual result was the Character Preservation Act.
Whitey was one of the driving forces,
"I found in Whitey a great ally.  I trusted every bit of advice he gave me.
Having people like Whitey around gave you the kind of energy that you needed to fight the fight.
Not everybody in the government at the time felt the same way as I did
I've always said: 'He knows more stuff about more stuff than anyone I've ever met in my life.
You want the truth?  Talk to Whitey. He'll tell you for free.
And he's generally on the side of right, as well.
Whitey's not someone who wants to blow smoke up your arse and gain some benefit from their view. He doesn't care about that. He'll do anything to make sure the right thing is done.
Unfortunately too few politicians get to hang out with people like Whitey. They hang out with themselves.
All politicians should have mentors who are as alert to the political system as Whitey is."
Biggles is one of a group of friends who have offered their services as drivers for Whitey as he goes back and forth to medical appointments.
He feared Whitey was so sick in early November he might be gone by Christmas, though prospects now are far brighter.
And, being Biggles, he decided to broach the issue of impending death with Whitey, who has been known to be "grumpy and combative".
Whitey was a tad reluctant, but eventually conceded.
Biggles: First question – cremation or burial?
Whitey: Burial.  And he'd like to be in the same cemetery as his late, great winemaker mate Greg Trott – Strout Place.
Biggles: Second question – you're not a marble headstone sort of guy, so what rock do you want ?
Whitey: It's got to be local slate.  And with one line of inscription – can you guess what?
Biggles: No.
Whitey: WHAT ARE YOU LOOKING AT ?
David O'leary : O'leary Walker wines in the Clare Valley.
"My first impressions haven't changed, he had a cheeky demeanour and he's still got that.
He loved wines and wanted to learn more, as we all did.
We all learned together.
I was keen on regional wine shows, and Philip was my go-to journalist judge. People then weren't giving these local shows attention and now they're incredibly strong.
We saw what happened at McLaren Vale and Whitey was pretty much at the coal face of regionality.
His passion for soils and micro-climates has never changed and it's correct, been proven over the years – 80 per cent of the great wines are made from the site and the soil.
He'd come and judge at Clare, he was funny.
He'd tease out the great wines and has always been a deep thinker. Whitey's one of the greatest journalists ever.
Entertaining. Thoughtful. Brilliant.
He was never frightened to upset a few people too.
It's not about who was right and who was wrong, it's about how great the Australian wines were and look where we've come. He's been a big part of that journey. With the records and tapes he's got of Max Schubert (Penfolds legend) and other people he could write 15 books.
He really can sort out the wheat from the chaff."
* Oleary Walker have donated over six dozen to the Auction : see list below.
ENDS
Words : Robbie Brechin
Portrait : George Aldridge
Production & photography : Milton Wordley
Edit : Anne-Marie Shin
Website guru : Simon Perrin Version Design
Auction : Thanks to Yangarra's Peter Fraser and the Langton's team for organising.
Fundraising Auction Wines : Here's the link again to the Auction.
First the specials, lots 447 to 458. As well as the #8 Collectors Edition of Grange book together with the 2008 Grange, we have a selection of Ross Bateup's caricatures based on some of the 'People of Wine' portraits.
Plus  lot 447, a days 'McLaren Vale Experience' for ten people with 'Chooks Little Winery Tours' and Lot 125 a Hickinbotham 'The Peake' double Magnum hand painted by Brian O'Malley.
 The Wine, and there's some great wines here, thanks to all the donors : Lots 1 to 446
Special thanks to Yangarra's Peter Fraser and the Langton's team for organising the Auction.