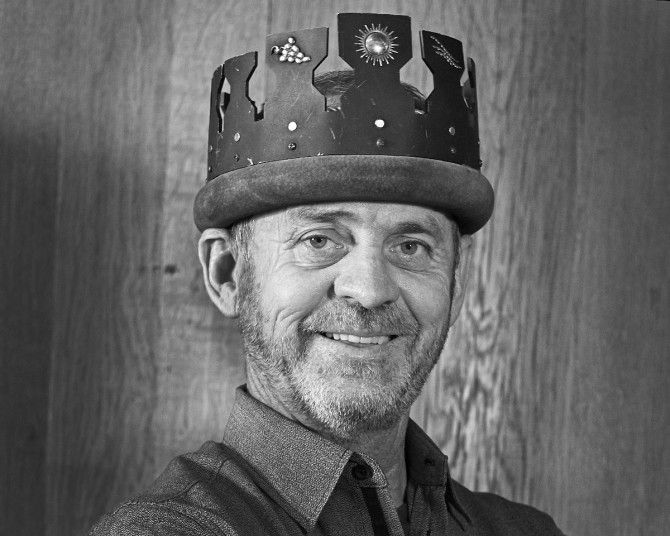 Stephen Pannell : S.C. Pannell McLaren Vale
A few years ago most Tuesday nights were  'Movie night' at the local Palace Nova for myself and a couple of mates.
After the movie we'd go to the Amalfi Pizzeria Ristorante, for me the best Pizza in town.
One night Nick who often looked after us suggested a wine with a distinctive red label, reckoned it was his wine of choice for Pizza.
We have been having that same red label wine for years.
Turns out it was a SC Pannell Tempranillo Touriga.
I know SC Pannell wines now, but a few years ago I had very little knowledge of them.
Stephen Pannell just won the Bushing King crown for the fourth time.
In our recent interview he finishes with
"Making wine that people use every day and can afford. That's the point for me."
I could not agree more, when ever I have pizza I look for a S.C.P. Tempranillo
Touriga.
Stephen's is a very good story >
Bushing King four times, tell us about the wine ?
Anytime you do something for the first time it's awesome, so to be the first person to get the Bushing King four times is quite surreal.
I didn't say this on the day but for all of the time I was at Hardy's, we really tried hard to win that award, we were winning lots of things everywhere, like the 'Jimmy Watson' but we couldn't crack the Bushing King.
Tony Brady at Wendouree influenced me a lot when I was making this wine.
He often used to say that some of our best grapes go into the Shiraz / Mataro and the Cab / Malbec blends, and I love those wines.
The Bushing King wine is a 2016, blend of 70% Cabernet and 30% Malbec.
The wine was blended post-ferment because they didn't ripen at the same time.
The Malbec wasn't picked ripe and that's one of the things that Tony does, it was 12.6 or 12.7 Baume I think, so not out of control .
We had what I thought was very good Cabernet on our vineyard.
We spent a lot of time on it, I cane pruned it myself.
Then there was some Malbec next door on Rick Allert's property. His vineyard was part of the original Seaview vineyard planted in the 90's.
In fact it was meant to be Merlot, but they couldn't get Merlot so planted Malbec, a very happy mistake.
I thought, "Okay, I'm going to make it, I'm going to master this wine." so it was a no brainer.
Sometimes you just make wines and you just stand-back and go, "What did I do?, I don't know but it looks very, very good." Haven't got much of it unfortunately.
Your early life ?
Dad planted Moss Wood, we lived in Busselton in the Margaret River wine region.
As children we grew up there.
I've got a toe that's cut straight down-the-guts that was chopped with a tomahawk when I was a kid.
We were clearing land, I remember blowing up stumps with Dad and the gelignite…running, boom, crazy stuff.
Dad was mad about Pinot, always was and always will be.
That's why he sold Moss Wood in a way because his great love has always been Burgundy.
He went there and met Becky Wasserman an American negotiant based in Burgundy.
Then he met a guy called Gerard Patel from Domaine de la Pousse d'Or with Becky.
Gerard was selling the Domain and Mum and Dad actually bought half of this Domain with a few other Australians in the late 80's and so that's how I got my connection to Burgundy.
I lived with the Patel family for a long time and I've known Becky for years and years.
When I did my first vintage there in 1991, I worked on the Domaine and we used to play this game called Vin de Chausette , so Gerard would just put a wine in a sock to test your knowledge.
He was hard on me when I got there because his son didn't want to be a winemaker and I'd started, and so he was very, like, grrr, grrr at me.
So he'd pour this wine out of the sock and say,
"What's that ?"
And one time I said, "Oh, I think I know what that is."
And he said, "What do you mean?"
I said,
"Well I think it's an '81 Moss Wood Pinot."
And he pulled the bottle out and he went, "It is an '81 Moss Wood Pinot"
And so I got instant respect from that point forward as a result of that particular wine.
What was the journey to establishing SC Pannell in 2014 ?
When I finished Roseworthy, I went to Seppelts Great Western because I wanted to see how a big company worked after the Moss Wood days.
That's where I first met Warren Randall – it was around 1998.
I worked with him at Garretts for a couple of years, then went to Burgundy, then to Wirra Wirra for a couple of years with Trotty and Ben Riggs.
In the meantime I helped set up a business in the South of France and then spent some time in Spain and all over the place. I came back to Knappstein's for a couple of years then went back to work with Dominiqu Lafon of Domaine de Comtes Lafon in Bordeaux.
Peter Dawson and Tim Jones then approached me to join Hardys.
I moved to Tintara in the end of '94 and started in '95. I was there for about nine years.
The first year I was there we won the Jimmy Watson with a 1995 Eileen Hardy Shiraz.
When I got there I wanted to change a few things, I pulled out head boards, turned off the oak chips, threw out the American Oak and all of this sort of stuff, and Dawson just went,
"What are you doing ?"
I'd  been conscious about learning from people …I wasn't just going to get somebody's recipe…
I wanted to learn how people make wine and then go,
"Right, this is how I want to make wine."
Those wines that were in my head… I wanted to be able to turn them into wine. I wanted the tools to be able to do that and Hardy's gave me that opportunity to really experiment.
I worked with a great group people like Simon White, Larry Cherubino, Rob Mann and Kerri Thompson so all of us were in this sort of bubble, just making wine, which was great fun.
Sue Bell was another one.
It was a really cool group of people that were really going somewhere.
That's when I started to make Grenache.
It was the journey where I started to swap from Pinot …I really fell in love with Grenache in that first year.
In your acceptance speech you mentioned Wendouree, what's the connection ?
When I was the winemaker at Knappstein in the Clare Valley in 1993, Lita asked me over for dinner, then she just sat back and watched Tony and I talk for an entire night.
I went to dinner once-a-week, often twice-a-week for the 2 years that I lived up there.
I love them as people, I find them brilliant and we don't talk about wine a lot, we talk about everything else from politics to the solar system, to psychology to whatever it is and so they're very close to me.
They're almost like my surrogate parents here and I love them both dearly.
But beyond just them, I think the wine is truly a significant Australian wine in terms of my ideology of what great wine is.
Wine speaks a place more profoundly than anything else and that is it's really unique element.
As I said in that speech, tea does it as well, and a lot of food … chefs are trying to grapple with that…. oh, my pig comes from here or this place.
Often it's not as clear with wine, so I know it's a Wendouree wine before I know where it is made and what variety.
Huon Hooke once said, "I've never had an old Wendouree."
And Tony in his classic way said, "You should buy a case and put it down."
Then Tony reconsidered and said,
"Well its 100 years of Wendouree, we'll put on a tasting."
And so prior to that tasting Tony opened everything, Stephen George was there and I got to go and taste everything as well.
The two stand-out consistent wines for me were the Shiraz / Mataro and the Cabernet / Malbec.
Those two blends hit it more consistently. …I subsequently talked to Tony and he said, "Oh, yeah, that's where my best grapes go." the Shiraz, Mataro and the Cabernet Malbec.
I love that wine.
What style wine are you making ?
Step one for me is wine that others will like to drink, that's got to be the step one.
Wine that you love –  that's more important than anything else.
I'm not trying to make a copy of anything, who cares, I mean this is the funny thing, until recently, I'd make a Chardonnay and put it into a line-up and I hope it tasted like Burgundy.
Why?
It's a ridiculous concept, we don't live in Burgundy or Chablis.
We all often just missed the whole point about what wine is.
All great wine has to taste like it comes from somewhere, and not made from somewhere.
For me first you've got to get the grape varieties right.
It's the problem that I have with Shiraz in the way that we currently make it.
There's no other wine in the world where you over-ripen it and then dilute it back so that it will finish fermentation… and that's pretty much what we're doing.
People will ripen these things to 15+, now it's legal to put the black snake in and cut it back to 13.7, so it will finish fermenting.
If you did that to Pinot or if you did that anywhere else, you would be called a heretic.
I don't like those wines, I can't drink them.
For me a lot of the great wines that I've drunk from Australia were from the 40's, 50's 60's and 70's, prior to the advent of irrigation, prior to this enormous grape planting boom, they were actually quite simple wines.
I'm trying to get back to the simplicity of wines like Wendouree, you want a wine with an alcohol around 14%.
Another thing I'm looking for, I want my wine to taste like grapes, I know that sounds facetious and stupid but there's very few wines that taste like vibrant fresh grapes.
That's why I say the thing about oak – I use oak as a vessel to mature wine and not to flavour it, I don't grow oak trees.
No one else can make wine that tastes like it comes from here unless you make it here.
That's one of the fundamental things that I think maybe Australia has done wrong.
We've sold varieties to the world, not places and we're more well known for how we make our wine than where we make our wine.
Making fine wine is what I'm trying to do more than anything else.
I want to make wine with balance.
Varieties best suited to McLaren Vale ?
I think our Grenache is world class, it's truly amazing stuff, it has this natural balance, McLaren Vale can make some beautiful Grenache wines.
In the really old world of wine, the grape vines all came out of Greece and into France and Italy.
There's a stronger resemblance to where we live in McLaren Vale and the Mediterranean.
I've always loved Italian wine, I think I did it purely because my old man loved French wine so I just went, "I'm not going to do what you do."
So I loved Italian wine from very early on and it was never that popular.
It was actually hard to sell it in the early days, it was not until they made Sassicaia which is a Cabernet, that people started to really get what Italian wine is.
I have a great love for a variety from Greece called Xinomavro, and I hope that plants well here.
Fiano is a really interesting one and I'm sure it's going to be fantastic.
There's so many, like Assyrtiko and Robola.
The biggest question for me is what we're going to be drinking in Australia in 40 or 50 years' time because that's a process that starts now.
It's 6 or 7 years in quarantine, the vine takes 15 years to mature; it's going to take me 10 years to actually work out how you make that wine, So it's a long process.
I think Mediterranean varieties will work well here.
Your queen, your rock, your wife Fiona ?
We met in a carpark behind the Universal in Rundle St East before anything was built there, it was still a market and a carpark.
I was at Zar Brook's birthday upstairs at the Exeter.
Michael Hill-Smith had the Universal and let me park behind it. I kept my dogs in the car because one used to escape all of the time.
I was walking them around the carpark that night and met Fiona.
She was having dinner with some doctors at the Universal and so we just met that way and that was it.
The first interstate trip I ever took with her was the time we won the Jimmy Watson in 1996.
She came to Melbourne and I didn't know I'd won it until I rang her and said, "You'd better come out because it's pretty big."
And she said,
"Do you do this all the time ?" And I said "No, not at all." We've been together ever since.
She's a criminal lawyer and luckily she loved wine and she had a real great passion for it. She's a very practical and wonderful person and I would not be here without her by any stretch of the imagination, so she keeps me focused when I need it and she's great with people and negotiating.
Why call McLaren Vale home ?
That's interesting.
I was living in Rushcutters Bay in Sydney working in a bottle shop, I actually worked with Huon Hooke when he first started at Halverson Cellars.
I got a scholarship to go to Roseworthy, so moved from Kings Cross to Gawler and went,
"The minute I'm finished, I'm out of here."
I came to McLaren Vale and something clicked, and I don't know what it was …
I just fell in love with the place.
One day Warren Randall said, "Do you want to come and work here with me ?"
I took up his offer and I just met so many people.
I was very close friends with Greg and Emily Trott when they were alive and plenty of other people in the community.
The other side of the story is that Keith Mugford who now owns Moss Wood, lived on Tatachilla Road and his father was the doctor in McLaren Vale.
The first house that I bought in the Vale was on Tatachilla Road next to the RSL and it's like our lives had transplanted each other.
So yeah, I just love McLaren Vale, I think it's a beautiful place. I grew up in Busselton in the Margaret River region and the ocean is very intrinsic in my life. Whenever I'm not cooking or making wine, I'm in the ocean, whether it's fishing, surfing, snorkelling or whatever the hell it is, I'm in the ocean.
The ocean has an enormous influence on growing grapes… it keeps daytime temperatures cooler and night-time warmer, and I need to live near the ocean, I don't know what it is but I just need it and I think it has an amazing effect for your frame-of-mind.
McLaren Vale food and wine ?
The food scene here in McLaren Vale is amazing, it's really going gang busters and it's something we should all be very proud of, and I think, if you take wine away from food it's half-as-good as it should be.
The glorious thing about wine is our emotional connection to it.
I think, sometimes we try to take that emotive connection away by giving points to wine and saying,
"This is the intrinsic quality of the wine."
That's a falsehood for me, it doesn't make any sense, we need to bring the emotive connection back, creating environments where people are happy.
How many stories do you hear about people travelling in Italy or France, usually in France… they had Rosés in Provence and loved them.
It's because you're there having a nice time with someone you love, and you get this link to the wine.
It doesn't matter whether the wine is great or not, you're emotively linked.
It's really important that we're creating these emotive links.
In McLaren Vale we live in a beautiful landscape, we've now got fantastic chefs and fantastic food in this place. It's just gone nuts compared to the old days of struggling to get something after 8 o'clock in the main street as it was when I first got here, to where it is now.
Your long association with Warren Randall's wine business ?
I'd worked with Warren first at Seppelts then obviously in Great Western, and then again at Garrett's.
Warren was selling wine to Hardy's and so we were working together when I was there.
Hardy's got sold to a corporate and I became quite disgruntled because I had moved to the Senior Winemaking role and wasn't actually making wine anymore.
I was advising people and blending a different wine every day, and then it got sold and I just sort of said to Warren, "I want out, I've got to get out somehow."
And then Warren said, "Well just wait."
He bought Tatachilla and so I said, "Okay, well I'll leave now and join you".
Warren owned about 1,200 acres of vineyards, we'd value add to his grapes and make wine and then sell it to big clients like Hardy's and Penfolds, whoever the hell wanted it.
We got quite good at it and so we started to make more and more high-end wine for all of the companies and so now we're really good at it these days.
When Warren bought Seppeltsfield, he said, "Do you want to come up to the Barossa and join forces and we'll do this again at Seppeltsfield ?"
And I said,
"Why don't you go and do that and then I'll look after this part of the business."
That's what we still do, he allows me to make my wine through their winery without all the overheads, and we work collaboratively.
He's really been influential in helping me, sort of, get to where I am and so I help him in the things that he does too.
That's not common knowledge, but I make wine for a lot of people, that's my other role in life.
Starting up your own label takes a lot of money and Fiona and I didn't have any when we started, so it had to come from somewhere.
I still have a contract with Warren to completely run and oversea Tinlins for six months of the year.
I come in and do the vintage, I run his business and sell his wine. From the 4,000 tonnes that we've processed this year, I don't think there's a litre left.
Look, he's the most successful person in the wine industry in Australia by a country mile, and he's a savvy businessman.
I find him very fair, he tells you what he wants and how he wants it to go.
He has never in all the days that I've been making wine for him said, "you should do this or you should do that."
We talk about what we do and how we do it and then just get it done and so it's an amazing arrangement.
We've been close for a long, long time, we trust each other implicitly and if anything happened to me and I needed his help, he would be there and vice versa.
He's taught me a lot about how you run businesses and what you do. He often says that we make a perfect person, half-him and half-me and we're okay.
S.C. Pannell ?
It was never planned. 2004 was the first year, I was still at Hardys and it just happened by accident.
I found this Grenache vineyard, made a couple of wines and went,
"Let's see what happens."
I didn't have any great plan to go start our own show. We now have 16 staff here.
Up until Tom Grant joined us a year and a bit ago, I was running two businesses.
It was hard work, I was strung out and very, very tired by the time I'd done both.
During vintage I don't even live at home, I live at Port Willunga by myself.
Last year I didn't have a day-off in 9 weeks and so I worked bloody hard, 12 to 13 hours-a-day.
But look, I'm making wine and I immerse myself in that and that's what I love.
People often go, "Oh, I'd like to work and make wine in a little boutique place"
And it's like,
"Do you want to learn about making wine? then go make lots of it, keep making as much as you possibly can and then you'll learn how to make wine."
The label ?
Thats a funny story, A friend of mine Melanie Leš : a graphic designer did it for me
When we were having our first meetings I took along some of my ideas and laid them out on the floor.
As usual my arms were flapping all over the place, I liked this and I liked something else etc etc.
She produced this sketch she said was to illustrate how I'm hands on or like hands in the dirt.
I said "What's that ? "
she said
"that's you trying to show me your ideas for the label", it's like a paper cut influenced by things Melanie had seen in places like Poland.
So what we have done is to keep her original and triy not to really add anything.
Anything else you'd like to say ?
I love cooking, that's how I relax.
I like to think that I take that same, sort of approach into the way I make wine… it's about balance and restraint, and delicacy.
That's why I made Aromatico I wanted something balanced to go with Thai food.
And you've got to remember, as important as the food and wine are, it's the people you are with, when you talk about the history of food and wine.
In Italy it was very much a peasant culture…. that's the same in Spain and the same in Greece.
Food is a perfunctory thing and so is wine.
Paolo De Marchi talks about how they lived communally in Chianti until the end of the 60's, so wine was never made as this status symbol, it is just a food.
I think, that's where we've really got some lessons to learn … to move away from the ideology of making a $500 wine and going " I've arrived ! " , to making wine that people use every day and can afford.
That's the point for me.
ENDS..  but a few words on photography
It is estimated that ten percent of all photos ever taken were taken in the last twelve months, not many of them by professional photographers. With the advent of digital photography especially-smart phones, photography has become very much part of our every day life. Richard Lyons is an  Adelaide professional Photographer. S.C.Pannel commission him from time to time. I think it's great the some companies still use professionals. Richard has shot some stunning images of Stephen. There was not room in this interview for all of his photographs.
Here's a few from his  SALA exhibtion.
__________________________________________________________________________________________________________________
___________________________________________________________________________________________________________________
__________________________________________________________________________________________________________________
__________________________________________________________________________________________________________________
ENDS.
Production, interview & photography : Milton Wordley
Transcript  : Libbi Curnow
Edit : Anne-Marie Shin
Website guru : Simon Perrin Version Design