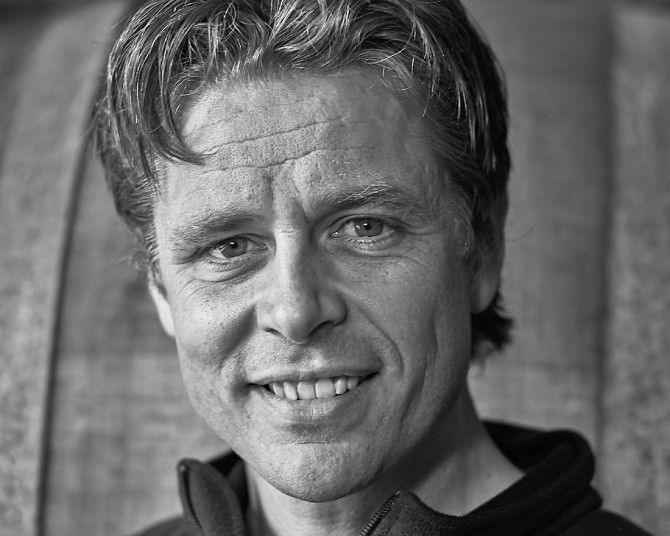 Phil Lehmann : Winemaker WD Wines
Summers here, and summer makes me think of Riesling.
Last summer a mate of mine, Chris Waterman gave me a bottle of  'Rizza'.
"New label old name, looks like the Riesling King, John Vickery's back in business' he said.
The wine was good, but what intrigued me was the back label, it was made by John Vickery  and Phil Lehmann.
This idea of young winemakers drawing on experience interested me. It's starting to happen a bit. Ben Radford is now the winemaker at Rockford, but I'm sure working closely with Robert O'Callaghan.
I thought there must be a good story in this, so I spoke to both Phil and John.
Here's Phil's story.
What is  your current role ?
I'm the winemaker for WD wines. The company is headed by Jonathon Hesketh, major shareholder, and Dale Wyman. I'm based in the Barossa Valley and make all the wines for the group. We have four brands, Parker Coonawarra Estate, St John's Road Barossa, Hesketh Wines and Vickery.
I'm also making wine with Andrew & Bobby Caillard for their 'Caillard' label.
My wife Sarah and I have a couple of kids, we live amongst our vines in the Eden Valley.
Why did you get into winemaking ?
With a name like Lehmann and growing up in the Barossa, I have always been around wineries. Dad was the winemaker at Saltrams.  Back in the 70's, we lived on site at the Saltrams Winery.
I guess my brother Dave and I just grew up with it. We loved vintage. Every time the trucks rolled up the hill, we'd jump on the forklift. We just had this vintage mentality ingrained in us from a very early age. It was all about the growers and the fruit, that's what we thought winemaking was; growing grapes, bloody good grapes.
Dad was such a strong figure in the Barossa I decided to do something the old man didn't do. I was quite good at maths and science at school. So off I went and studied electrical engineering. I didn't enjoy it, but stuck at it and got through. Like all students I needed to earn holiday cash so I did a couple of vintages at Peter Lehmann Wines along the way.
Pete Scholtz was (and still is) one of the PL winemakers, his brother Michael was running another winery call St Supéry, (Rutherford, Napa Valley) I decided to see the world and went travelling .
For the 1998 vintage I went to St Supéry, stayed with dear friends (and mates of my parents) John and Sandy Arns. Lived on their couch for five months, had a hell of a time. I wasn't really thinking of being a winemaker; just wanted to see the world
Then another mate from Nuriootpa High, Ben Radford was running a winery in South Africa. I flew down to Stellenbosch. It was a really interesting time, Apartheid had recently finished, and a lot of people had subsequently emigrated.
They were short of skilled people. As I'd done a few vintages in Australia, had good maths, engineering and had cellar experience, I ended up in a winemaking role. A first job at this level would have never presented itself if I stayed in the Barossa.
Ben gave me plenty of freedom, it was great training. So that really fanned the flame, from an ember that I'm sure had been with me since I was a little kid.
That vintage working at Longridge, Stellenbosch, I was staying with the marketing and export manager Alex Dale.
He was very entrepreneurial. He had a lot of experience growing up in France and was bringing in French Oak barrels and wine.
It's funny you know, as a Barossa boy I grew up thinking nothing vinous is better than a good Barossa Shiraz. Well Alex with all his background from Burgundy and the Rhone often used to say "You f*_'n Aussies all think you know Shiraz, and don't even consider Pinot and Chard. Well one day, I'll show you …"
Alex has a dear mate in Burgundy, Martin Prieur, so he teed up a vintage in Domaine Jacques Prieur in Meursault. For me that the vintage was very important. Burgundy looks a bit 'Hollywood' superficially, but they are farmers at heart, and there is so much cultural depth in community and winemaking in equal measure.
Lots of farmers live in close proximity, and make a good income from a small plot of land. They have small acreages of vines, make beautiful wine, and through huge demand earn great sums for what they want to sell.
But the small Burgundian producers have a secret; they know they can sell as much of their wine as they wish, but rather keep as much as half of their production for themselves to drink.
We didn't get paid for the vintage work, but every day we'd stop for lunch, after a couple of beers, something to eat and a glass of wine, we'd all have a sleep. Two hours later we were back to work.
The French have been doing it so long, they have the right balance of life. It's very close the agricultural cycle. The Burgundians seem to me to have it sussed, they realise you've got to make a crust, and make beautiful wine, but you also have to have fun along the way.
So that was the light switch moment for me.
I'm thinking, Dad was such a big larger-than-life character in the Wine Business, I didn't want to be part of it, but I was really enjoying it.
I thought why fight it, this will do me. So I decided to study wine making. I applied to the University of Adelaide to do a postgrad. Along the way I went back to work another vintage with Benno (Ben Radford)again in South Africa. So that was…. 98 Barossa, then 98 Napa…… first half of 99 was Stellenbosch then 99 Burgundy for the second half……..then sold some grog in Odd bins in London then 2000 Stellenbosch again……… and then I enrolled in the wine course.
Winemaking is it art or science ?
It's absolutely both. The science teaches and tells you of the process, gives you the boundaries and informs you of how and why things happen. It's important, you need to know what the processes are, to give clues where you can tweak around the edges. The Art is the everything else.
You give 10 winemakers half a ton of the same grapes from the same vineyard, and you'll get 10 wines, all different interpretations of the fruit.
It also has a lot to do with risk management, you make a mistake and you can bugger up a lot of wine, it can cost you or your company plenty. It was strange going back to study winemaking after I'd battled to study engineering, where I found the concepts were pretty tough. I thrived at studying wine, I really enjoyed it, 12 months full-time.
It's a great place, the Waite campus at Adelaide University. It's a very inspiring spot to study. I was 26 and sort of a mature age student. Funnily enough there were about 4 or 5 other ex engineering students. I think the background of growing up in a winery especially with my father's influence made the studying much more enjoyable.
I don't think I would have got my first job at Yalumba without the winemaking ticket from Adelaide Uni. This job initially was making the white wine casks. Dealing with big volumes of wine, some good and some needing work to fit the bill.It was a good school in logistics and problem-solving. You pretty quickly learnt where things could go wrong, and how to fix them when they did.
Looking back, Yalumba was fantastic training, a bit like working at a University.
I really liked Yalumba's philosophy.
A lot of that was driven by Robert Hill-Smith and a push to keep learning was driven by the chief winemaker of the day – Alan Hoey.
We were encouraged to do our own in-house research. I owe Alan a lot for the way he pushed me to learn more. He keeps retiring and then not retiring. He's now at Barossa Valley Estates.
Change in style in Barossa wines ?
I don't know what's happening in the Australian wine industry, but it seems to me the Barossa is becoming the centre of it again.
Quite a few companies are gravitating here.
I think a lot of people are making much better wine now. It's a funny word to say but they really are yummy !
When I started at Yalumba in 2002, Robert Parker Jr was at his peak. Many local winemakers, us included, were making big syrupy Barossa Reds, assuming big scores with Parker meant that the Americans loved them.
Many of my mates and I didn't particularly like them, but we were making them because that's what was selling (off the back of Robert Parker scores). I often think those years when we were rolling those big jammy wine styles out, that we did the whole industry a lot of damage on the world stage.
It went on for the next 5 to 10 years. I believe we are rectifying that now.
Barossa Shiraz is a powerful beast and it can make beautiful wines. The good ones I love, but day-to-day I'd rather drink blends with Grenache and Mataro.
One of my heroes in the Valley is Charlie Melton, and one of the best wines I've had recently was the 2012 Nine Popes. That was closely followed by the 2010 I had the other day. Both just seamless wines.
Damien Tscharke is also making some good wine. I particularly like his Montepulciano.
His family have been around the valley for a very long time, He and his wife Eva are very entrepreneurial.
As well as running Tscharke Wines in Maranaga, he's got the local service centre called 'The Wine Clinic', Any one can rock up and you get their wine analysed. I think he's a bit underestimated.
Vickery Riesling, how did that come about?
Brian Walsh introduced me to WD wines; he knew WD was looking for a winemaker. It's a good portfolio work on.
Parker is a very red-focused Coonawarra Cabernet, St John's Road is Barossa. Overall red-centric.
Walshy suggested we should have a chat to John V re a Riesling project (initials like JV he was asking for it!).
He was largely retired but still working his vineyard and fit as a fiddle. Brand Vickery was (re)launched.
There were two other occasions, where I almost did something with John.  Dad and John were great mates and I remember Dad saying to him one day, 7 or 8 years ago, you know you and young Phil should do something together .
John was still working Richmond Grove, he's a company man and very loyal. Dad's idea never got off the ground.
When I was at 'Teusner Wines we started making some Riesling. I had some terrific previous experience making whites at Yalumba with Louisa Rose and Wigs and co at Lehmann's.
At this time (~V12), someone had an idea to talk to John Vickery and do a bit of a project together at Teusner.
John came in and in a sort of way sniffed the air, but nothing eventuated.
But as I said earlier, this time it was Walshy's idea and this time we got off the ground. Brian's been a mentor to me, and someone very dear to my heart.
Working with John has been a very good thing for me. I was brought up to respect wisdom that comes with age. I think as a society we could learn from Asian cultures, or Europeans, where the elders are respected and cherished. Not sure we're very good at that here in Australia.
There is a nostalgic feeling toward it all as John and Mary have been close family friends for years. My middle name is Edward named after John Edwin Vickery.
Not sure how Edwin became Edward, but there ya go ! I really love John, he discusses things with so much clarity, and what a memory he has. Everyone says John is fastidious, and he is, but that's good. A lot of the fundamentals of white wine making he had a lot to do with in the early days.
He has a few wine making techniques I like.
Things like absolute cleanliness, the vineyard has to be perfect, I know it's a cliche, but there's a lot of truth in the old saying the wines made out there in the vineyard. It's your job as a winemaker not to fuck it up.
It's an honour to work together and draw on the experience.
John loves the flavour of Riesling, the flavour has got to be front and centre, he wants the flavours to be right, he doesn't want them to be too acidic or austere, so that was something that we've discussed and we continue to discuss.
We have disagreed on a few things, I often tend to pick a bit earlier.
He knows I'm going to be on the left-hand side and he's going be on the right-hand side, but we work it out.
The 2015 Watervale is a very powerful wine. Its got mineral and limes; she's a big wine with lots of flavour.
As well as the Watervale we are making an Eden Valley Riesling. The Eden Valley is more delicate pristine and pretty. Together they will be quite a counter point for us this year.
We spend plenty of time together in the vineyards, and continue to work with some of John's old preferred vineyards, and processors (O'Leary Walker for the Clare fruit). Nick Walker is fantastic, I've worked with him in various capacities for years.
Before the delivery of fruit, we discuss picking. John likes them to be picked on a cool night; he'll hold off a couple of nights if it's too warm, even if the fruit is ripe. In the winery we get them off the skins straight away.
John has influenced the way I do things, especially with Riesling. Some of the things we are doing now, I would not have thought of.
I think John's style has also evolved over the years. He often mentions when in the 70s, prior to irrigation being available, the vines often defoliated in Eden Valley before the grapes were ripe.
He talks of these steely wines; some were great wines, but needed seven or eight years in the bottle….like the 1973 Leo Buring Riesling Reserve Bin DW C17.
Favourite wine styles ?
My favourite wine styles,  Wines that are beautifully made, any style.
That might seemed like a cop-out but it's not.
This is a part of my job that I thrive on. I have to be very careful and disciplined when I'm working. The way you make a structured Parker Coonawarra Cabernet is totally different to a Barossa Shiraz, or to working with John making a Vickery Riesling.
When I'm making the wine, I'm thinking of what captures the essence of the fruit and the style. I love it. My biggest fear in being a winemaker is that they all end up tasting the same.
Memorable wines.
I've had plenty, how long  have you got.
A very memorable wine for me was from Dad's cellar, a 1975 Bin 123.
He made it with Rod Chapman at Saltrams. That wine was incredible for a number of reasons.
Most of Dad's wines were Shiraz with a capital 'S', or Grenache. When these wines age they get a bit brown and dirty, a bit leathery and earthy, kind of stinky.
But this old Cabernet still kept some red fruit colour and blackcurrant. It was 40-years-old, I'm not sure it was ever labelled and sold because all the ones we have are clean skins. It saw a bit of new wood which was unusual for those days, firstly that they used new wood and secondly that it was Cabernet from the Barossa .
Years ago when I was a little kid, Dad used to work on the Qantas Airlines' tasting panel. He didn't get paid, but got some International travel.
One year he took us all to Disneyland in LA ,as often happened we ended up in a restaurant. Dad was looking on the wine list and he saw a Petrus on the list. I remember Dad saying 'Shit that's cheap' and bought a bottle. He once told me he thought it was $200, A lot of money to me then.
It was just Mum, Dad and my brother Dave and me. They gave us a small taste of the wine as they did often. I can still remember that wine, it was beautiful. I can't remember the vintage, I think it was early 80s I'd like to think it was an 82, one of the more famous vintages.
When I was at Yalumba, for a time I looked after RHS's wine Museum, I saw they were experimenting with screw caps for Pewsey Riesling for most of the 70's and early 80's. I saw a few of these wines. It showed me what screw caps can do. When Rieslings age they can get strong yellow colour, but under cap a hint of green tint and citrus freshness survives, even though they are incredibly toasty and evolved.
Any good Eden Valley Riesling ,with a heap of age is still one of my absolute favourites.
I was Working at Domaine Jacques Prieur, in 1999, the year before the millennium.
The French President wanted to drink a magnum of  Jacques Prieur 1990 Montrachet at the State millennium dinner.
He got his sommelier to ring Martin Prieur.
But all Martin had in the cellar was 750 ml bottles; we opened 3 bottles, and he decanted the best two into a Magnum for the Presidents dinner. (We drank the third).
A couple of days later, having second thoughts, he thought he should have a look at this Magnum. Upon opening, Martin decided it wasn't good enough, so we drank the Magnum as well, a very memorable wine.
From memory I think he ended up sending three 750 ml bottles to the President's Sommelier with an empty labelled Magnum bottle, with a note instructing him to pick the best two and decant them.
One of the absolutely memorable wines was a Krug after my first born son Lewis was born. A dear mate of mine Richard Wall  was in town. We ended up at the Exeter and drank a bottle of Krug over the bar, with big cigars. Now that was very memorable. I then had to go back to the hospital, in no fit state to see my wife and first born !!.
Anyone inspired or influence me  ?
A bit like memorable wines, I'm influenced by people who make great wine.
A lot of the Barossa school of making Shiraz can be traced back to Robert O'Callaghan at Rockford or what a few of us call the O'Callaghan school. Making what was old new again.
There's plenty of others, Charlie Melton, Damian Tscharke, Tash Mooney who made those stunning E&E's. Kym Teusner also has really opened my eyes to beautiful Shiraz and soulful Mataro, Brian Walsh at Yalumba has been a great mentor…
Obviously Dad, goes without saying.  I think the early wines he made when he was in charge at Saltram were more my style. Open fermenters, basket and bag press, etc.
I have come around to making them like that now.
Passions,
My family obviously, but my real hobby is growing my own grapes and making my own wine.
We live in the Eden Valley with 25 acres of vines Shiraz and Cabernet, they are not  organic certified, but I don't use any weedkillers or anything. Mostly just copper and sulphur.
I love being able to grow the grapes on low yielding vineyards.
Then I make my own wine. It closes the loop, it's fantastic. We have a little play label 'Max and Me' ….haven't sold anything yet but they a lot of fun.
I used to cycle a lot but now my wife Sarah and I have got a couple of little kids, Lewis nearly 4 and Olive 16 Months. It's fun but hectic, so I'm not getting out on the bike much.
Sarah was a ballet dancer in a previous life with the Australian ballet. When we met, she was with the Leigh Warren Dancers and up in the Valley performing during a Barossa festival. Mum and Dad were away, so as a host I got the job of looking after the artists.
I must have done a great job, we got married not long after that.
Last supper.
I love food, Certainly got that from my ol' man. He really loved cooking.
The family story sort of goes that Mum was not much of a cook when they met.  He half taught her to cook and the other half she taught herself, and then she took over.
Last supper would be a Sadie Thorn roast Goose. They can be a bit tough, but boy I love the flavour. We always have one at Easter and Christmas.
If there's no Goose, any Michelin three star restaurant in Spain will do.
To drink, it'd have to be a 1982 Petrus and any vintage of Krug.
Why do you do what you do ?
You know I just love it.
When you are making wine, there's always that intrigue about what you are going to get next.  Its like a snapshot of life, when you first taste a young wine. Then it keeps evolving every other time you taste it.
Wine it's a living thing, it reminds you of what you were doing at the time, the season, the vintage conditions, everything.
It can have a taste or a smell that reminds you what you're doing or thinking at the time. It's all part of the agricultural circle.
There are so many subjective decisions you make along the way. I strive for individuality, to reflect the piece of dirt that the grapes came from.